Who do you thank at a time like this? Is it general manager Doug Armstrong, senior advisor Al MacInnis or head coach Ken Hitchcock? Do you call up former team president John Davidson in Columbus or find former GM Larry Pleau relaxing on a beach with a pina colada resting in his hand?
Maybe you go as far as the owner's box at Scottrade Center and shake the hand of current team owner Tom Stillman, who has been involved with ownership in some capacity for some time.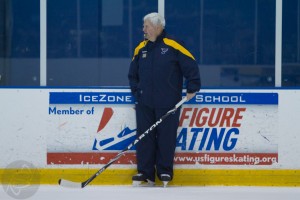 Either way, credit is due somewhere. This team has come a long way since the dreadful 2005-06 season, when St. Louis ushered in a new era in Blues hockey with a league-low 21-46-15 record for a measly 57 points. The team's leading scorer was Scott Young, who amassed 18 goals and 49 points.
The organization drafted. And traded. And drafted and signed and traded. They even went through a slump of signing players only to be snagged by other teams on waivers. Oh yea, let's not forget that Paul Kariya signing.
But the Blues kept at it. The team drafted talent during their rebuild such as T.J. Oshie, Patrik Berglund, Alex Pietrangelo and Vladimir Tarasenko. The club acquired important pieces over time, including goaltender Jaroslav Halak and Jay Bouwmeester. Now, the team boasts one of the most powerful, dynamic and steady lineups in the entire National Hockey League.
Nothing exemplifies this more than the Blues sending 10 players to the 2014 Winter Olympics in Sochi, Russia. The Blues' Twitter told us on Tuesday how impressive that mark is.
With 10 Olympians, the Blues are tied with the Chicago Blackhawks and Detroit Red Wings for the most of any NHL team. #stlblues

— St. Louis Blues (@StLouisBlues) January 7, 2014
The list of players includes Bouwmeester and Pietrangelo (Canada), Vladimir Sobotka (Czech Republic), Tarasenko (Russia), Halak (Slovakia), Berglund and Alexander Steen (Sweden) and David Backes, Oshie and Kevin Shattenkirk (USA).
To put this amazing feat into even greater perspective, here are some notes on the past two Olympics to consider:
In the 2010 Olympics in Vancouver, the Blues sent three representatives to the international tournament. These three players were Roman Polak (Czech Republic), along with Backes and Erik Johnson (USA).
In the 2006 Olympics in Turin, Italy, the Blues sent three players as well, which included Petr Cajanek (Czech Republic), Christian Backman (Sweden) and Keith Tkachuk (USA).
In 2010, current Blues Brendan Morrow (Canada) and Halak (Slovakia) represented their countries while in 2006, Bouwmeester (Canada) and Jordan Leopold (USA) represented their native lands while playing with separate NHL teams.
If you were to combine these current and former Blues in each of the past two Olympic Games, the total would equal the amount that the Blues are sending in 2014.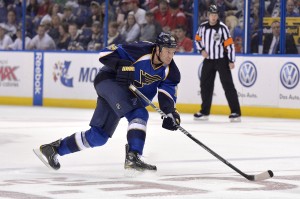 Although a Stanley Cup has still not been reached, the selections for the Winter Games speaks volumes as to how far the Blues have come since 2005-06. The current talent is prevalent with a slew of youngsters clawing at their chance to join the big club (Jake Allen, Jani Hakanpaa, Dmitrij Jaskin and Ty Rattie to name a few). From the way it looks, the Blues will only continue to pick up steam through the years.
The skeptics climb out of the woodwork at every turn (and are likely to after reading this). I won't act like I've never questioned management's work, either. But there is one point that cannot be denied: the talent on the roster has vastly improved over time.
So, thank you Davidson and Pleau. Thank you, Armstrong, Hitchcock and Co. Thank you, Stillman and fellow owners. I don't know who deserves most of the credit, but I can be certain that you have provided us with a product that competes on a nightly basis.
But, those that remain with the club, your work is not finished. It's been 45 long seasons; let's get the ultimate prize sooner rather than later.