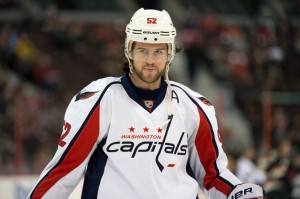 It won't come as a surprise to anyone, but there will be three Washington Capitals participating in what may very well be the last Olympic games where NHL stars are allowed to participate. Among the three are Alexander Ovechkin (Russia), Nicklas Backstrom (Sweden), and John Carlson (USA). So soak it all in and seize the moment guys, because this could be the last chance you have to represent your countries and hoist a gold medal.
I haven't earned a gold medal representing my country in the Olympics (yet), but I've been told there aren't many things that top the feeling.
Carlson, 23, will try and reenact his heroics from 2010 where he lit the lamp in Overtime to lift team USA past Canada in the World Junior Championships.
As for the DC skaters who got snubbed…there are zero.
Deservingly so, Mike Green was left off Canada's roster and Michal Neuvirth didn't make the cut for Czech Republic. There was much discussion early on that Braden Holtby would potentially earn a spot in net for team Canada. Unfortunately, he hasn't even earned the starting job in DC this season as he's being outplayed by a younger and more consistent Philipp Grubauer.
Aside from Ovechkin, Backstrom, and Carlson, there is not one single Cap that deserves to play in Sochi. Simply put, the Joel Ward's, Mikhail Grabovski's, and Troy Brouwer's of the league are not superstars. They have a role in DC and that's what they're good for. No one is going to lose sleep over the finalized Olympic rosters within the Capitals organization unless they were looking forward to watching Bobby Ryan and Ben Bishop play in early February.
Matt Schreiber is the Florida Panthers Lead Writer for The Hockey Writers. He grew up just outside of Washington, DC before moving to Boca Raton, FL, where he currently resides. He also covers the NHL for Bleacher Report.