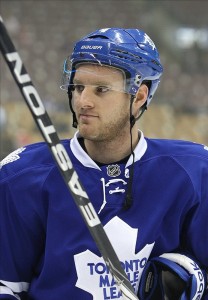 On Sunday morning, the Leafs traded the soon to be UFAs Cody Franson and Mike Santorelli to the Nashville Predators in exchange for a first round pick, Brendan Leipsic and Olli Jokinen.
This trade is hard to evaluate and cannot be done in a vacuum:
On one hand, it's an absolute disgrace. How the Leafs ended up here with a roster that contains seven top picks and a goalie picked eleventh should be a red-flag to people who think the draft is the only way to get things done. The Leafs have talent – the reason they are a bad team is that their management has been terrible at asset management (Grabovski, MacArthur, Kulemin, Franson, Stralman, Stalberg….I could go on, how much time do you have?) and they have mismanaged their salary-cap.  (I decided to go on after-all: trading for Bernier unnecessarily, Tim Gleeson, singing JM Liles in the first place, the  Lupul extension, the Bozak extension, blowing money on UFAs they didn't need instead of finding value in Entry Level Contracts…..I can keep going…but  you get the point).
In fact, the idea that there is only one way to rebuild is silly  bordering on stupid. Drafting high is always good, but you also need to make smart signings and good trades. You need to be able to recognize value. You need to draft smartly – that means making a lot of picks and playing the odds (the Leafs almost never pick in the second round) and making intelligent decisions regarding player extensions and trades.
Losing players for nothing is unacceptable and one of the reasons – if not the main reason – the Leafs are currently where they are.  Again, if you think just drafting high is how you build a team, consider that teh Leafs HAVE EIGHT TOP-TEN PICKS IN THEIR SYSTEM.  Whether or not the Leafs personally drafted these players is irrelevant – outside of the kessel trade most of them were acquired in fairly lopsided trades.  It's not these players who are the problem, it's the consistent stupidity of management to seemingly sandbag every asset they have, to fail to add to what they have in any meaningful way or to make decisions that resemble what other smart and successful organizations do (Joe Colborne, Carl Gunnarson, trading for and attempting to re-sign David Bolland, not locking up Franson two or three years ago…I hope you're getting the point).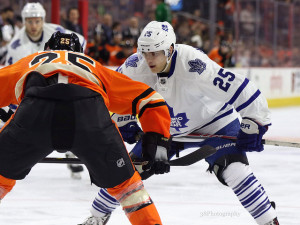 And this isn't hindsight either – there were tons of people mocking these moves the day they all happened – that's actually what makes it so frustrating. People writing about this team ripped nearly all of these moves the day they happened, so it's not like it took some kind of perplexing level of genius to recognize singing Clarkson was stupid or that paying Bozak to stay and Grabovski to leave was idiotic on an unparalleled level.
So, before you embrace an Edmonton style rebuild, remember that the Cody Franson saga is the reason the Leafs are garbage and not the fact they haven't ever "rebuilt properly."  Unless by "rebuild properly" you mean "let the team be run by someone who isn't an idiot."  And, you almost have to go back to the first Cliff Fletcher era to find that.  I liked Burke, but his record does not stand up to scrutiny. Pat Quinn has the advantage of being able to New York Yankee his way out of trouble and still never gave Sundin a partner in crime.  Etc. Etc. Etc.
No, it's not drafting. It's Cody Fransoning that kills this team.  To wit: You acquire a massively sized, puck moving defensemen for a song, proceed to develop him into a top pairing defensemen and the net result is that you're pretty happy getting a late first rounder and a B-level prospect for him.
If that doesn't epitomize what the Leafs are all about, I don't know what does.
Dave Nonis – if he wasn't already considered to be a lame-duck and universally derided as a horrible GM – should be fired just for this alone. A professional hockey team should have been able to identify the talent of Cody Franson three years ago and signed him to a long term contract that would provide some value.
Instead, the Leafs played hard-ball with a guy who grew up cheering for the Leafs, whose life goal was to play here. They signed him to a series of one-year deals and failed to buy-out any of his UFA years.  It wouldn't have taken a genius to offer him a seven year $28 million dollar deal back when he was first acquired and bank on him developing while also banking on $4 million being a steal a couple years down the road. Teams do this all the time; just not usually the Leafs (although their Gardiner contract was a good example of what I'm talking about here: credit where it's due).
So, in reality, this trade is garbage – just another example of how shitty the Leafs management has been and how consistently horrible nearly all their decisions have been. Embrace the rebuild? How about embracing common sense, planning, asset management, the concept of value, game theory, statistical analysis and problem solving? 
How about you firing the scouting department and GM who drafted Biggs, Gauthier and Finn?
As for the the actual trade itself, here's my vacuum analysis: Anything you get for two UFAs you're going to lose anyways is always good. Adding extra draft picks is good and by my analysis the Leafs farm system is so bad that after Nylander, Leipsic is scarily close to being the next best forward prospect.  There is also value in starting the trading two weeks earlier than the deadline, since it makes the team less competitive and makes their own first rounder likely to be higher. There is significant cap savings, assuming the team replaces the two outgoing players with rookies.
But, regardless of the trade itself being good, I can't look past the fact the Leafs traded their best defensemen for nothing because they were too stupid to foresee his development and sign him to a long-term contract at a reasonable cap hit when it could have easily been done.  "Hey there is a 6'5 220 lbs puck-moving defenseman, those are easy to get, let's play hardball with him until he backs us into a corner and we can't afford to pay him what he's worth on the open market."
How many times do NHL teams need to watch this same scenario unfold before they realize that you should never let a player put you in a situation where you have to pay market value for his prime years?
The best thing the Leafs can take out of this situation is not the return, but the lesson: it's not draft picks or collecting talent that "builds" an NHL team: it's asset management and the ability to find value.
Some of the best players in the NHLare not top draft picks: Bergeron, Kopitar, Girioux, Weber, Datsyk and tons more. Drafting is only part of the game. Of course you want to draft high and play the odds, but building a consistently competitive team requires way more of the other things I've been talking about. You can't bank on getting Crosby/Malkin, Ovechkin/Backstrom or Toews/Kane with your high picks – ask the Panthers or Oilers how that strategy works. I would wager that "building through the draft," is just an easy answer to a complex question, that "proper rebuild" is a meaningless catch-phrase.
If the team wants to "tear it down" that's probably a good thing. But if they don't start exhibiting a level of managerial competence not seen in these parts for countless years, it will just be more of the same.
No, its not drafting that kills the Leafs. It's Cody-Fransoning that does it. Joe-Colbourning and Grabovskiing. You don't build a team through the draft, you build it anyway you can – you just have to manage your assets in a way that suggests your know what you're doing.
Thanks for reading.