This post is sponsored by Martin Awards
Martin Awards has been serving the trophy and awards industry for over 30 years. Shop with us for the best selection of trophy cups, medals, plaques, and more!
When Tanner Pearson went down with a broken leg against Winnipeg on January 10, it was a devastating blow to the Los Angeles Kings for a number of reasons. They were losing a good source of speed and offense. An emerging 22-year-old would have his development stunted for most if not all of the remainder of this season. And the Kings' vaunted "That '70s Line" would be broken up, a crushing loss for a team not getting a ton of consistent scoring from other areas.
But the Kings might have found a solution that keeps That '70s Line intact, for all intents and purposes. His name? Dwight King. And he just happens to wear #74, keeping up the theme with Jeff Carter (#77) and Tyler Toffoli (#73).
King Steps In
Head coach Darryl Sutter has been jumbling his line combinations around with a fair degree of frequency as a result of Pearson's long-term injury and his team's struggles in recent weeks. He recently put the 6'4″, 230-pound King on Carter's left side, with Toffoli rounding out the line as the right winger.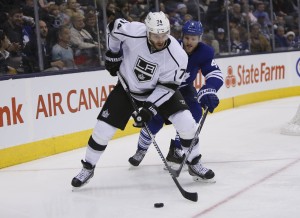 Carter brings a scoring touch, play-making ability, and a savvy veteran presence to the line. Toffoli brings explosiveness and strong finishing ability. Pearson (#70), while he was a member of the line, was a glue guy who brought speed, smarts, and a developing goal-scoring touch to the unit. Replacing him with a hulking winger whose strengths are down by the blue paint would not seem to make a lot of intuitive sense, at least when thinking about it initially; King does not possess the speed to be able to keep up with Carter and Toffoli.
But King has helped the reincarnation of That '70s Line light up the Kings' opponents over the past week-plus. Carter and Toffoli are able to elude defenders with their perimeter speed, while King is able to create space and wreak havoc down low. As such, he has proven to be a strong complement to what Carter and Toffoli bring to the table.
Lighting It Up
King's contributions to the line and by extension his team have been easy to measure. He has scored a goal in three straight games, while also tallying two assists in that span — good for five points in three games. Meanwhile, Toffoli has four goals and six points over that span, and Carter has one goal and six points.
King's three-game goal-scoring streak is the longest such stretch of his NHL career, in the regular season (he first accomplished the feat when he burst onto the scene in the 2012 playoffs). Most of his goals are coming from right in front of the net — again, his strongest area. It also helps to have Carter and Toffoli setting him up — whether directly with assists or indirectly with just their presence, positioning, and speed. The trio has become difficult to contain on the forecheck, as demonstrated by a second-period shift in the Valentine's Day victory against the Washington Capitals that culminated in King's third goal in as many games.
After that game, King spoke about the benefits of playing with skilled players like Carter and Toffoli.
"Obviously they're familiar with each other," King said of the duo. "They play a pretty up-pace game. Move, get open, and they're easy to read off for me. I'm just kind of jumping in, trying to create a little more space out there and give 'em the puck when they're open." (lakingsinsider.com)
King has also been getting the puck when he has been open — particularly around the crease area, where he does most of his damage.
"A little bit of renewed focus," King said, when asked about whether he is thinking more about scoring from the blue paint area. "I think if you'd break down goals in this league, the majority of them come from there. For guys like myself, probably 99% of them come from there. The more you get there, the better opportunities you have." (lakingsinsder.com)
Between King's focus on scoring down low and the speed and skill of Carter and Toffoli, the Kings have something cooking with this new version of That '70s Line. They'll look to keep it going as they aim to get back into the playoffs over the last two months of the regular season.