The 2022-23 season did not end how the Ottawa Senators hoped it would. They missed the playoffs for the sixth consecutive season and continued to struggle with consistency in the net and defensive pressure. Even the Belleville Senators, their farm team in the American Hockey League (AHL), failed to make the playoffs after putting up a fairly mediocre record despite having a very talented roster.
But that's not what will define this season. Rather, the 2022-23 season will be remembered for the individual growth that many of the best and brightest stars experienced throughout the year. So, to honour their performances, we will conclude this season with the first annual Senators Prospect Awards. Modeled after the NHL awards, they will serve to celebrate the best players within the organization and recognize their accomplishments.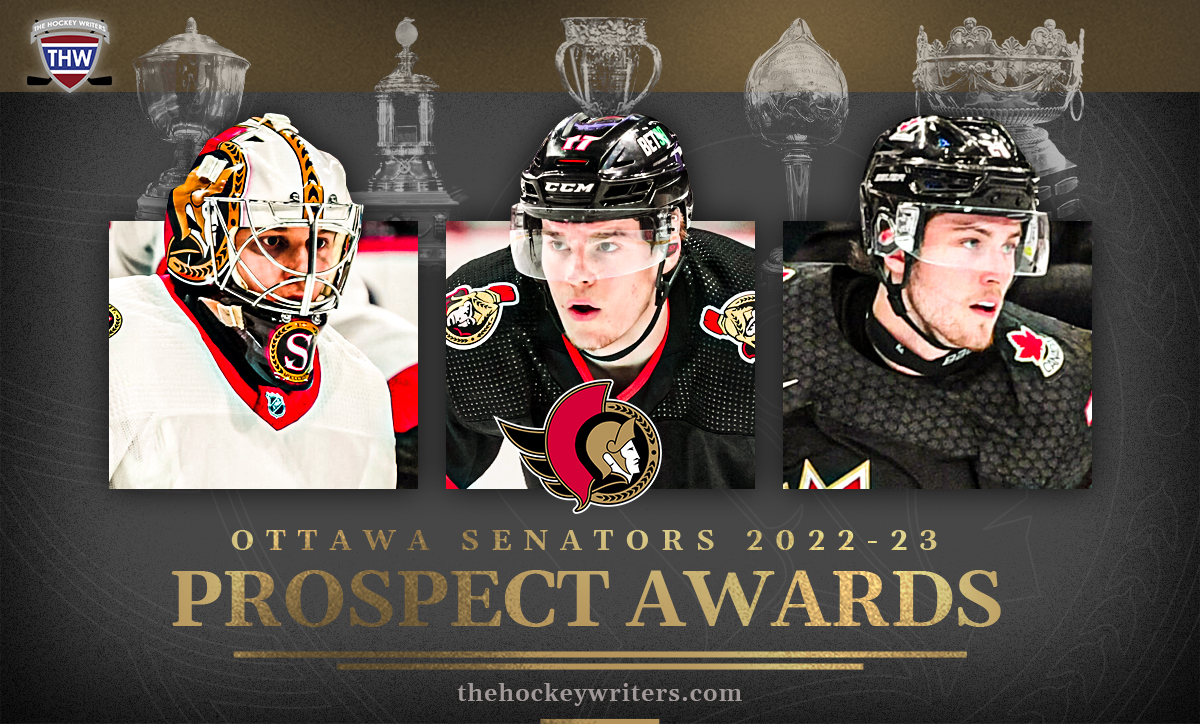 First, however, we need to clarify what constitutes a prospect. For that, we'll turn to the league's Calder eligibility rules, which state that a player must have played less than 25 games in a single season or fewer than six games in the previous two seasons, and must be younger than 26 years old. Thus, Jake Sanderson and Shane Pinto are no longer eligible for the prospect awards, since they have both played more than 25 NHL games in a single season. That's probably for the best, though, since those two would dominate the ceremony anyway.
Before we begin, I'd like to give a special thanks to fellow Senators' writer, Jacob Billington, who helped me with some of the decisions and voting for each award. His input was crucial in breaking some ties and putting forth some names that I overlooked. With that, let's get on with the show!
Most Valuable Prospect – Ridly Greig
Modeled after the Hart Trophy, which is awarded to the player judged most valuable to his team, the Most Valuable Prospect Award will be given to the player who has proven himself to be most valuable to the Senators' organization. That can be none other than Ridly Greig, who proved this season that he is going to be a big part of this team shortly.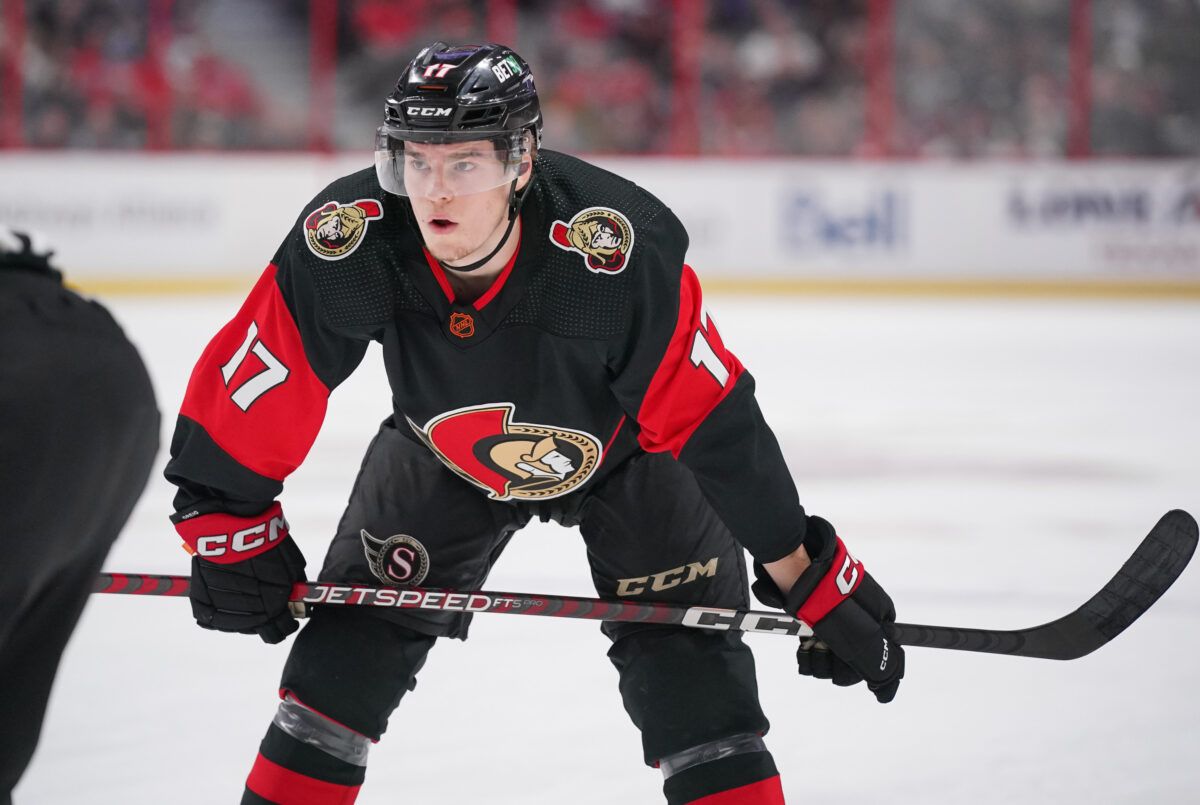 With the unfortunate distinction of being the third first-round selection for the Senators at the 2020 Draft behind Tim Stutzle and Jake Sanderson, both of whom were expected to be franchise cornerstones, Greig was regarded as somewhat of an afterthought. He was a talented junior and was coming off a 60-point season with the Brandon Wheat Kings in the Western Hockey League (WHL) and specialized in playing a tough, in-your-face game. But, at best, he was seen as a middle-six scorer.
That doesn't seem to be the case anymore. After joining Team Canada at the 2022 World Junior Championship, he made his debut with Belleville. In his first 10 games in 2022-23, he scored nine points. Then, in a 12-game stretch from Dec. 17 to Jan. 14, he put up 13 points, including two multi-goal games. Not long after that, he was called up to the NHL, where he scored three points in six games, including an assist on a Claude Giroux goal in his first game, his favourite player growing up.
By the end of the season, Greig played 20 NHL games with the Sens and put up two goals and nine points, a great start to his NHL career. But what impressed his teammates was his work ethic and heart. Head coach D.J. Smith liked what he saw in the young power forward, saying after his first game, "He's so competitive. His hockey sense is really high. He can skate. He's going to be a real good player." If this season was a taste of what fans will get to see in the near future, then Greig is going to make the Senators a better team.
Best Defenceman – Jorian Donovan
According to the NHL, the Norris Trophy is awarded to the defenseman"…who demonstrates throughout the season the greatest all-round ability in the position." That makes our award for best defenseman a little bit more difficult. Jacob Bernard-Docker and Tyler Kleven both excelled at the defensive side, but not as much at the offensive end this season. On the other hand, Lassi Thomson and Maxence Guenette had strong offensive seasons with Belleville, but are still working at rounding out their defensive skills. So, who was the team's best all-around defensive prospect in 2022-23?
Related: Senators: 3 Depth Free-Agent Forwards to Target This Offseason
That has to be Jorian Donovan. A fifth-round pick in 2022, not much was expected of the son of former Senators' defenceman Shean Donovan. He had some offensive chops and some good size but scored just 22 points in his rookie season last year with the Hamilton Bulldogs of the Ontario Hockey League (OHL). This season, however, he was easily the Bulldogs' best defender. In 55 games, he scored 12 goals, including his first career hat-trick, and 45 points. The next highest-scoring defender in Hamilton sat at 28.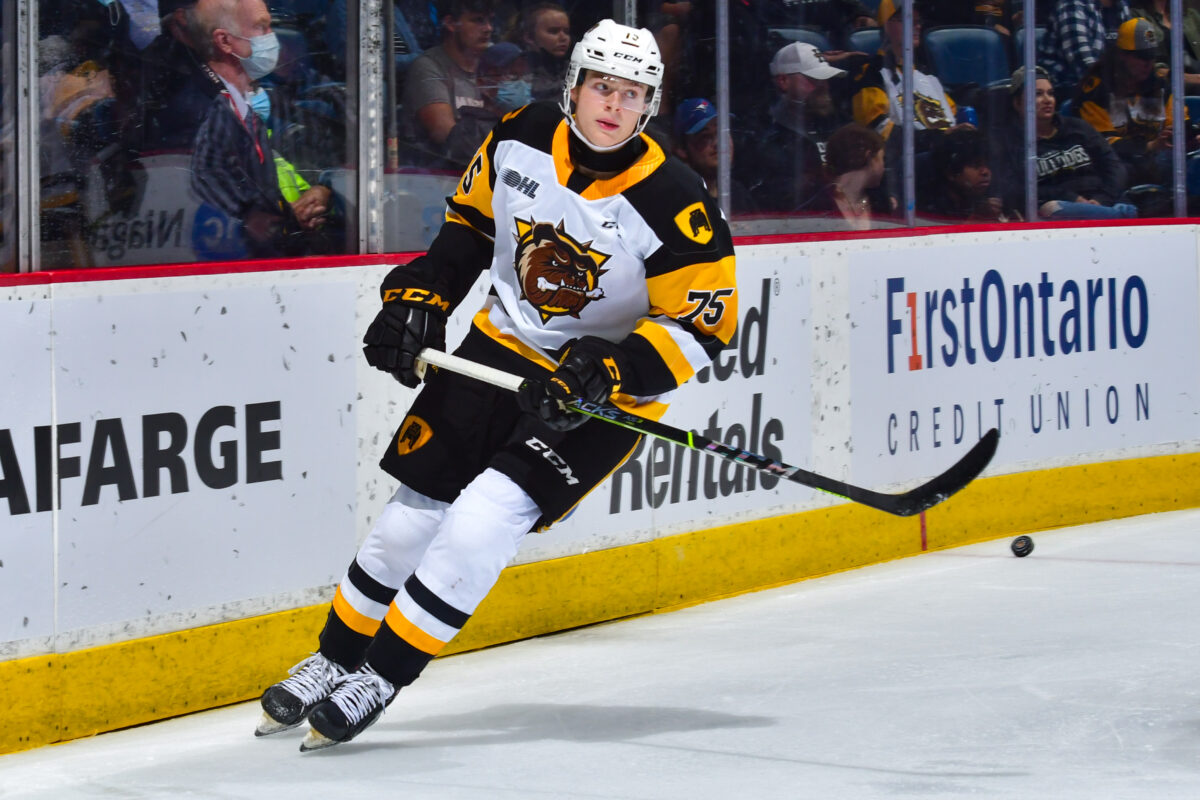 But Donovan was much more than just an offensive force. He finished the 2022-23 season with a minus-9, which was fourth among defenders who played at least 50 games with Hamilton. For a team that allowed 251 goals and had the eighth-worst goal differential, it's clear that he was a big proponent of keeping his team in games. It's part of the reason the Senators re-assigned him to Belleville once the Bulldogs were eliminated from the OHL Playoffs. Although just 19, he's ready for the professional ranks and looks like he could be a potential top-four defenceman in the NHL. Not bad for a fifth-round pick.
Best Goalie – Leevi Merilainen
This was a surprisingly tough race, as several goalies had incredible performances throughout the season. Mads Sogaard, the team's top goaltending prospect, played an impressive 19 NHL games, going 8-6-3 and finishing with a .889 save percentage (SV%). But Kevin Mandolese stunned fans with a .916 SV% in three NHL appearances after spending part of the 2021-22 season in the ECHL. 2022 draftee Kevin Reidler also put together a very solid campaign in Sweden and finished fourth in the J20 league with 913 saves in 32 games.
---
Latest News & Highlights
---
But the best overall performances came from Leevi Merilainen. After a strong 2021-22 season with the OHL's Kingston Frontenacs, he was loaned back home to Finland to Kärpät in the Liiga to give him some starting minutes and help his development rather than compete with Sogaard and Mandolese. It proved to be the right decision. Despite being one of the youngest starters in the league, he quickly took charge of Kärpät's crease, playing 42 games and posting a .918 SV%, both league-highs for goalies under 21 years old. His eight shutouts, on the other hand, tied for the league lead.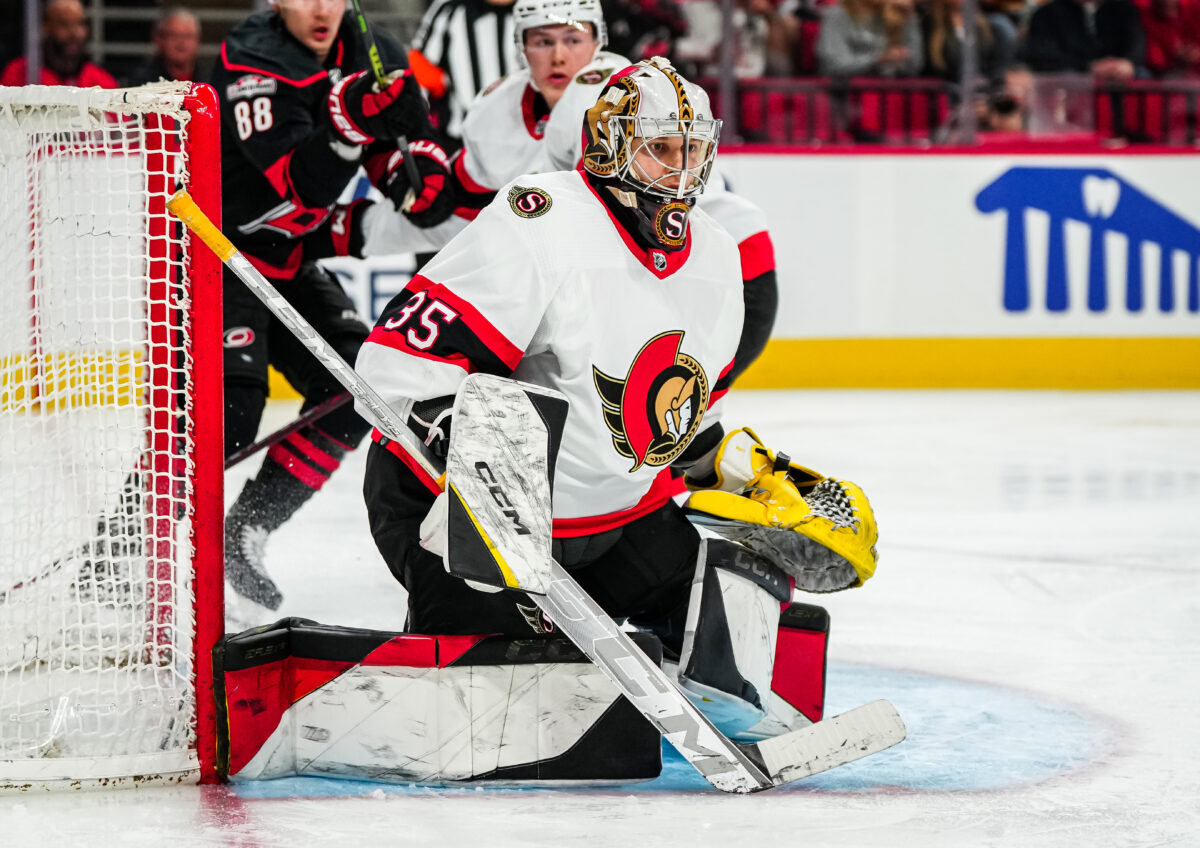 With the 2022-23 season nearing its end, the Senators could see that Merilainen had learned all he needed to from his Finnish stint, so they recalled him and sent him down to Belleville. In his first AHL game, he posted a 41-save shutout against the Toronto Marlies and was immediately called up to Ottawa to take over for Sogaard, who had gone down with an illness. In his NHL debut, he turned away 34 shots in a 3-2 overtime loss to the Carolina Hurricanes.
Although his second NHL game didn't go as well, Merilainen returned to the AHL and went on to win his next two starts, giving him an undefeated record of 3-0-0. He ended his season with one last appearance, coming into a game after Sogaard was pulled after allowing five goals. Next season, he'll be fighting for a spot on the Senators' roster, and given his incredible performances and consistency this season, there's a good chance he could jump up the depth chart.
Rookie of the Year – Stephen Halliday
Nominating a true rookie doesn't always work with prospects. Recalls, loans and a host of other assignments and re-assignments can make comparing a rookie season to another quite difficult. So, to simplify this award, I've decided to award it to the player from the 2022 Draft class who had the best season; that is to say, a rookie within the organization. While the Senators didn't have a strong 2022 Draft, there were still some diamonds in the rough, and no one demonstrated that more than Stephen Halliday, who led the Ohio State University Buckeyes in scoring as a freshman.
Halliday was always an interesting draft pick. A third-year draft-eligible player, he finally broke out in 2021-22 with the United States Hockey League's (USHL) Dubuque Fighting Saints, where he led the team with 35 goals and 95 points in 62 games, leading the Senators to use their 4th-round pick to select him. He moved to Ohio State University for the 2022-23 season, and although he was an older freshman, not much was expected from the big, 6-foot-4 center.
Halliday had other plans, however. In his first nine games, he scored three goals and 10 points, which earned him the Big 10 Second Star of the Week for Oct. 11. His point-per-game pace slowed down after that, but then he hit a new gear on Dec. 16, putting up back-to-back multi-point games. Since then, he never went more than two games without getting on the score sheet and finished the season with 11 multi-point games. In February, he was named to the short-list for the Tim Taylor Rookie of the Year Award, and although he didn't win, he set himself up perfectly for his sophomore season.
Biggest Surprise – Dylan Ferguson
Modeled after the Ted Lindsay Award for the most outstanding player, I decided that this award is a celebration of the unexpected. That can include players who outperformed expectations all season long or just a moment that caught the attention of everyone. This season, no moment caught the league's attention more than Dylan Ferguson's debut.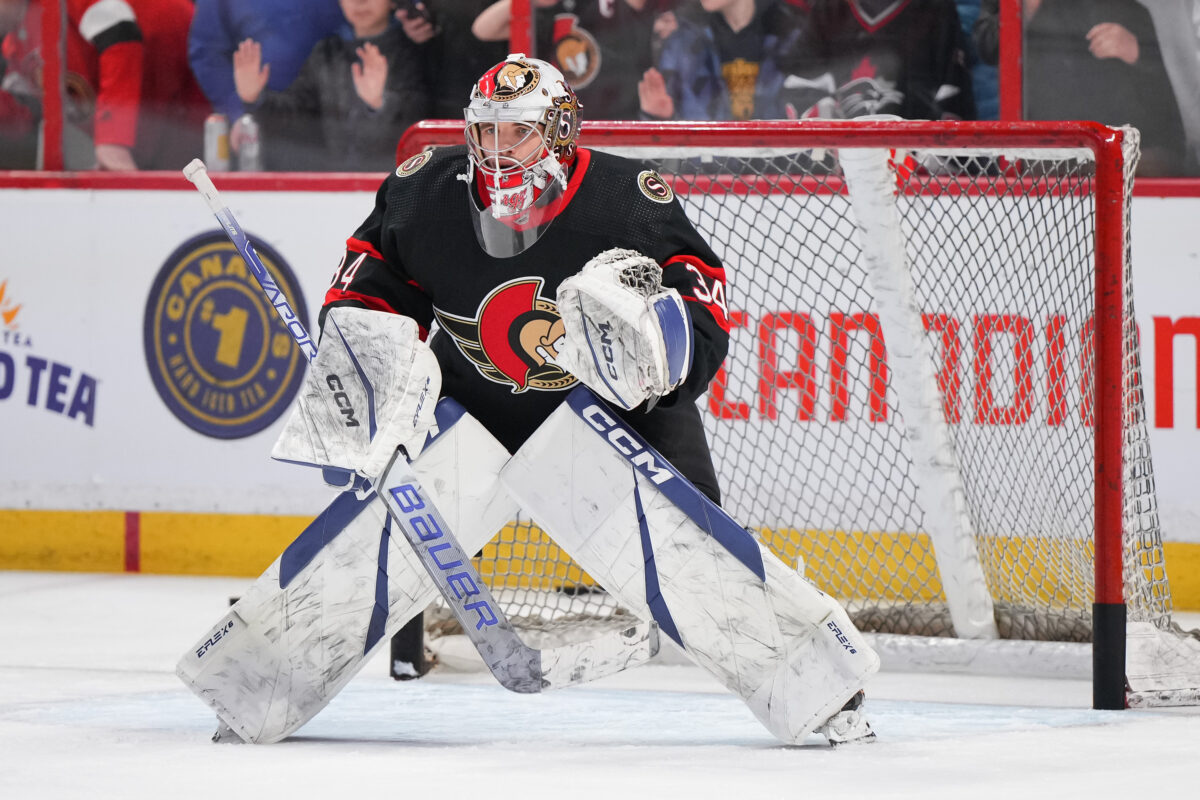 Ferguson's journey to Ottawa is a long and winding one, which makes his performance this season all that more impressive. Originally a seventh-round pick of the Dallas Stars in 2017, he was traded to the Vegas Golden Knights just days after being selected. Few draft picks are traded immediately after being drafted, and even fewer end up playing in the following season. But that's exactly what happened. The Golden Knights, who found themselves in some serious injury trouble by November, called up the young goalie from the Kamloops Blazers to serve as backup on their heavily depleted bench. He made his NHL debut just days later, relieving Maxime Legace with less than 10 minutes remaining in a game against the Edmonton Oilers, becoming the first goalie from the 2017 Draft to play any NHL games.
Related: NHL's Biggest Trophy Snubs of the Past Decade
Unfortunately, that impressive feat didn't pay off for Ferguson, as he never got to play in another game for the Golden Knights again. For the next four seasons, he bounced around Vegas' system, never playing more than 16 games for a team in a single season. So, when he became a free agent in 2022-23, he signed with the AHL's Toronto Marlies, where he hoped to find a more consistent job but ended up stuck behind Joseph Woll, Eric Kallgren, and Keith Petruzzelli.
In an act of mercy, the Marlies traded the languishing Ferguson to Belleville in February, where he finally was given a prominent role, and like a dog released from its chain, he flourished. In his first two starts, he posted a .940 SV%, which caught the attention of the Senators, who were struggling with their own goaltender situation. On March 2, he was signed to a one-year, two-way deal, and on March 20, five years after his first NHL game, he made his first NHL start of his career. The rest, as they say, is history.
Ferguson's body of work is incredibly small – he started just two games with Ottawa this season – but in that span, he posted a .940 SV% while facing 78 shots, giving him the highest average number of shots per game on the team. With the Senators in a tough spot with their goaltending next season, the 24-year-old has proven that he is a reliable backup and minor-league option. With another league-minimum contract, it's an avenue worth exploring anyway, especially after his impressive debut.
Biggest Playoff Performer – Zack Ostapchuk
We'll finish off the award ceremony with the Biggest Playoff Performer, which is modeled after the NHL's Conn Smythe Trophy that honours the most valuable player to his team in the playoffs. Unfortunately for the Senators, few prospects made the playoffs, and of those that did, most played just a single series before their team was eliminated. Still, one player stood out among that small group – Zack Ostapchuk.
Ostapchuk proved this season that he is the very definition of a clutch performer. He began the season as the captain of the WHL's Vancouver Giants, where he got off to a fantastic start, scoring 10 goals and 29 points in his first 21 games. He then rejoined Canada at the 2023 World Juniors for the second time and, although he played mainly in the bottom six, he scored a crucial goal against Slovakia in the Quarterfinal to tie the game and help his team win in overtime. His heroics made him a top target at the WHL's trade deadline, and the Winnipeg ICE ponied up three first-round picks and four players for him.
While it was a high price to pay, it's been worth every penny. Ostapchuk closed out the season with 38 points in 34 games and followed it up with 12 points in 15 playoff games en route to the ICE advancing to the WHL Final. He's been a big part of the team's success, giving it his all on every shift and providing the team with the grit and nastiness they lacked before he came to Winnipeg.
The Rebuild Continues to Pay Dividends
The Senators no longer have one of the best farm systems in the league. But that's all part of the plan, and nearly every important player added during the team's long and painful rebuild took meaningful steps forward this season. On top of the prospects mentioned today, it's important to remember that, in the NHL, Stutzle asserted himself as a legitimate star, Brady Tkachuk truly came into his own as team captain and the heart and soul of the team, and Sanderson proved that he is one of the best young defencemen across the league. This is a young team on the cusp of greatness, and if they can continue to build on their little successes, fans will soon be rewarded with springtime hockey.