Connor Hellebuyck is going to listen to Winnipeg Jets' GM Kevin Cheveldayoff when he outlines the plans for the team and where the goaltender fits into them. But, if the former Vezina Trophy winner who had a Vezina-like regular season doesn't like what he hears, there's a very good chance the two sides might be looking at a trade that would see Hellebuyck move on as the Jets begin a major retooling.
Related: Ottawa Senators' Defense Already Set for 2023-24
Hellebuyck spoke with the media on Saturday and said he wants to win a Stanley Cup. With so many questions surrounding the Jets this offseason and a real concern this team can move forward with the same core group of players, the likelihood is, Hellebuyck finds a new home this summer (or over the course of the coming season). Otherwise, he likely tests the free agency market in the summer of 2024. The Jets would be better served to move the player if he's not sticking put, and if Cheveldayoff is going to gauge interest, he might be wise to call the Ottawa Senators.
The Senators Are Looking for a Goaltender
Senators' general manager Pierre Dorion told reporters in April that the team will not re-sign Cam Talbot, who is a pending free agent. Talbot went 17-14-2 with a 2.93 goals-against average and .898 save percentage this season and that wasn't good enough to justify agreeing to his ask of a two-year extension at the terms he was seeking. That leaves the Sens with Anton Forsberg and a stack of entry-level goaltenders led by Mads Søgaard.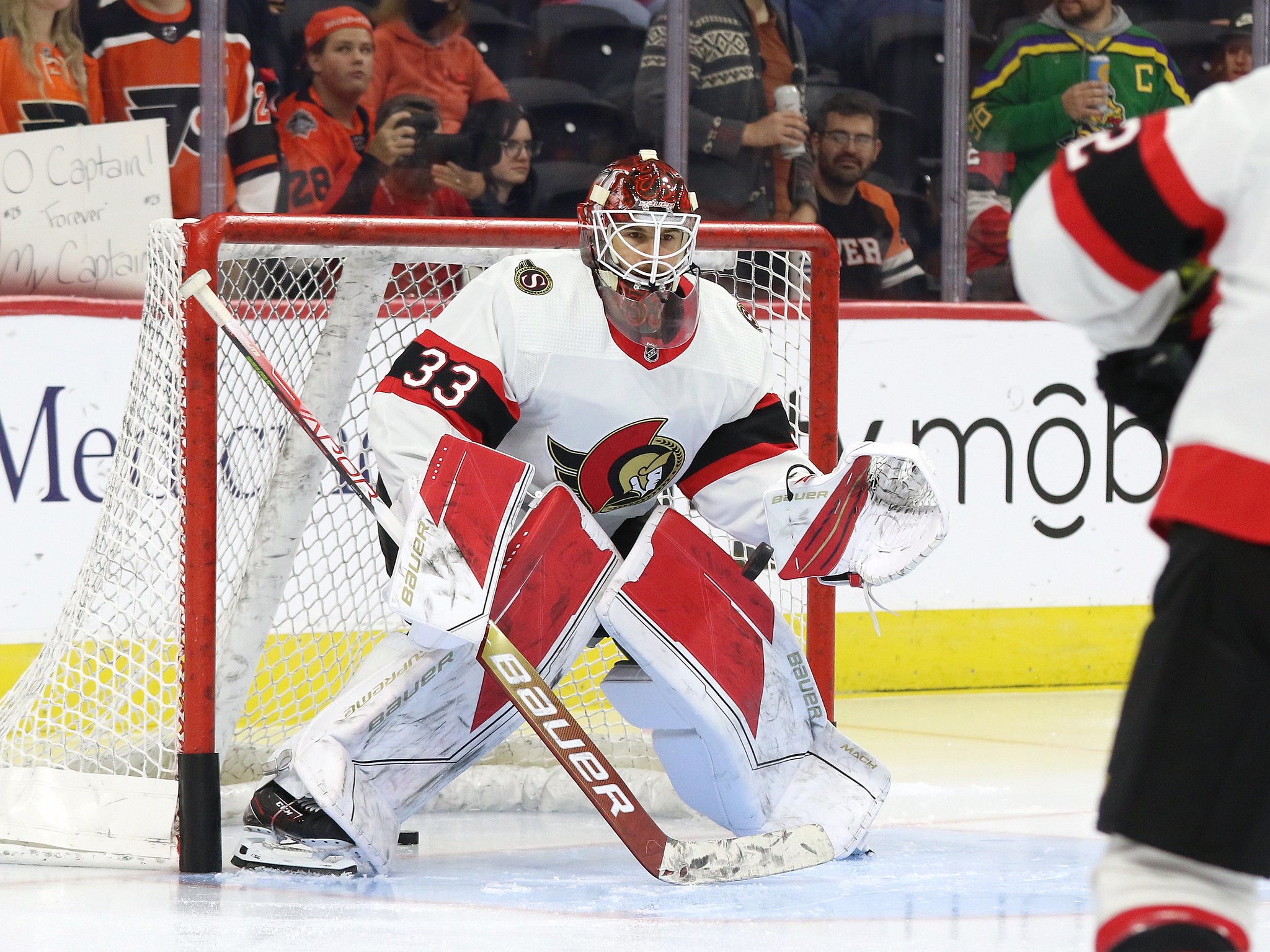 If the Senators want to be contenders — which they absolutely do and the organization was surprised not to be in the playoff mix after making so many moves this past offseason — they'll need a solid starter. Forsberg seems to have shown well enough to earn himself a contract extension, but it might be a bit much to ask that the tandem of Forsberg and Søgaard carry the heavy lifting all of next year. When I asked a fellow THW contributor Dayton Reimer about how well Søgaard is regarded in Ottawa, he responded:
"He earned some high praise from Brady Tkachuk at the end of the season as the team's future starter, and the team has always thought he could be that guy for them. He's a few years away from that though. A bit inconsistent, and players that big always take a bit longer to figure out their game. I'd also add that in the Sens current system, he's not going to thrive (a la Gustavsson) unless the goalie is one of the best in the league. They just allow too many dangerous shots and frequently leave their netminder hanging."
That sounds like an ideal scenario where the Senators might target someone of Hellebuyck's skill set.
The Senators Need a Difference-Maker In Goal
If Ottawa intends to make the most of what Dorion has done with the team and potentially convince a player like Alex DeBrincat to stick around, adding legitimate weapons that give the team a chance to compete will be key. Dorion would have some salary cap juggling to do in order to make both DeBrincat's new extension and Hellbuyck's $6.166 million hit work, but there would be motivation to try. Those two pieces alone make the Senators exponentially better and Hellebuyck answers one of the franchise's biggest questions.
---
Latest News & Highlight
---
The Senators also need to find the perfect balance between solving their goaltending problem and not spending a crazy amount on a new player with a long-term deal while the franchise is being sold. Reports that The Remington Group is putting together a $1 billion bid to purchase the team is huge news, but a long-term contract that could be seen as an albatross is not a good investment at a critical time. Hellebuyck is only locked in for one more season, making him an ideal target.
How Willing Are the Senators to Make a Splash?
If the Remington Group is successful in buying the franchise, Reynolds will already have been well into production of the documentary that will accompany his purchase of the team. What better way to kick things off than to start by acquiring one of the best goaltenders in the last five years? The idea that a struggling club that should have made the postseason but probably didn't because of a lack of goaltending went out and traded for arguably the best goaltender in the NHL is a must-watch.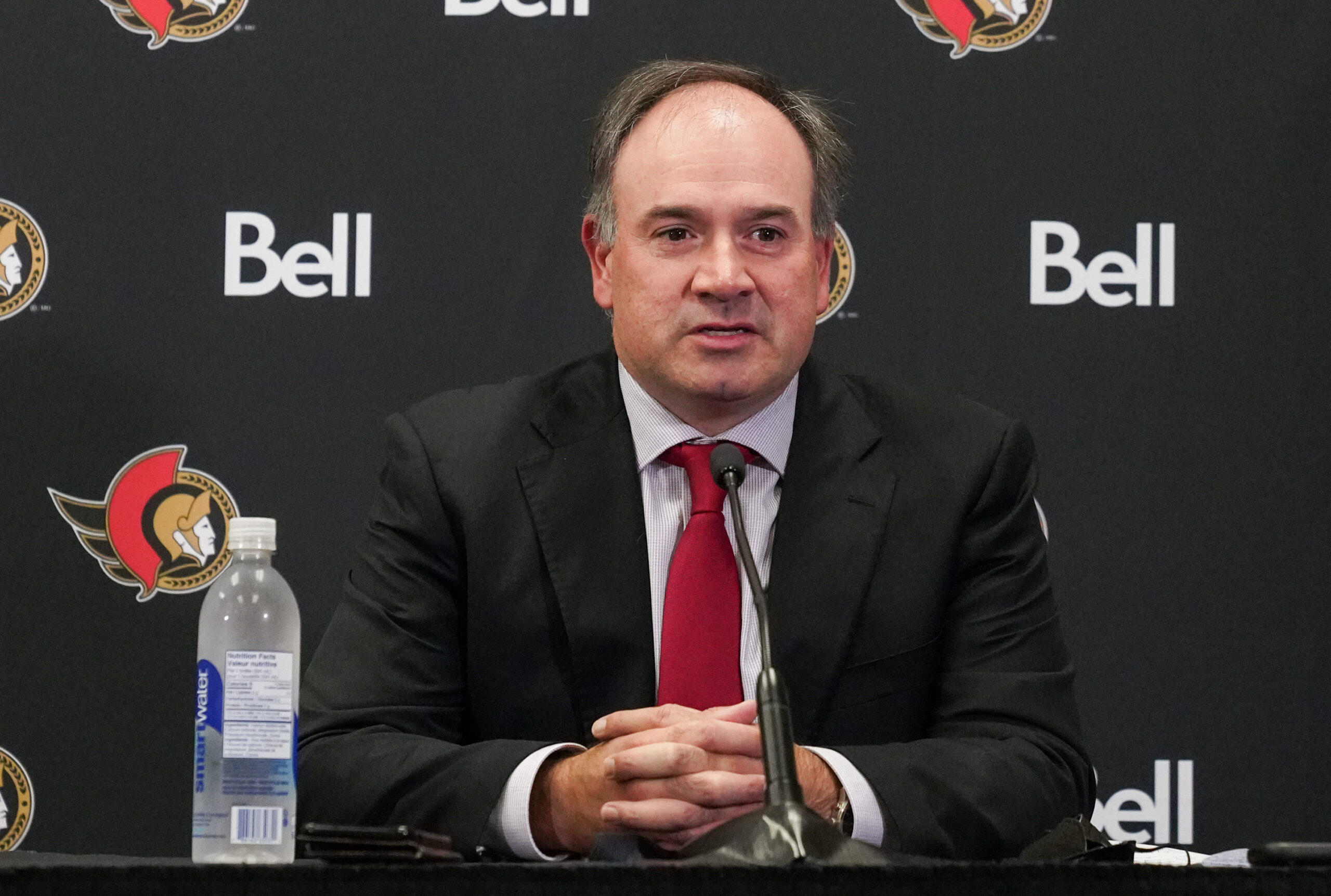 As for what that trade might look like… that remains to be seen. Søgaard would probably be of interest to the Jets, as would a first-round pick in 2024 (the Senators don't have the picks in the first three rounds of this year's draft). The Senators might need another sweetener too as other teams will offer their first this season if Hellebuyck is really available.
From there, one of the questions worth asking is if the Senators would consider moving Shane Pinto in the deal, assuming Hellebuyck agrees to a long-term extension. It was rumored the Arizona Coyotes wanted Pinto in the Jakob Chycrun deal and Ottawa was unwilling to go there. The Jets will probably ask and it would be hard to imagine Dorion saying yes with only a single season with Hellebuyck under contract.
Another trade hypothetical thrown out there by someone closer to the team than I am was Forsberg, Ridly Greig, Jacob Bernard-Docker, a 2024 1st, and a 2025 2nd. This would be a sign-and-trade type of deal.