OTTAWA — Ben Harpur scored his first NHL goal, Craig Anderson stopped 36 shots and the Senators spoiled Erik Karlsson's return to Ottawa by beating the San Jose Sharks 6-2 on Saturday.
Karlsson, the former Senators captain, was playing his first game in Ottawa since he was traded to San Jose in the off-season. The team honoured the two-time Norris Trophy winner with a video tribute during the first period.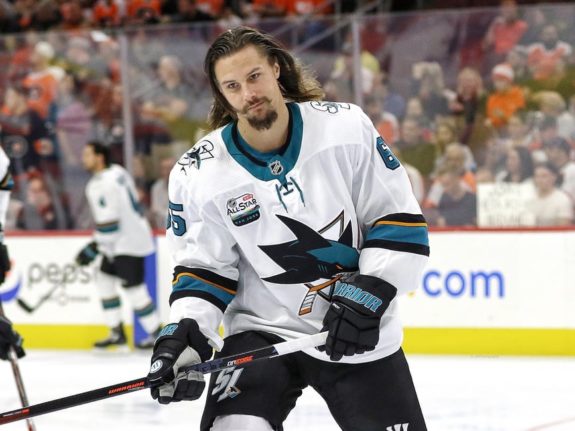 Ryan Dzingel, Mark Stone, Mikkel Boedker, Magnus Paajarvi and Bobby Ryan also scored as the Senators (12-12-3) won their third straight. Boedker added three assists for a four-point outing.
Joe Thornton and Barclay Goodrow scored for the Sharks (12-10-5), who extended their losing streak to a season-high four games. Martin Jones made 21 saves.
The Senators took a three-goal lead at 4-1 with Stone's power-play goal four minutes into the third period. And Paajarvi made it 5-1, scoring into an empty net with over five minutes remaining.
Goodrow beat Anderson on a deflected shot in front to make it 5-2, but Ryan restored Ottawa's four-goal cushion one minute later.
Ottawa opened the scoring as Dzingel picked up his own rebound and beat Jones from a sharp angle for his 11th of the season.
San Jose tied the game with a power-play goal on a play that started with Karlsson and ended with a wide-open Thornton for an easy goal. But the Senators score twice in a span of 49 seconds to take a 3-1 lead.
Harpur, playing his 60th game, wristed a shot past Jones and Boedker, a former member of the Sharks, beat the San Jose goalie through the legs.
A scoreless first period saw the Sharks outshoot the Senators 8-5 with Tomas Hertl having a couple good chances.
Karlsson received a thunderous applause from the crowd of 17,531 during his video tribute, shown on the scoreboard at the first TV timeout. He acknowledged the crowd with a wave from the ice.
Notes: D Justin Falk, acquired by the Senators Friday, played his first game Saturday.
Lisa Wallace, The Canadian Press