With the 2018-19 NHL season only days away, the Ottawa Senators roster is starting to take shape. One of the biggest surprises through this preseason has been the play of Maxime Lajoie, who remains one of eight defenders still on the roster. Lajoie has shot up the depth chart, passing Christian Wolanin, Ben Harpur and Christian Jaros, and looks to stick around come puck drop on Oct. 4.
Through the first three preseason games, the 20-year-old defenseman has a team-high 2 assists, is even in plus/minus and has an average time on ice (TOI) of 23:24. His TOI is second only to workhorse Cody Ceci.
The Sens will have an interesting choice with Max Lajoie this weekend. The kid has really looked good in pre-season. Another good performance on Saturday vs MTL and I'm not sure how you send him down to Belleville.

— Ian Mendes (@ian_mendes) September 28, 2018
Lajoie's emergence through training camp may be a surprise to most, head coach Guy Boucher isn't surprised at all and wouldn't have been last season either.
"Two years ago, when this guy came in, he was brilliant," Boucher said to the Ottawa Sun. "Last year, he was brilliant again and he's brilliant now. He's older, stronger, more mature and relaxed. He's a guy with a lot of poise with the puck. Not much seems to faze this guy."
In a separate interview, Boucher continued to gush over the defender, "Even last year, I would have liked to have kept him longer, but we had too many numbers, but he deserved to stay a little longer. This guy displays extreme discipline in his game and is extremely smart with the puck. Very poised, always in the right places."
Even his teammates are showing him praise, including the highest level of compliment a defender can get — from his goaltender. Backup goalie Mike Condon spoke very highly of the young player, as well as Jaros, after a 2-1 win over the Chicago Blackhawks.
"I thought Max was great, Jaros was great back there. They were very strong, not afraid to rush the puck, not afraid to make skilled, poised plays. That's the scariest thing when guys are forechecking you. How long can you hold on to it before you can make a smart play? They are not just throwing it away, rimming it off the boards. That's easy to do."
Wolanin was pencilled in by many to make the big club after appearing in 10 games last year, but a weak performance through training camp, including mistakes and turnovers, gave Lajoie the opportunity to prove himself. Wolanin will likely be back in Ottawa at some point this season, but it looks as though Lajoie will take his spot opening night.
Getting to Know Lajoie
Lajoie spent his junior years playing with the Swift Current Broncos in the WHL, appearing in 203 games, collecting 119 points and wearing the "A" for his last two seasons. Last season, Lajoie climbed the ranks within the organization, playing one game with the ECHL's Brampton Beast, before finishing the year on the top pairing for the AHL's Belleville Senators.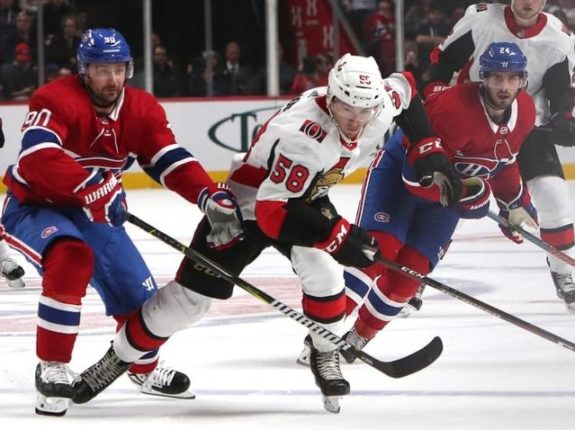 The young defender was the Senators 133rd draft pick in the 2016 NHL Entry Draft and, interestingly enough, the Calgary native shares that draft selection number with none other than longtime captain Daniel Alfredsson. In Lajoie's draft, he was ranked 44th by NHL Central Scouting, making him a steal for the Senators in the fifth round almost one hundred picks later.
Lajoie has been taking in this preseason experience to achieve some lifelong goals and play against some of the league's best.
Playing at the Bell Centre against his favourite team growing up, the Montreal Canadiens, one day before a round of cuts that saw 15 others sent down to Belleville, the rookie said to the Ottawa Sun, "I was really happy to play in Montreal. That was a really good feeling for me, kind of a dream growing up. And I feel pretty good to still be here."
Then, playing against the Blackhawks, Lajoie was tested by playing against one of the NHL's best, Jonathan Toews. When asked what it was like to face Toews, he smiled and replied, "Kind of scary. I remember battling in the neutral zone there once, and I saw him coming and said, 'Oh my gosh, Jonathan Toews is coming at me right now.' That's pretty cool. It's awesome playing against those guys. You watch them on TV growing up and it's pretty surreal to be able to be on the ice against them."
While it's still not a sure thing that Lajoie will make the club, or stick with them if he does, he has had a very promising preseason and the Senators will definitely give him a long, hard look. As of now, he looks to have earned his spot in the lineup for opening night and has given Ottawa fans a glimmer of hope for the future of the team.