Welcome to Senators Weekly, where you can catch up on the past week of the Ottawa Senators throughout the 2018-19 season. From trending topics to surging prospects to news and notes, this is your weekly roundup on all things Sens.
The Senators came into the week on a three-game winning streak, but that was ended abruptly at the hands of the Montreal Canadiens, losing both games of a home-and-home series 5-2. Despite losing Matt Duchene and Bobby Ryan in the second game against the Canadiens, the club bounced back on the weekend with two overtime games. The Senators came away with a 2-1 win over the Pittsburgh Penguins and lost 2-1 against the Boston Bruins. Three points from the Pens and Bruins is quite the feat, though.
The club is currently five points back of the Canadiens for the final wild-card spot with 30 points. They are 13-14-4, sitting seventh in the division and 23rd in the NHL. Here are the notable headlines and stories from the past week.
Tkachuk, Domi Reignite Senators-Canadiens Rivalry
The Senators have long been known as the "Pesky Sens" and Brady Tkachuk has become the poster boy for that nickname. In the Senators and Canadiens' home-and-home series this week, he was just that and seems to have helped reignite the rivalry from the two Canadian teams. On the other side, Max Domi is gaining the title of a pest in the league, easily getting under the skin of opponents, something to which Zack Smith can attest.
Related: Canadiens Sweep Home-and-Home With Senators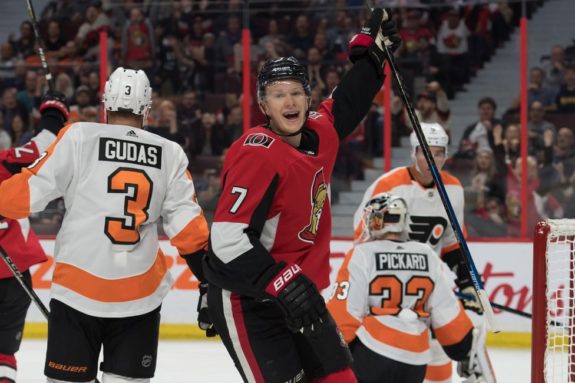 The intensity kicked off in the first game, when Drake Batherson clipped Andrew Shaw and Domi jumped Batherson, dropping his gloves looking to fight the young player. The Senators' rookie kept his gloves on, resulting in no fighting majors given. Later in the game, Domi was seen sitting on the bench chirping forward Zack Smith and mouthing the word "waivers" referring the Senators sending a message to the team by sending the veteran through waivers in the preseason. In the second game, Smith was given a penalty for unsportsmanlike conduct for spearing Domi.
Tkachuk was also throwing himself into the mix and once again stood up for his landlord, Mark Stone. On the play during Tuesday night's game, Tomas Tatar knocked down Stone at centre ice and Tkachuk came in immediately after to hit Tatar. Tkachuk also made himself known to goaltender Carey Price, although it was Price who won the battle this time.
While both players got involved physically, it was Domi who came on top in both games. Winning both games 5-2, Domi had two goals, one assist and was a plus-3 while Tkachuk had no points and was a minus-3. As the rivalry grows with the young players on the teams, the Canadiens-Senators matchups will become must-watch games for fans.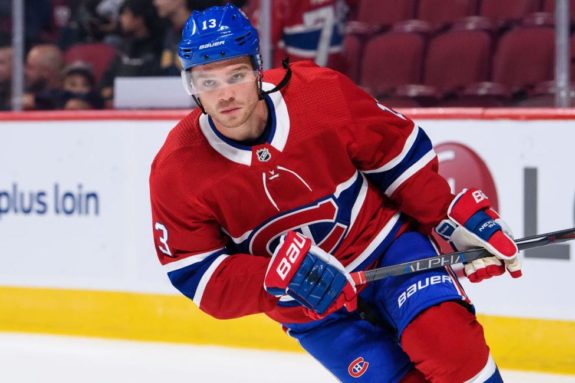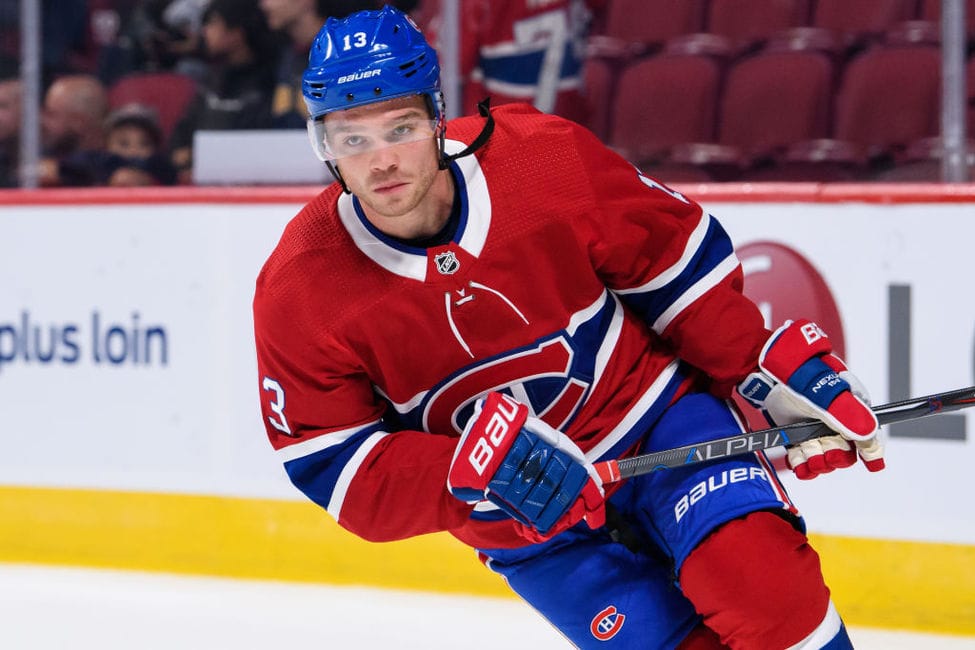 Canadiens head coach Claude Julien touched on the rivalry before the second matchup.
"With the Senators, definitely, they're gritty games most of the time. I think it's our closest rival, so I think it's a natural thing. I don't think there's a lot of love between the two teams, which is a good thing when you're looking for a rivalry." (From: "Canadiens Game Day: Max Domi lives up to his 'Shootsy' nickname" – Montreal Gazette – 12/05/18).
The division rivals will face off again once more this season, this week on Dec. 15 in Montreal. The Canadiens currently lead the series two games to one.
Senators Lose Duchene, Ryan
A big blow came to the Senators forward depth in the second game versus the Canadiens, as the team lost Matt Duchene and Bobby Ryan to injuries. General manager Pierre Dorion announced that Duchene will be week-to-week with a groin injury and Ryan is out indefinitely with a concussion. Nick Paul was called up from the Belleville Senators to help out the depleted forwards.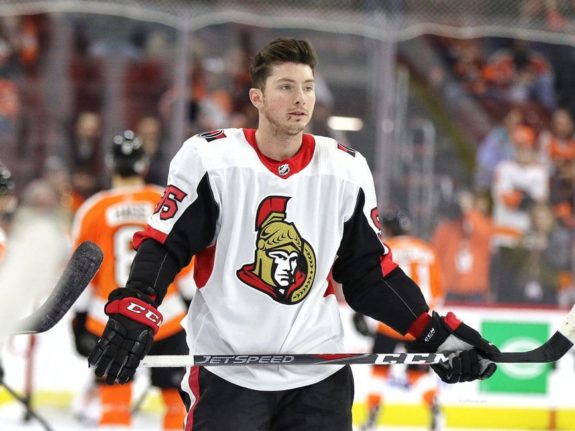 At the time of Duchene's injury, he was tenth in the NHL in scoring with 12 goals and 22 assists. The team will be unable to fill his scoring ability down the middle but will rely on Stone, Tkachuk and Dzingel on the wings to help out. The team has already been strapped thin at centre with Jean-Gabriel Pageau out all year so far with a torn Achilles.
Goaltender Craig Anderson discussed the two players going down.
"Any time when you lose guys of that calibre it's going to hurt," said Anderson. "But like I said you can't look at it as the woe is me, you've got to look at it as an opportunity for another guy to step in and fill that role and pick up some of those points that those guys are leaving on the table. It gives us an opportunity for other guys to step in and fill roles that they probably wouldn't be in."
Mark Borowiecki is still out as well, but Dorion expects him to return this week, and Maxime Lajoie returned from injury Saturday to face the Penguins.
Tkachuk reiterated Anderson's point. "We can't have guys try to do too much, it's adversity and we have to face it. It's the NHL and injuries happen so it's just stepping up and trying to do your part, work your hardest and try to do it for your teammates."
Max McCormick, who hadn't played the six games prior to the injuries, drew into the lineup as well as the called-up Paul.
Trio of Prospects Gets Invite to World Junior Camps
Team Canada invites Alex Formenton and Jacob Bernard-Docker
Earlier this week, Hockey Canada announced its invites to the 2019 World Junior Hockey Championship selection camp that will be held Dec. 10-14. Among the 34 players are Senators prospects Alex Formenton and Jacob Bernard-Docker. Along with forward Maxime Comtois, Formenton won a gold medal with Canada at the 2018 World Junior Championships.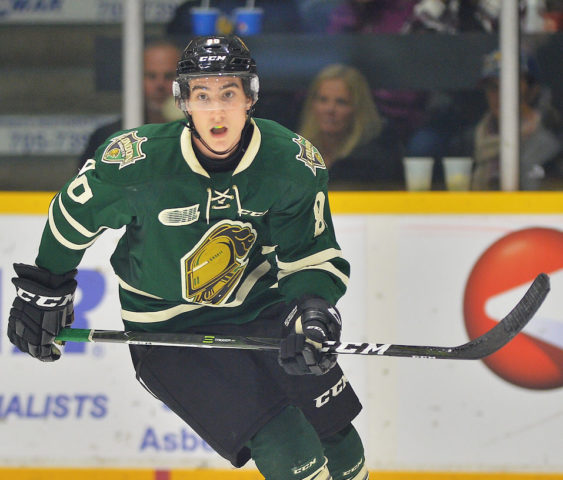 After starting the season in the NHL with the Senators, Formenton was sent down after his nine-game stint to the London Knights. In Ottawa, the 47th overall pick in 2017 had one goal. Since being sent to the OHL, he's played in 13 games, collecting seven goals and 16 points. At last year's tournament, Formenton had two goals and four points through seven games en route to the gold medal.
Senators chief scout Trent Mann talked about Formenton's selection and his hopes for him at the tournament.
"(Formenton) would be one of the leaders there, for sure, and he probably has the possibility of being the captain. He was more a depth player last year and I think this year he'd be on the front end. He'll be looked to for more offence this year. How it all shakes out you never know, but, at this point in time, I'd say that's the expectation for him, (Canada) and us." (From: "GARRIOCH GAME REPORT: Price is right as Senators fall to Habs" – Ottawa Sun – 12/05/18).
Bernard-Docker was the Senators second pick in the first round in the 2018 NHL Entry Draft, selected at 26th overall. A defender for the University of North Dakota, he currently has four goals and 10 points through the team's first 17 games. While he's a bit more of a stretch to make the final roster, getting the invite at all is a good sign for the young defender.
"Typically there's never a ton of college kids invited, so that's impressive to start with," Mann said. "His confidence has grown throughout the year. They've done a very good job at North Dakota helping him with his game. He plays top minutes there in the first or second pairing. He gets special-teams play and, for a freshman at North Dakota, that doesn't happen a lot. He's going to have to come in (to camp) and impress right off the hop. I don't think he's going to have a few days to settle into it." (From: "GARRIOCH GAME REPORT: Price is right as Senators fall to Habs" – Ottawa Sun – 12/05/18).
Josh Norris Should Be a Stud on Team USA
The other prospect who got the call for the World Junior Championships this week is Josh Norris for Team USA. Norris is one of five players returning from last year' bronze-medal finish. He is currently playing in the NCAA with the University of Michigan and has collected 10 goals and 19 points through 17 games.
Related – Josh Norris: Senators' Future Down the Middle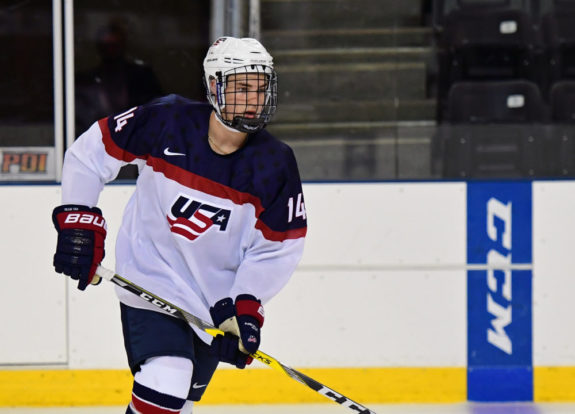 Norris should be the second-line centre behind the highly-touted Jack Hughes. For Senators fans who haven't been able to get a good look at the 19-year-old, this will be a great chance to see what the future holds. In last year's tournament, Norris was in a similar position to Formenton, as a depth player, collecting three assists. This year he should be a star on the team, building off of the success he's had with Michigan.
"(Norris) should be able to make a huge impact," TSN director of scouting Craig Button said. "He's a returning player and he can do so many different things in the game. He can be on the power play, he can kill penalties and he's a really good two-way centre.
"He can be so good 5-on-5, a playmaker and shooter. Josh has always had the abilities, but he's getting stronger and as he's getting stronger he can do more. You're seeing a player gain confidence. I expect he'll be a really significant player." (From: "GARRIOCH: Bobby Ryan says youth pushing Senators to stay in race" – Ottawa Sun – 12/06/18).
Senators News and Notes
In Thursday's game versus the Canadiens, Anderson faced 42 shots against. He has faced 40-plus shots in 9 games this season. He has never faced 40-plus shots in 10 games in a season.
Logan Brown was the subject of much scrutiny at the beginning of the season and was sent down to Belleville despite many thinking he would make the NHL club right out of the gate. After injuries held him out of the start of the year, Brown is coming into his own and has four goals and nine points through 10 games in Belleville. With Duchene and Pageau out with injury, Brown might get a look with the big club sooner rather than later.
Duchene's future with the team is looking more and more uncertain. Sportsnet's Nick Kypreos reported that while Duchene's camp and the Senators have met, no numbers have been exchanged. With the trade deadline only two months away, time is running out to lock Duchene down. If he's not signed beforehand, it's very likely that he'll test the free-agent market and will almost definitely get more from another team. With the team eligible to begin negotiations with Mark Stone Jan 1, 2019, Duchene may want to wait and see what he does. The question now is, how long will the club wait before looking to move the centreman?