While the Ottawa Senators have been eliminated from playoff contention, the remaining games are still very significant to some individual players. The defensive scoring title is still within Erik Karlsson's reach, rookies like Filip Chlapik and newly signed Christian Wolanin have something to prove, and players like Ryan Dzingel are hoping to solidify breakout seasons.
However, the Senators most consistent player this year has hit a roadblock. Mark Stone, who was playing at over a point per game pace, has been out of the lineup since suffering a leg injury on Mar. 9. While the Sens have so far been unwilling to shut him down for the rest of the season, Stone's injury will still have a significant impact on his award hopes.
Stone has been one of the best under-the-radar players in the league for the last few seasons and is slowly getting more league-wide recognition for his two-way game. His consistently great play this season had him in the running for the Selke Trophy, awarded to the forward who demonstrates the most skill on the defensive side of the game.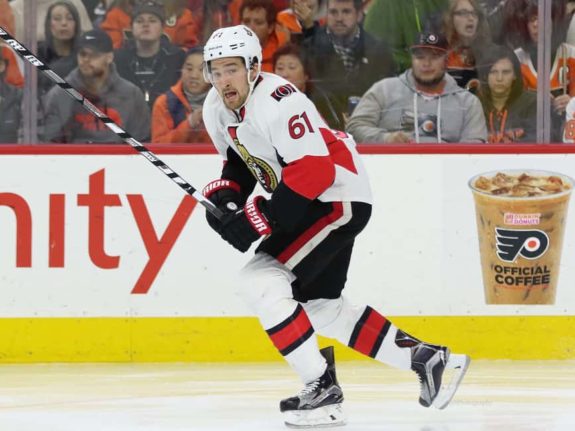 While centremen have had a monopoly on the Selke in recent years, Stone's excellent two-way game has helped him transcend his position. Stone's uncanny ability to strip opponents of the puck is what earned him recognition in his rookie season, and remains a key part of his game. The 25-year-old is still among the league leaders in takeaways despite missing a significant portion of the season.
Stone Solid in All Areas
Even though this aspect of his game draws a lot of attention, Stone has become an outstanding defensive forward in other aspects as well. Stone has become a workhorse for the Senators, leading the team's forwards in average ice time, and getting playing time on both the power play and penalty kill.
Considering Ottawa's struggles this season, Stone's numbers are even more impressive. He leads the team in plus/minus, even though this plus-nine rating is well below most other Selke contenders. While it seems like this could be a problem, there is no one statistical category that determines whether or not a player is worthy of the Selke.
While players with incredibly high plus/minus ratings have won the award before, like Anze Kopitar and his plus-34 season in 2016, the statistic is not a great indicator for the Selke. The same is true for takeaways, as the last Selke winner to lead the league in this key defensive category was Pavel Datsyuk in 2010.
Hard to Beat Bergeron
Since a player's defensive prowess is usually assessed based on the eye-test as much as their stats, well-known players have somewhat of a built-in advantage. The most well-known player in this sense is Boston Bruins center Patrice Bergeron, who has won four of the last six trophies.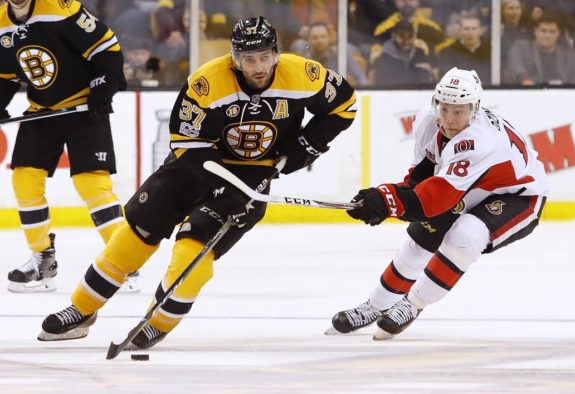 Bergeron has definitely earned his reputation as the perennial Selke favourite, and given his fantastic play this year, he could even be in the running for the Hart Trophy as well.
Even though he once again has a very good chance at the trophy, Bergeron also suffered an injury that could hurt his awards chances. While his season to this point has probably been so good that voters will forgive this lost time, the field is still relatively open.
Golden Knights forward William Karlsson's absurd plus-44 season has him firmly in the conversation, but conventional wisdom points to a more well-known player like Anze Kopitar taking home the prize. The Kings' captain is having a career year in terms of offensive production and his defensive play is still elite.
This makes it very difficult for Stone to remain in the Selke conversation. However, Stone has been on the radar for this award before, finishing sixth in Selke voting last season, and will likely be a contender for the years to come.