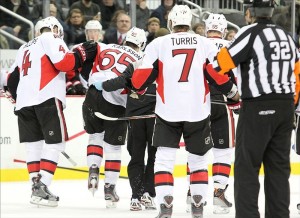 Yes talking about this season's Ottawa Senators and their great play while overcoming injuries may have become old hat, but the fact is every point they earn continues to make them one of the best stories of the National Hockey League season.  Entering this season expectations were bigger for Ottawa after their impressive 2011-2012 campaign, especially the playoff performance that saw them take the top-seeded New York Rangers to seven games in their first round matchup before being eliminated.  After all it was going to be largely the same core group of talent on the roster this year with only a few minor changes, mainly some young prospects getting their opportunity to become full-time pros.  It was also going to be another year for the group playing in Head Coach Paul MacLean's system and after having such success during MacLean's first year, both the organization and the fans were confident and expecting an even better performance moving forward.  However as everyone knows by now, it's been far from simple for the Senators this season having lost their top player at each position and best three players overall in Jason Spezza, Erik Karlsson and Craig Anderson for major stretches of time.
Many have written about the reasons for Ottawa's success with this depleted roster and most agree it's been a combination of outstanding coaching, incredible goaltending and the growth of the Senators' great young talents, proving themselves when needed the most.  This is in no way intended to diminish the great contributions the team has gotten from role players such as Zac Smith with 13 points and Jim O'Brien with 5 goals or the veterans like defenceman Sergei Gonchar who has been an assist machine including posting a franchise best ten game assist streak.  They have all been keys to the team's success but the most significant of the play for Ottawa recently has come from the teams' "young guns," a group which includes the likes of Kyle Turris, Jacob Silfverberg, Mika Zibanejab, Patrick Wiercioch and Erik Gryba.  Even with loses in back to back games the Sens are 7-3-2 in their last twelve games and it's thanks in large part to the great play of these youngsters.
Kyle Turris: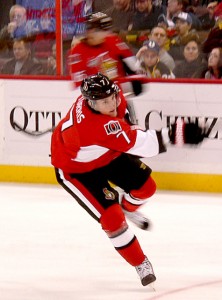 The 2011-2012 season was an eventful one for Center Kyle Turris.  It began with a contract dispute and subsequent holdout between himself and the Phoenix Coyotes and after a deal was finally struck he was dealt shortly after to Ottawa in Mid-December.  The move was exactly what the young pivot needed as he was given not only a fresh start but a prominent role as the teams' number two center.  He excelled under Paul MacLean's new system and had a strong remainder of the regular season and post-season.  Entering this year both Turris and the organization were expecting continued improvement and success with him now completely settled into his role, the system and the team.  He was off to a great start through the first few games when the injury to Ottawa's number one center Jason Spezza changed his role again.  Turris was now being looked upon to fill the role of the team's top line center for the majority of the season, a role many believe he has the skillset for and may one day fill full-time but certainly not at this point.  The challenge of facing the opposition's most skilled and or best shut down players on a nightly basis slowed Turris' offensive production drastically as he had an extended goal scoring drought from late January to early March.  However despite the goals being tough to come by Turris continued to contribute, adding a number of assists, winning around 50 percent of his face-offs and remaining a plus player.  It's no coincidence the team has been on a hot streak as Turris has recently begun to heat up again with 4 goals and 5 assists for 9 points in his last eleven games and if the current number one can continue to produce consistently, it won't be a matter of if the Sens make the playoffs but simply where they finish.
Jakob Silfverberg:
For the last couple of seasons in Ottawa after hearing about the great shot and good skating ability, Sens fans have been waiting to get a full-time look at promising Swede Jakob Silfverberg.  When the organization drafted Silfverberg 39th overall in the 2009 NHL Entry Draft, they did so knowing he was a bit of a project and would require some time to reach the NHL level.  Their plan was to let him continue to grow his game at home in the Swedish Elite League before bringing him to North America and their plan appears to have paid off thus far.  After a strong 2010-2011 season for his club Brynas IF Galve in the Swedish Elite League he had a dominant 2011-2012 campaign where he became more than a point per game player producing 24 goals and 30 assists in only 49 games.  For an encore he added another 13 goals and 7 assists in 17 playoff games helping his team capture the league title and Le Mat Trophy to go along with the league MVP honors he earned for both the regular season and playoffs.  His performance was so impressive that when the Ottawa Senators had the need to fill a forward spot for Game 6 of their first round playoff matchup with the New York Rangers it was Silfverberg who drew in.  He played in the last two games of the series and although he didn't produce any points he showed well and got his first taste of high level NHL hockey.  He brought that experience into 2012-2013 and his first pro season in North America with the Binghamton Senators of the American Hockey League.  In 34 games against elite level competition with the AHL being loaded up at that time he produced 13 goals and 16 assists for Ottawa's farm club.  When the Senators opened training camp in January he was watched closely by the coaching staff and continued to impress thus earning his spot on the roster.  In his first regular season at the NHL level, Silfverberg has handled himself well posting respectable numbers.  He like some of the Sens had a slow start but has heated up recently with 5 goals and 4 assists for 9 points in his last twelve games.  He has been a big key for Ottawa to this point and will need to continue producing if they are to have an extended run in the postseason this year.
Mika Zibanejad:
Like his fellow countryman Silfverberg, Mika Zibanejad is a highly talented young Swede who has been a big part of Ottawa's success this year.  It was his top end skill and projection as a future superstar that demanded the Senators select him 6th overall in the first round of the 2011 NHL Entry Draft and watching him this season you can see that talent on display.  Like Silfverberg he is also a product of both the Swedish National Junior Team and the Swedish Elite League.  Zibanejad being a bit younger did not spend as much time as Silfverberg at the SEL level or put up the same big numbers but he proved himself against top level competition on the international stage.  He's had great showings at the World Junior Tournaments, most notably scoring the overtime winner in the 2012 IIHF World Junior Tournament championship game to give Sweden the Gold Medal over Russia.  Zibanejad's first experience of the NHL came when he played 9 games for the Sens in the 2011-2012 season before the team chose to send him back to his Swedish club.  He made the move to become a full-time North American pro this season as well starting the 2012-2013 season with the Binghamton Senators.  He posted 11 points in 23 games at the AHL level and although he wasn't named to the training camp roster and didn't start this year's NHL season with the Sens he was called up six games in and has remained with the team since.  Zibanejad has been an ideal fit with the hard working group of youngsters in Ottawa contributing 6 goals and 10 assists for 16 points in 30 games this season.  He like the others has been heating up with 8 points in his last ten games and has combined with Silfverberg and Guillaume Latendresse to form Ottawa's most potent line as of late.  The young center has Sens fans excited and believing they may be watching one of the games future superstars.
Patrick Wiercioch:
Patrick Wiercioch is certainly making good on his opportunity this season.  After being drafted by the Senators 42nd overall in the Second Round of the 2008 NHL Entry Draft he has worked his way up to being an NHL caliber defenceman.  After a strong two seasons with the University of Denver in the WCHA Wiercioch turned pro for the 2010-2011 season.  He played in eight games with the Senators before being assigned to Binghamton for the remainder of that season and spent the entire 2011-2012 campaign there as well.  He began the 2012-2013 season with a loaded Binghamton squad and was showing major improvements in his game with 10 goals and 9 assists in only 32 games for the AHL Sens.  His great play and the unfortunate injury to fellow young talent Jared Cowen opened up an opportunity for Wiercioch on the Ottawa blue-line and he showed himself to be ready as he made the roster out of training camp.  The 22 year old tower has been a revelation for the Sens backend this season forming the top D pairing with veteran Sergei Gonchar.  Once again after a slow start, the one that every Sens rookie this season seems to have had, Wiercioch has turned the corner offensively.  Considering Wiercioch is in his rookie year as a full-time NHL defenceman it wasn't a big surprise that he only had 6 points, all by way of assists, in his first 17 games.  However the talented youngster has shown his learning curve to be quick with an offensive boon in March scoring 4 goals and 5 assists for 9 points in 14 games.  The Sens and their fans have to be thrilled with Wiercioch as he has begun to provide the consistent offense the team so desperately needs from its depleted backend.  Even more importantly he has done so without taking a step back defensively, showing awareness and responsibility in his game that bode well for him becoming a top end pro.
Eric Gryba:
It's not often you hear the words "young gun" used to describe a mid-twenties stay at home defenceman but make no mistake, Eric Gryba has been an important piece of this Senators team since he joined the group in mid-February.  Gryba is a little different than the previously mentioned players in that he is older, has more pro experience and fills a different role than an offensive power.  The former Third Round pick in the 2006 NHL Entry Draft by the Ottawa Senators has not taken the fast track to the NHL but rather developed his game over time.  After being drafted by Ottawa he spent four full seasons playing for Boston University in Hockey East of the NCAA and then turned pro joining Binghamton for the end of the 2009-2010 season.  He spent another two full seasons with the Binghamton Senators in the AHL including an outstanding season in 2011-2012 where he set new career highs in goals, assists, and points.  When his name wasn't listed on the training camp roster for the Ottawa Senators this season many, Gryba included, may have wondered if he was perhaps destined to be a career minor leaguer, certainly a great option for any player but not the overall goal for most.  Gryba continued to persevere however playing a strong role for Binghamton and when the injury to Erik Karlsson created another opening on the blue-line in Ottawa it was Gryba's turn to get the call.  He has never been a major point producer and that is not what the Sens are looking for from him but true to form he has been a rugged force on the Ottawa blue-line, often drawing the assignment of playing against the other team's top two lines.  He has been a minute eater for Ottawa as well, which was a major concern for the Sens after Karlsson went down.  Gryba has used his pro experience to jump into the lineup and average well over twenty minutes a game and most importantly he is an even player to this point in the season.  Like many players on the current Sens roster Gryba has given the team much more than they expected entering this season and if he continues his high level of play he may give himself a full-time spot on the Ottawa backend.
Safe to say the Ottawa Senators are deserving of all the superlatives being thrown their way for their continued success this season, but truthfully they have moved past the injuries and really expected nothing less.  They knew the significance of losing Jason Spezza and Erik Karlsson for the season and certainly Vezina-caliber goaltender Craig Anderson for extended time, but they also had a quiet confidence thanks to the strength of the organization, the coaching staff, and a deep group of young talent that has now shown itself.  Regardless of this season's outcome which is looking more and more like a second consecutive playoff appearance, beyond that who knows, this has been a monumental season for the "young guns" in Ottawa.  The ice-time and challenging new roles they have been given and subsequently thrived under will benefit themselves and the Sens supremely going forward and that is something everyone in the Nation's Capital can get behind.