There's no such thing as a perfect hockey player; they don't exist. A thorough analysis can scoop up a weakness on all of them no matter how minor.
Scoring, passing, back-checking, blocking shots, special teams, physical play; no man can handle the entire package flawlessly. A few traits will be possessed by the very best. But even the very best won't have it all.
Every single NHL skater has his specialties. Marc Savard's is passing, Greg Zanon's is shot-blocking, George Parros' is fighting and so on. Since their introduction in 2005, shootouts have had their own group of perfectionists.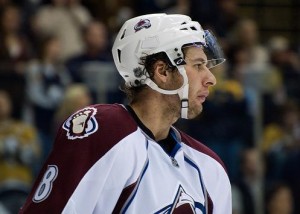 Jussi Jokinen, Erik Christensen, Patrick Kane and Wojtek Wolski have each led the league in shootout scoring once at a year's end. How they each did this was with the use of alternate moves giving goaltenders headaches.
Sam Gagner for example, utilized a specific move in his first couple of shootout attempts during his rookie year. It would consist of a faked shot, followed by a shift indicating a possible back-hand before returning to the forehand to score.
The move was subtly executed but before long, goaltenders began anticipating it. Gagner was starting to see the realization that a single move isn't enough and tried creating new ideas. But his percentage dropped noticeably.
Besides Christensen, nobody out of the four leaders has finished among the top 10 in consecutive seasons.
Therein lies the challenge for Wolski who converted 10 times from 12 opportunities this year establishing a record for shooting percentage. The Pole knows a little about records after setting 14 for the OHL's Brampton Battalion as a teenager largely due to his offensive instincts and abject puck-handling.
Wolski is calm, ready and knows what he wants to do each time he awaits the whistle from center ice. His various moves are almost always executed perfectly and with great size and reach, he is able to even pull off the paralyzer smoothly.
While he has been dependable in the shootouts, his point production has seen a small but worrisome decline (50 points in 2006/2007, 48 in 2007/2008 and 42 this year). Seeing as how the Avalanche finished last in the Western Conference by a large margin and 59 points was what Milan Hejduk and Ryan Smyth totalled to lead the team this season, Wolski's minor drop is understandable.
A few teams were hesitant to draft him in 2004 when he was charged with assault causing bodily harm in Toronto before the draft. Touted as a top 15 pick, Wolski instead went 21st overall to the Colorado Avalanche.
Promising signs such as three points in his first ever playoff game and 22 goals as a rookie have proved Wolski's quality. With season four just around the corner, he will have to aim for a more consistent level.
This summer's retirement of legendary captain Joe Sakic and shipping of Ryan Smyth to California increases the 23-year-old's responsibilities. As someone who grew up idolizing No.19 before teaming with him, Wolski knows better than most how much Sakic's presence will be missed. Colorado's staff feels that he can take a similar path to become somewhat of a Sakic-type.
Wolski's got the offensive gifts and his defensive game is getting there. During the summer, he puts himself through excruciating workouts instead of seeking a nice vacation.
Success never comes before hard work. He and his family had to earn a new life in Canada upon leaving Poland. Wojtek began skating as a child with his brother's skates which were a few sizes too large.
A better future has been reached by the family however, he knows there remains much more work to do in order for him to grow as a player. Like all of the challenges he's faced previously, Wojtek Wolski is ready to accept this one.