It has been a number of years since Mark Messier strapped on that helmet, laced up his skates, and pulled the number eleven over his head. Now he wears a suit and tie instead of a sweater, the skates have changed into dress shoes, and even the locker has been replaced by an office where he pulls up a chair as the new assistant to Rangers' President and General Manager Glen Sather. To think these things can truly change a man though is foolish. Though a life in the administrative side of hockey sometimes calls for tough decisions that affect the lives of players, those same kids, as most of them these days are decades younger than the six-time Stanley Cup Champion, are the ones that Messier is looking to reach out to the most.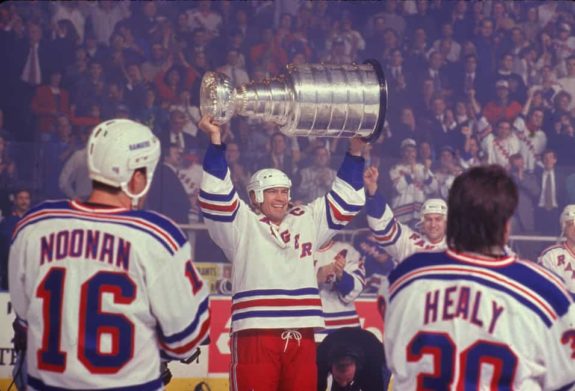 These days it sometimes seems as though administrative moves, like the Rangers bringing back the captain who brought them a Stanley Cup Championship after over 50 seasons of heartbreak, manage to capture the headlines. Everyone wants to how the Rangers will compete or if they have a chance at bringing Lord Stanley Cup to New York. Though these stories are important in their own right, the stories that can change the standings often overshadow those that can change the world.
To Change the World
With his latest endeavor, the Messier Project, the greatest captain in NHL history intends to do just that; change the world, change the game, and change whatever he has to in order to make the game of hockey better.
This project, a collaboration between Messier and Cascade Sports, has designed a product to make hockey a safer sport. The new M-11 helmet, designed partially by Messier himself with the players in mind, has become the starting place for a movement to protect future generations from the epidemic that concussions have become in the game of hockey. According to the project website, TheMessierProject.com, the numbers are staggering. Since 1997 over 750 players have experienced a concussion. The amount of games missed during that same time frame is averaged at 639 games per season lost due to concussions and concussion related injuries. On top of that, nearly $60 million has been lost by organizations in player salaries alone while the injured are recovering, a subject that cannot be left out during these hard economic times while organizations struggle to break even.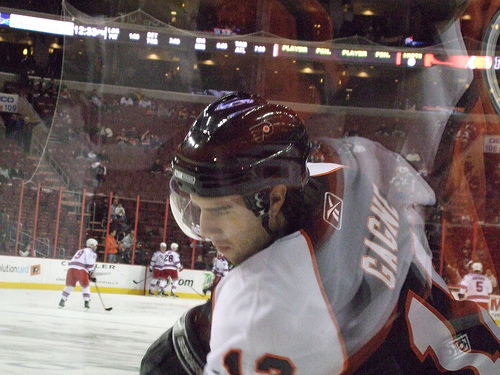 These scary concussion rates though are getting even worse. Over the course of one season (from 2005-06 to 2006-07) the number of NHL games missed due to concussions rose by forty-one percent. Right now the game is getting bigger, faster, and more competitive than it ever was before. If something is not done to slow these alarming concussion rates down this problem could get even more out of hand than it is already.
One thing that is impossible to measure is the amount of heartbreak that this injury has caused hockey communities. Not only the players have lost something important due to concussions. Families, friends, and fans suffer along with individuals on the wrong end of these injuries. Organizations lose players they count on to help them win games. This injury has taken away dreams of a long career, dreams of hoisting the Stanley Cup, and even the dreams of young kids hoping to one day make it to the NHL.
This is where Mark Messier steps into the picture along with his partner in this war on concussions, Cascade Sports. While the NHL is certainly on his mind he realizes that this is something that must be built from the bottom up.
"[Reaching the grass-roots level of concussion education is] absolutely one of our biggest missions and certainly one of my biggest missions to even be involved in this project from the get-go," Messier mentioned during an interview on Monday to spread awareness for his project, "One thing that we decided is that to give our helmets and our technology credibility, we had to get it into the NHL level, and we know why: because all of the kids want to wear exactly what the NHL players are wearing."
Messier knows very well the impression that star players can have on kids who want to be just like their heroes on the ice, and he also knows what a player in the NHL wants in a helmet so that he can play the game to the best of his abilities. "We see it all the time with kids down in warm-up watching what skates [players] are using, what sticks they're using, what gloves they're using, kids going on websites and researching the things going on. So in order to give our helmets credibility, we knew that we had to make a helmet that not only had superior protection but also had superior performance so that NHL players would be willing to wear it. And when I say performance I mean it had to meet weight requirements, the look requirement, the protection requirements, the ventilation requirements, and that's where I really tried to give my help in this project."
The Result of the Messier Project
What eventually came out of this process was the M-11, a sleek, new wave of head-gear that offers a new generation of protection in much the same visual display as what NHL fans have seen for decades. In fact, it was Messier who wanted to keep the traditional look and feel of the current, modern-day helmets.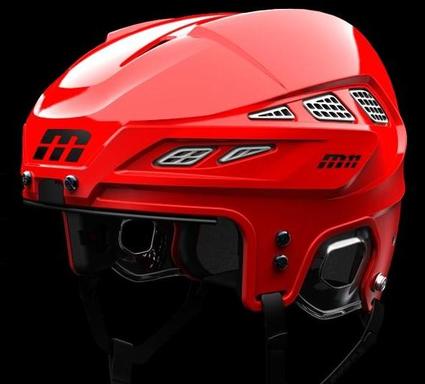 "It doesn't look all that much different from helmets on the market right now. We thought about completely breaking the old mold and coming up with something completely new. [Instead], to introduce our helmet we wanted to stick pretty traditional in our look and marry that with the superior protection we developed."
This new, high-tech helmet is not just for protection though. The point of the Messier Project was to come up with something safe but practical. It could not hurt a player trying to compete to the best of their abilities, but had to offer protection to keep the player's mind at ease. What that philosophy became was the three-tiered, M-11 helmet.
Since helmets made out of one main piece are much safer than those made of two-pieces, which make up most current helmets, the new Mono 90 shell was the first part of the process. The design is more streamlined so as to not hold back faster players. For that same reason the weight of the helmet was kept low. The rounder design also makes it so direct blows are not as easy, and for ventilation the Mono 90 offers 20 air vents in order to keep airflow circulation which allows for enhanced breathe-ability.
The easily adjustable ProFit System allows for the quick adjustment of the helmet. It is designed for easy access as well as easy adjustment while allowing for a more perfect fit. It takes up a relatively small portion of the back of the outer shell so as not to take away from the one-piece helmet theory implemented originally in the design process. It is designed to stop pressure points from occurring and leave less differentiation between areas within the helmet in order to enhance overall protection.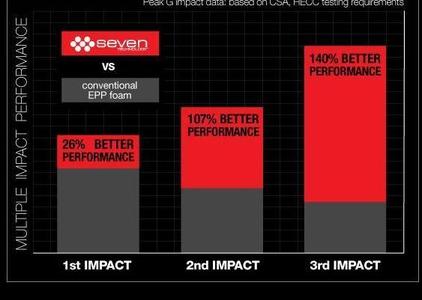 The final part of the process was changing the old system of foam insulation padding to the newly designed Seven Technology. This new buffer system goes in between the outer shell and inner shell creating almost a second helmet underneath a system of shock absorbers. The actual technology is comprised of tubes that flatten out in the center displacing energy laterally away from the head instead of vertically or directly to the area that could otherwise be concussed. Also unlike foam padding, which can be rendered useless after time and the force of multiple hits, Seven Technology performs a full reset after impact making it much safer over the course of time.
The Current State of Hitting in Hockey
There M-11 helmets are not, however, the pinnacle of perfection in a hockey helmet. While they are light-years ahead of current helmet technology there is no complete and total victory in war on concussions. There is no miracle salvation available on the market, and it is very possible that there will never be one. The point of the product is to cut down on the amount of concussions as much as is humanly possible. From there a point could obviously be made about the current state of hitting in the NHL.
It seems that every season there are bigger and much more dangerous hits to out-do the ones from previous years. This is not to say that all hits are "dirty", but at the same time that concussion rates go up there seems to be more discussion about what is legal in the realm of hitting. While the league has made strides to penalize those who hit in malicious and purposely violent ways, at times it seems as though League Commissioner Gary Bettman drags his feet when dealing with the matter. That of course, or he ignores the rules entirely.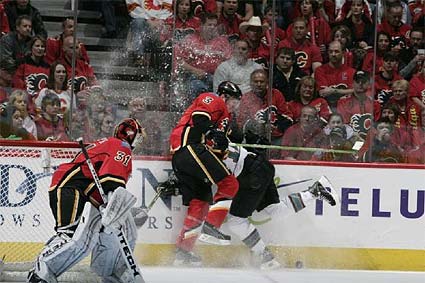 "I've talked to Gary," Messier pointed out when asked about the current state of dirty hits in the NHL, "I've spent a lot of time with him over the last five years. They are very conscious of what is happening around them in the game, what they're presented with and forced with [in order] to make different changes to protect the game, [and] make the game better as far as rule changes, so I don't know about 'dragging their feet.' It's always complicated when both the NHLPA and the NHL have to come to some kind of terms and agreement, but I think, knowing both sides very well, probably more-so now than ever, that we're working as close as ever with each other. I think we have a good understanding that the betterment of the game is in everybody's best interest. We can put all the rules in that we want, but there's still going to be accidents [and] still going to be players that go outside the rules. I guess the thing that we really need to look at is how severe the penalties are for the players that do that."
While a perfect situation is not possible as far as dangerous hits and concussions are concerned Messier was willing to do what he could while acknowledging that there were certain things that he just did not have control over.
"[Rule enforcement for dangerous hits] will be determined by the people in charge of making those decisions."
Messier then continued on about more possible options for making hockey safer. "I think the big thing that we're just getting into at the grassroots level is [that] we've got to find a way that we're not losing kids that want to play hockey for the fear of concussions and injuries. That is not something that is good for our game. It's not good for anybody," he mentioned while thinking about the future of the game at its most pure level. "I can only imagine the effects across Canada and across the United States if we get to that point, so I know together we're looking for solutions to make sure our players are protected. Hockey's supposed to be a fun game, and it is a fun game. It should be a fun game without the threat of getting hurt for a long period of time."
Outreach and Distribution
While not everything can be changed certainly nothing can be changed overnight. Messier admits that getting a foothold in the NHL is the first step toward achieving his goal of a safer version of hockey while keeping it the same game that some of us, himself included, have enjoyed for decades.
"We've been talking to a lot of players. We were at the NHL awards, we were at the draft. We're going to have the helmets, thankfully, in time for training camps," he noted remaining optimistic about the future of the M-11. "We [talked] with all the trainers from the NHL and the American League, the east coast league, the central league, [and] all the colleges. We think Harvard's going to wear it as a team. We've done a tremendous amount of work in the offseason getting our helmet out and in front of as many different trainers and players we can, and hopefully it's going to be well-received, which I think it will be."
When asked about how many players he thought would wear it this season he remained cautious. "We gave ourselves a conservative estimate that if we can get five players in the NHL in our helmet this year it would be a very successful entry into the NHL level. I think obviously we feel we're going to far surpass that because of the way the helmet came out, but we want to set our expectations low and work our way from there."
Just getting professionals to wear the helmet is only half of the battle though. The point of the Messier Project is to make the entire scope of hockey safer from its lowest levels up to its highest. He understands some adjustments will take time as they did when helmets first arrived on NHL ice during the 1970's.
"You can see where the game has changed dramatically," Messier laughed as he joked about his experience witnessing a team test their helmets by banging their heads along the boards. "I also think that because our kids are so well protected now they don't grow up with the fear of knowing where the dangerous spots are on the ice. They put their face in positions [where] they know [that] even if a stick does come up on them, they're protected. And all that is good, but the problem with that is when they get to a point in their careers where they can take [their helmet] off, they haven't learned to play with [it] off, and it's a completely different game when you don't have face protection, let alone helmet protection, than it is when you're completely covered [on] your head and your face. I think we see a lot of injuries with young guys growing up with full masks, full helmets, and no regard for errant sticks and putting their face in the action, and [then] taking it off. We're seeing a lot of injuries because of it. I don't condone taking them off at an early age to learn how to play with [helmets] off. What I'm almost suggesting is that if you've grown up playing with it, why ever take it off?"
Pricing was another major concern that Messier had in the distribution process. "We had a long discussion over pricing, and my [thought] was to try to price it as low as possible so everybody had a chance to buy it.
"Pricing is tricky," Messier admitted. "You see the parents come in and buy their boys the four hundred dollar skates, then buy two or three sticks worth a hundred and a half each, and they go to buy the helmet and [it's] 'Wow! A hundred and nineteen bucks?', or 'Ninety dollars for that helmet?', and they're kind of wincing. We've got our priorities mixed up for one. We position our helmet probably in the middle of [our competition], out of all the helmets that are on the market purposely, so that we have a lot of different people that feel comfortable buying it. We have superior protection. We know that. It is a more expensive helmet, but we felt the best thing to do for us as a company was to price our helmet at a reasonable price [in order to] give everybody the opportunity, hopefully, that can buy it."
The Future of Hockey

It is yet to be seen what kind of an impact the M-11 can have on hockey. It is however clear that Messier has a specific interest in the concussion epidemic from not only the point of view of a former player but also as someone who has had people look up to him, and often try emulate him for the better part of three decades.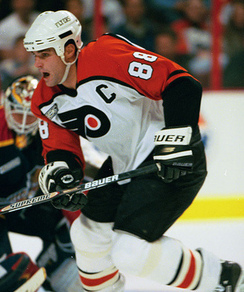 As with anything that makes the sport of hockey safer, the Messier Project is one that promotes the betterment of the entire sport from bottom to top, from children fiddling with a stick and puck on the backyard pond in the middle winter against a sea of white to the veteran waving to thousands of cheering fans decked to the teeth in hometown colors as the curtain falls on his last arena appearance.
Hitting, injury, and heartbreak will always take their toll on competitive sport. Hockey is no different. The most beautiful sport on ice has a tragic and dark side just as everything else in life. This new technology has the chance to ease some of that suffering.
Growing up a fan of the Philadelphia Flyers and watching two of my personal heroes, Eric Lindros and Keith Primeau, suffer career ending injuries, I can honestly say that anything that can help suppress this epidemic is worthwhile, not only for the players, families, and organizations, but for the fans as well.
As a customer of Cascade Sports in the past I can vouch for their dedication to producing a product that keeps us all playing the games that we love. Mark Messier's dedication goes without question.
If even one career is saved because of this technology it has been well worth the effort.
For Mark Messier's personal project blog, an overview of the technology, diagrams and videos about the helmet, information about concussions, product information, and all other information on the entire Messier Project please visit TheMessierProject.com.