All journeys must come to an end. For Olivier Hinse, however, the end of one journey has led to a dream come true. After the conclusion of his season with the Concordia Stingers of Canada's U SPORTS league (formerly CIS), the situation was dreary. After five seasons with the team, sporting the alternate's 'A' or captain's 'C' in each, a second-round loss to the Queen's Golden Gaels marked the last time Hinse would ever dress with the Stingers. His eligibility was finished, and with it, a big part of his life was too. 
Who is Olivier Hinse?
A 26-year-old from Sherbrooke, Quebec, Hinse always dreamed of playing hockey. As is the case with many Canadians, hockey is a fundamental part of life from birth. For Hinse, the dream was there, and the talent and work ethic propelled him to the top of his class at the Midget Triple-A level. Upon being drafted to the QMJHL's Val-d'Or Foreurs and spending four seasons in the league, however, Hinse found himself facing a whole new set of obstacles that shook his confidence. 
"It was a tough experience," Hinse said. "Coming out of Midget AAA and being one of the top guys and going to the QMJHL and having to play a more defensive role. It wasn't exactly my first choice but I did it anyway and I tried to do the best I could. But still, even if I did not have much success in Major Junior, it was still a good experience."
Playing a different role on a team is difficult. Still, Hinse made the best of his experience in the CHL and his lessons in the QMJHL helped him develop a valuable skill set that made him a better player as a result.
"Everything starts from the defensive zone," said Hinse. "If you play well in your end, you're going to be out of there quicker and you're going to be in the offensive zone [creating chances]. That helped me play on the penalty kill as well and even create offensive chances [down a man]."
A New Chapter
Following his time in the QMJHL, however, Hinse really discovered himself as a hockey player. Joining the Concordia Stingers, Hinse was about to start the next journey in his life. Though it may not have been as obvious at the time, it would go on to shape him as a player and a person.
I became more mature. My confidence came back. I knew I could be a good all-around player and I just worked on my weakeness – I got better as a person and as a player. I love the leadership role – First when (former Stingers' head coach) Kevin Figsby (now Hockey Canada's Director of Hockey Program Delivery) gave me an 'A' on my jersey in my first year. I just wanted to keep going and make sure every guy who comes into the locker room knows his job and knows that its important to wear the maroon and gold logo. I'm a different guy now.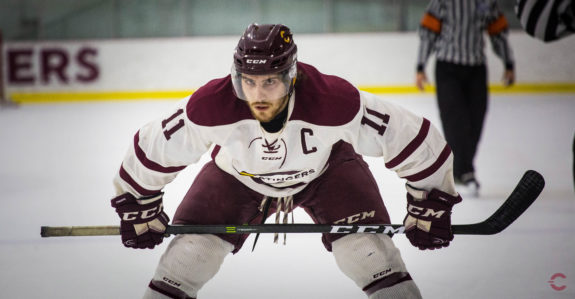 The captain and face of the team, Hinse did his part to motivate the players around him to do their best. Whether it was in the locker room, on the bench or outside of the arena entirely, Hinse was always available for players looking to better themselves. His work ethic on the ice speaks for itself. Always the first one out before the period and the last one off the ice in warmups, Hinse led by example. A testament to his ability as a player and as a captain.
A Positive Trend
Though Hinse is an example of a player who made the jump from the QMJHL to playing in U SPORTS, the path was far less traveled at the time that he joined Concordia. After his fifth year with the Stingers, however, Hinse thinks the increase of QMJHL talent translating to the Canadian University sports scene is a good thing.
It feels great. There's more and more players from the QMJHL that come to play in the U SPORTS league, which is good. When I first started a while back, we were only four or five guys from the QMJHL on the team; the rest were from Ontario or Junior Triple A. Now guys who are competing hard in the QMJHL and who are putting up a lot of points are coming to our league, which is a great thing to see. It was easy to see this year with the turnaround [we had] with some of the young guys who put up some numbers in U SPORTS. Throughout my five years I saw a big change.
Though it will be tough to leave the Stingers behind, Hinse is ready to turn the page once again and start the next chapter of his life. Though the Stingers will always be near and dear to his heart, the dream to play professional hockey is one that he will finally get a chance to realize.
[irp]
Living Out a Dream
Signing with the Aalborg Pirates in Denmark, Hinse is getting the opportunity to play hockey at the professional level. There were a few options for the 26-year-old, but after exploring his options, the Pirates were the best fit for him.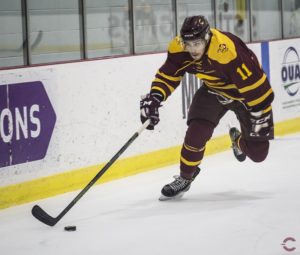 "I had a lot of options and looked at them all and went with my [gut] feeling a bit. I don't have an agent, and I was reaching out to people I knew. Marc-André Élement (the head coach of the Stingers) and our assistant coach Eric Labrosse, they were key in my signing in Denmark."
Though it's all a little surreal for Hinse right now, however, his goal remains the same. Winning a championship is all that matters. While the Pirates finished in first place last season, three consecutive quarterfinal exits in the postseason have left the team looking for more. Fortunately, Hinse has already shown that he can change a team's fortunes.
After failing to advance past the first round in the postseason for 16 seasons, Hinse led the Stingers to their first second-round appearance in 2016-17. It was a big turnaround for a team that finished in seventh place in the division a season prior, but Hinse and the Stingers – fresh with new young faces, turned their fortunes around, finishing in second place in the division and were ranked seventh in all of Canada by U SPORTS.
Now with the Pirates in Denmark, Hinse is getting a chance to live out his childhood dream – playing professional hockey. It isn't the NHL, but it's still an opportunity of a lifetime for one of the hardest working players in all of U SPORTS.