After winning the Southeast Division last season, the Florida Panthers have been over encumbered by a mountain of injuries that have kept them from repeating the same success that we saw last season. As of March 5th, the Florida Panthers have lost 79 man games to injury – a number you can expect to grow as the season goes on.
On a team that is already highlighted by rookies and journeyman hockey players, the Panthers are a squad that cannot afford to lose skaters to injuries if they hope to contend this season. Luckily for the Panthers, no team has yet to run away with the Southeast Division and all five teams remain in contention at this point. The team will need to get healthy fast if they hope to keep pace,  but until then here is a closer look at some of the most important Panthers' injuries and how their absences will affect the team going forward.
Jose Theodore
Injury: Torn Groin
Prognoses: 4-6 Weeks
Analysis: Even before being injured, goaltender Jose Theodore was hardly having what he would consider a quality season. In 15 games this season, Theodore earned a meager 3.29 GAA / .893 SV% and fell victim to giving up numerous soft goals. While some of the blame can be placed on the Panthers' defense which had been less than stellar, the fact remains that Theodore was in the midst of a very down year. Even though it would have been nice to have him finish the season, the worst part of this freak injury is that the Panthers most likely can no longer trade Theodore for some assets before his contract expires at the end of the season.
Kris Versteeg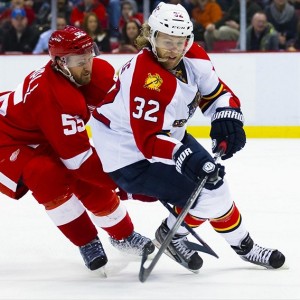 Injury: Upper-Body (Damaged cartilage and muscle in rib cage)
Prognoses: Day-To-Day
Analysis: Since his return to the lineup after missing the early part of this season, forward Kris Versteeg once again has made his way to the injury ward after suffering a rib injury in February. This season, Versteeg has only been able to compete in 7 games and totaled a meager 3 points (1G 2A) as the team's once formidable top line was thrown into disarray early on this year. However, Versteeg does look as if he will be ready to return to the lineup in the near future, the only question is how will he fit in? Most likely Versteeg will line up alongside Tomas Fleischmann and Marcel Goc as an injury to Stephen Weiss has ended all hopes of the team's former top line returning to form.
Mike Weaver
Injury: Lower-Body (Knee)
Prognoses: 4 Weeks
Analysis: An already depleted Panthers' blue line suffered an even bigger setback as defenseman Mike Weaver will be out of action for at least a month with a lower-body injury. Up until his injury, Weaver had been having a surprisingly good offensive season as well as his usual stability as a solid defensive d-man on most nights. In 19 games this season, Weaver has compiled 7 points (1G 6A), 38 hits and 38 blocked shots. His presence will be missed, but in the mean time San Antonio Rampage defender Colby Robak will fill in for him.
Stephen Weiss
Injury: Wrist
Prognoses: Out For Season
Analysis: After being a huge disappointment for the entire season thus far, it was revealed earlier this week that veteran forward Stephen Weiss had been battling a wrist injury and has now opted for season ending surgery. In 17 games this season, Weiss was only able to score 4 points (1G 3A) and had a team-worst -13 rating. Sadly, this may be the last we see of Weiss in Florida as his contract is set to expire at the end of the season. The Panthers now will suffer from not only the lack of his presence on the ice, but also the inability to move him before the trade deadline in hopes of getting more pieces to add to their bright future. Panthers' fans continue to scratch their heads while reflecting on Weiss' poor play this year, but whether it was his injury or simply a lack of effort, the fact remains that Weiss' career in Florida will not have a fairy tale ending.
Ed Jovanovski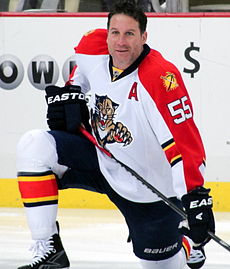 Injury: Lower Body (Knee)
Prognoses: 1-2 Weeks
Analysis: Having already missed a majority of the season with a knee injury, the absence of team Captain Ed Jovanovski is starting to become more of an issue as the team continues to lose other starting defenseman to injury. In the 5 games that Jovanovski was able to play this season he was mostly invisible, recording only 1 assist while playing just over 16 minutes a game. However, considering the slow start that defined the entire Panthers' roster, Jovanovski could be due for a resurgence when he returns. Considering a majority of the team is now rookies or young call-ups, Jovanovski's veteran leadership could be a nice addition to the revamped dressing room.
Scottie Upshall
Injury: Lower Body
Prognoses: 1 Week
Analysis: The oft-injured Scottie Upshall once again found his way to the injury list this past week after suffering a lower-body injury. Multiple injuries this season have limited Upshall to only 8 games as he continues to be unable to stay healthy. After being only able to compete in 26 games for the Panthers last season, Uphsall's career in Florida is starting to feel like a bust. Considering his $3.5 million cap hit and inability to stay healthy, Upshall could end up being a buyout option for the Panthers at the end of the season.
Dmitry Kulikov
Injury: Upper Body
Prognoses: 4 weeks
Analysis: The biggest blow in the Panthers' recent wave of injuries could be the wrist injury to defenseman Dmitry Kulikov that will keep him off of the ice for at least the next 4 weeks. After a slow start to begin the year, Kulikov was just starting to find his groove while becoming one of the Panthers' most consistant defenders. In 20 games this season, Kulikov has amassed 7 assists, 49 hits and 30 blocked shots. Kuilkov will be greatly missed on the Panthers' blue line, but veteran AHL'er Nolan Yonkman has done a suitable job as his replacement since the injury.
Follow Jameson on Twitter @JamesonCoop
An English major with a passion for pucks, Jameson has been a credentialed media member covering the Florida Panthers for Panther Parkway since the 2012-2013 season. Although his focus rests mainly with Panther Parkway, Jameson still contributes occasionally to the Sunbelt Hockey Journal. Through player interviews and discussions it's his goal to help bring players closer to their fans through interesting stories and personal pieces. With a unique brand of humor and insight, Jameson looks to provide hockey fans with articles that not only entertain, but also educate.