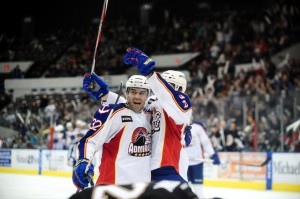 Picture yourself skating to a faceoff and lining up against a 6' 2" 210-pound behemoth right-wing who has over 1013 penalty minutes in the AHL. One's mind could be spinning a mile a minute thinking, "Will he ask me to fight?" Norfolk Admirals forward Pierre-Luc Letourneau-Leblond states, "It depends on if it's a momentum thing, then you have to think about it a little more, but if it's a reaction you don't think about it, you just go at it." A huge tilt between two heavy weights can light a fire under a team that hasn't been playing up to their full potential. The enforcer role fits Pierre-Luc like a glove.
Letourneau-Leblond plays to his strengths which is a hardcore, no holds barred type of game. The New Jersey Devil draft pick credits his older brother Jonathan with helping him find his swagger on the ice. "My older brother was a big inspiration. He wasn't always the bigger guy, but he was always finishing his checks. He was a good team player."  That is indeed how the Levis, Québec native plays.
During his sophomore season (08-09) while playing with New Jersey's primary affiliate in Lowell, Pierre-Luc's strong team play and hard-nosed game turned the cheeks of New Jersey's big wigs. The Devils leaders saw him play his heart out in eight games during his second season. The bruising forward shared his thoughts on his first call up, "It happened so quick. Jersey is about six hours from Quebec so my family came down and the next thing you know it's over. You just have to enjoy the moment." In addition to the eight game call up, he also dressed in five playoff games with New Jersey the following year.
You just don't grow up to play pro hockey unless you put in years of work to take your game to the next level. Letourneau-Leblond believed that he could live his dream after being drafted. "My first year when I was twenty and playing in Adirondack was when I realized I had a shot." declared Pierre-Luc.
The scrappy winger remained Devils property until he shuffled to the Calgary Flames organization prior to the 2011-2012 season. Letourneau-Leblond was assigned to the Flames AHL affiliate, the Abbotsford Heat, where he crafted his skill earning a three game stint in the National League. "PL3" as he is known to Norfolk fans has forty NHL games to his credit all with New Jersey and Calgary.  In forty regular season games, he managed to notch three assists while earning a hundred and one minutes in penalties.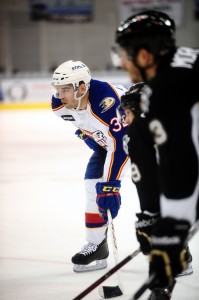 In those NHL games, Pierre-Luc noted some of the best opponents he faced with one being Shawn Thornton from Boston.  The 1985-born forward declared Brian McGratton his toughest opponent to date saying, "I fought him last year and he's a very, very strong man."
"PL3" landed in Norfolk by way of the parent Club, the Anaheim Ducks. So far Letourneau-Leblond has played in sixteen games with the Admirals since endorsing a one-year deal with the Ducks on January 15th.  Pierre-Luc has found success in Norfolk scoring seven points.  The peak of his progress in Norfolk came to life on February 8th playing on a high tempo line with rookie center Chris Wagner and rugged right-wing Jay Rosehill. While playing with Wagner and Rosehill, Pierre-Luc had a three-point night helping his line-mate Rosehill on two goals while notching a goal for himself. Letourneau-Leblond shared his thoughts on what drove that line to success saying, "We play hard. We go to the net and we play north, south hockey. If you play with guys that understand that, it's so much easier. Rosehill has the experience and Wagner is a quick player. It was a good mix."
Veterans are the backbone of any team helping younger players rise to their potential. Pierre-Luc takes his role to heart this season simple saying, "I think I have to bring some experience and leadership." On the other hand, his role on the team is playing good defensively and contributing offensively noted Letourneau-Leblond.
As the Admirals dash towards the playoffs, could Pierre-Luc Letourneau-Leblond be Norfolk's diamond in the rough?
Follow Ted on Twitter- @bauerhockeydude 
Ted grew up in Virginia. Warren has a passion for the AHL and dishes out articles about the Norfolk Admirals and the AHL. Follow him on Twitter @bauerhockeydude