On Dec. 18, Florida Panthers general manager Bill Zito once again worked his magic to bring in another young and high skilled forward. He has worked very hard throughout the long and harsh offseason to give the Panthers the best chance to win games this season. Within all the moves he's made this season, this may arguably be the best one he's made so far. He signed former Ottawa Senators forward, Anthony Duclair, to a one year $1.7 million dollar deal to play for the Cats.
Duclair's NHL Career
At 26 years of age, Anthony Duclair is entering the sixth year of his NHL career and has played for five other franchises so far.
Duclair was drafted 80th overall by the New York Rangers in the 2013 NHL draft. However, he would only play 18 games with the Blueshirts before being shipped off to the Arizona Coyotes on March 1, 2015. He would notch seven points (one goal, six assists) during his time in the city that never sleeps.
During his time in Arizona, he really began to flourish. In his first season with the Yotes, he would pile up 44 points (20 goals, 24 assists) in 81 games, setting his career high. However, his next two years were not so great. In his last two seasons with the Coyotes, he would notch 15 points (5 goals, 10 assists in 2016-17 and 9 goals, 6 assists in 2017-18). During the 2017-18, he would request a trade. As a result, he was sent packing in a trade to the Chicago Blackhawks.
During his one year with the Blackhawks, he would only be featured in 23 games, notching 8 points (2 goals, 6 assists). It seemed like his young career was staring to diminish with each and every year as that was his third team in only five seasons. Afterwards, he would proceed to sign with the Columbus Blue Jackets on a one year deal.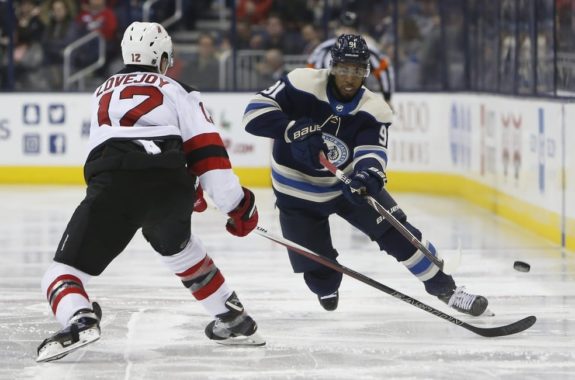 During his time in Columbus, he would notch 19 points (11 goals, 8 assists) through 53 games. Not the best performance but its a drastic improvement from his time with the Blackhawks. However, it would not be enough to keep him around as he was dealt to Canada's capital in Ottawa.
His time as a Senator is where he would regain form. In his first 21 games playing in Ottawa, he would tally 14 points (8 goals, 6 assists). In the 2019-20 season, he would go even higher, notching 40 points (23 goals, 17 assists) before the sudden end to the season due to COVID. His performance also led him to represent the Sens in the All-Star Game that season.
So with mostly inconsistency throughout most of his career, why would the Florida Panthers take a chance at him?
Familiarity with Zito, Coach Q & Teammates
Zito more than likely brought Duclair in because he is familiar with him due to their time in Columbus. In addition, he'll understand head coach Joel Quenneville's system due to his short time with the Blackhawks. Furthermore, he will be with some of the players he used to play with during his time as a Blue Jacket such as Alex Wennberg, Sergei Bobrovsky and Marcus Nutivaara.
As a result, he should feel like he never left Columbus and he'll be on a team that is looking to compete rather than a constantly struggling team like Ottawa.
Low Risk, High Reward
As previously mentioned, Duclair signed a deal worth only $1.7 million for one season, almost as if it is a "show me" type deal. If he is successful, you're getting a great talent for a very cheap deal. If he struggles, you never gave him a deal like Artemi Panarin's with the Rangers, so it's not the end of the world and it's only for one year.
Once again, Zito grabs a great talent without breaking the bank as now the Panthers have $6.6 million in cap space to work with. With that much space, it opens the possibility of adding another piece before the start of the season in less than a month.
The Forward Talent Developing in Florida
Once again, Zito worked his magic to bring a great skillset to South Florida. Duclair will have the opportunity to play with Jonathan Huberdeau and Aleksander Barkov who would more than likely be put on a line together for at least one game. In addition, he'll also get to play with greats like Patric Hornqvist and Brett Connolly who's veteran presence could help get Duclair out of his pattern of inconsistency that has plagued him for most of his career.
Related: Panthers New Forwards Bringing Drive & Intensity
Although it might not be the perfect replacement for Evgenii Dadonov and Mike Hoffman, it's excellent for one season. As previously mentioned, you're getting a player with a high ceiling for a low cost. In addition, he's more than likely going to suit up for all 52 games this upcoming season. Hopefully, he'll as he may have found his true home in South Florida as a Panther.
---
---