The Florida Panthers have a number of key areas they are hoping to improve upon in the upcoming season. A bright spot from this past season was the offense, which they are hoping to maintain or even improve. Ranked seventh in goals league-wide, the offense helped the team remain competitive despite poor defensive play and a struggling goaltender.
Leading the way was alternate captain Jonathan Huberdeau with 78 points. Behind him was captain Aleksander Barkov with 62 points in 66 games. Rounding out the top three point scorers was winger Mike Hoffman, just three points back of Barkov with 59. Of the three, Hoffman is the only one currently not on the roster. With a player who accounted for top-three offensive production gone via free agency, how will the Panthers make up for that lost production and remain an offensive force in the upcoming season?
Next Man in Line
If you look at the numbers, the two forwards directly behind Hoffman in points have also left South Florida. Winger Evgenii Dadonov, who scored 47 points for the Panthers last season and led the team with 11 power-play goals, became an unrestricted free agent before signing with the Ottawa Senators. Center Vincent Trocheck, who scored 36 points in the 2019-20 season, was traded to the Carolina Hurricanes. The next man in line is center Frank Vatrano.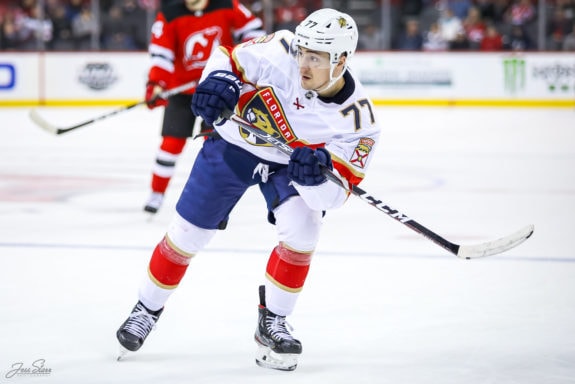 Vatrano had 34 points in the 2019-20 season, and as a player has been trending up the past two seasons. If he is able to build upon the success he has found in his three years as a Panther, the increased production would of course be welcomed. Putting more pucks in the net and notching more assists could end up being key if the Panthers hope to maintain their scoring prowess.
Veteran Newcomer Patric Hornqvist
Patric Hornqvist, recently acquired via trade, probably makes the most sense on paper to step in and immediately replace Hoffman's offensive production. The two are different types of players. Hornqvist is a far more physical forward, but they also share a good deal of similarities.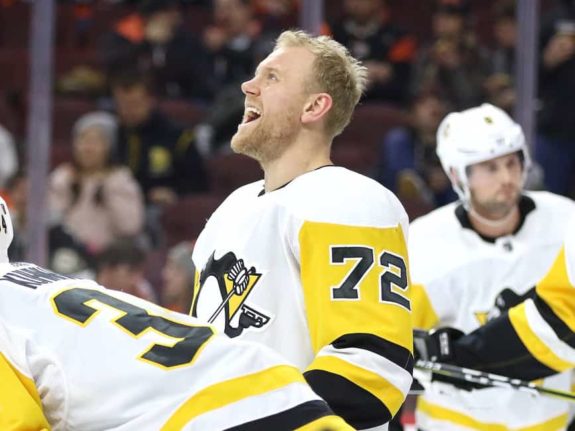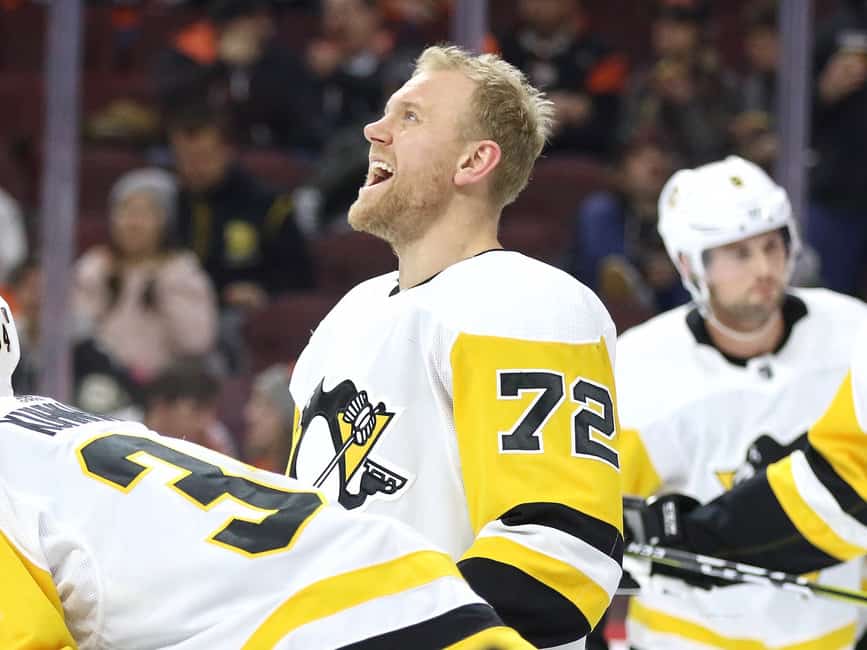 Like Hoffman, Hornqvist is a veteran winger who has been fairly consistent in posting 20-goal seasons throughout his career. He has not been as prolific in providing assists, but given the core of young offensive talent he will be playing with this season, he may be able to improve upon his average numbers at this stage of his career. If Hornqvist is able to provide a physical presence on top of replacing a bulk of what Hoffman provided offensively, this trade will have proven well worth it.
Barkov and Huberdeau Step Up
The tandem of Barkov and Huberdeau has often been explosive, especially in the past couple of seasons. When both of these forwards are playing at their best, this offense is going to be difficult to contain even when scoring is hard to find elsewhere. Huberdeau was good enough to make the top 10 in scoring league-wide this past season. Barkov was top 15 among centers.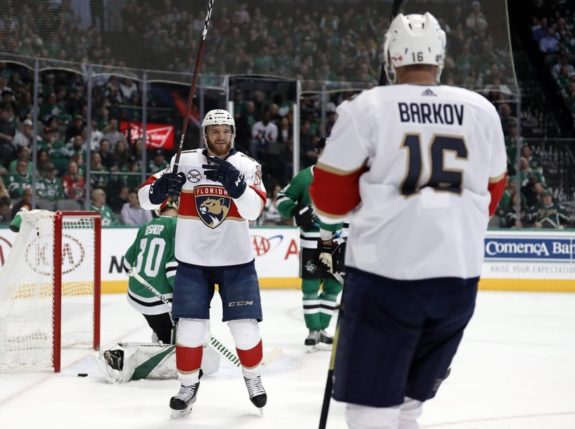 In the 2018-19 season, the most recent full NHL season, Barkov was in the top 10 in points league-wide with 96 and Huberdeau was in the top 15 with 92. Barkov set a franchise record for points that season, and became just one of four Panthers to score 90 or more points in a season. Huberdeau, of course, joins him on that list. If these two team leaders can take the next step and are both playing their best hockey at the same time, Hoffman's production may not be missed.
Like Hoffman Never Left
One of the most obvious options to replace Hoffman's scoring is, of course, Hoffman himself. The 31-year-old veteran remains an unrestricted free agent, many considering him to be the top available free agent left on the market. With secondary scorers like Dadonov and Trocheck out of the building, taking another look at a Hoffman return could very well be in the Panthers' best interest.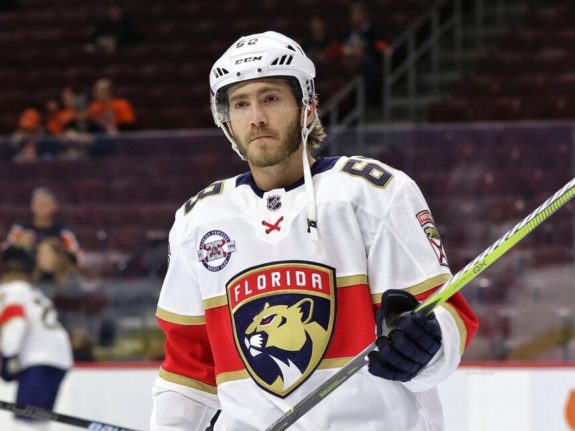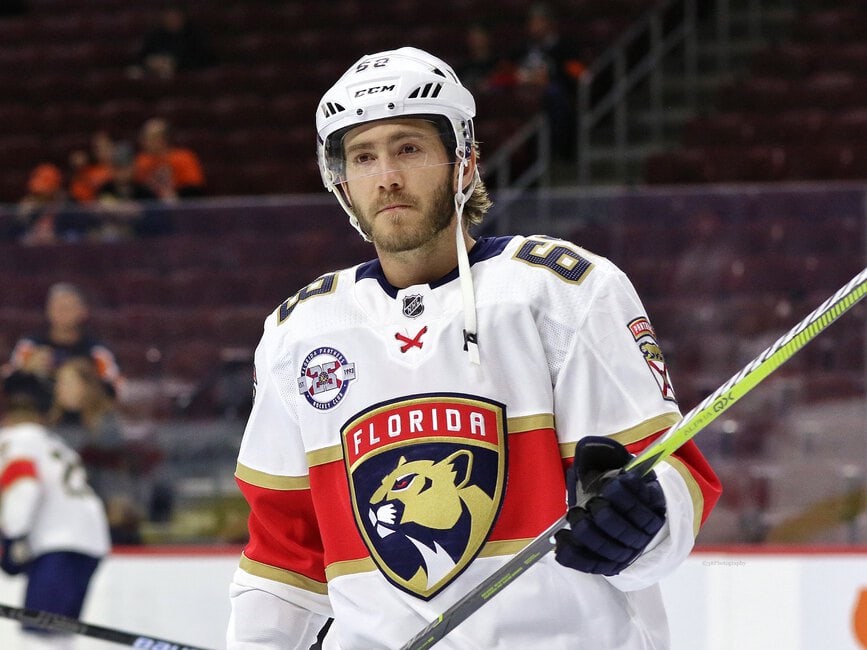 While general manager Bill Zito and his staff may prefer a different long-term approach, the current uncertainty of the upcoming season due to the COVID-19 pandemic could make this a good move for both sides. Hoffman may be willing to look at a one-year deal, taking another opportunity with the familiarity of this system and it's players to increase his stock in free agency down the line.
With a projected $8.3 million in available cap space, the Panthers are in a position to make it happen. With roster spots still up for grabs, this is something that could, and maybe should happen. It would put the team in a great position to build upon this past season's offensive success.
The Options Are There
The NHL is a fluid league, with players constantly coming and going. Stars are made on a yearly basis. Perhaps the player who replaces the kind of production the Panthers received from Hoffman could be one of a number of recently signed free agents.
Perhaps it is a player who has been buried on the depth chart and just needs more opportunities, or a prospect ready for NHL action. It still remains likely that the production is spread among a number of players, rather than just one. Whether it is, or it's one of the players outlined above, the Panthers are in a good position, with a core group of young players, to remain competitive offensively in the upcoming season.
---
---