On Oct. 6, the Florida Panthers had the 12th overall selection in the 2020 NHL Entry Draft. General manager Bill Zito and his team used that pick to select a forward from the top professional league in Finland, Liiga. That forward was Anton Lundell, and he should be a great player for the team for many years to come as he has many factors that will help him in his transition to the NHL
Lundell's Professional Experience
Lundell came onto the professional scene in Finland with HIFK Helsinki in 2018. During his first season, he played 38 games, racking up 19 points (nine goals, 10 assists). In addition, he got to play in the Liiga playoffs, playing 12 games up to the semifinals. Sadly, he tallied zero points that postseason.
In 2019, he represented Finland in the IIHF U-20 World Junior Championship. In the tournament, he notched four points (one goal, three assists) in seven games played. He was on a line with the second overall pick by the New York Rangers, Kaapo Kakko. His team won the gold medal that year, beating the USA by a score of 3-2.
In the 2019-20 Liiga season, he played 44 games, increasing his point total from last year to 28 points (10 goals, 18 assists). HIFK, however, missed the postseason.
This season, he is currently fourth in the league in overall points with 19 and tied for second with 11 goals. In addition, he tallied four goals in less than 21 minutes of ice time in a game on Oct. 24 against SaiPa. He currently owns a gold helmet, signaling he is the team's top goal scorer on his team, a tradition in Liiga.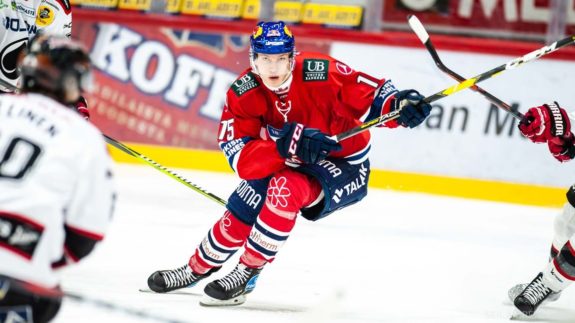 The biggest part that separates Lundell from most prospects is that this league has current or former NHL players such as Jessi Puljujarvi and Aleski Saarela. It isn't like NCAA hockey where most players are typically around the same age and play typically a more speed-based game. With that in mind, he's getting a feel for what the NHL will be like, and he's lighting it up over there.
Fellow Finns will Help Lundell's Growth and Development
The Panthers are known for having a big Finnish prospect pool with players like Juho Lammikko. Additionally, the team has a history of great Finnish stars such as former captain, Olli Jokinen.
The current captain of the Cats, Aleksander Barkov, has led this team for multiple years. His work and his tenacity will inspire Lundell and he has someone who he can relate and speak to on most days. With him around, it should ease him into the league, even if he makes small mistakes during his transition. In addition, he has Finnish teammates like Markus Nuutivaara, who could give him some extra tips and advice to succeed.
As a result, he'll have fellow countrymen who have similar mindsets to make him feel as if he never left his home country.
Quenneville will Develop and Pepare Lundell
Panthers head coach, Joel Quenneville, is regarded by many as one of the greatest coaches currently in the NHL. He won three Stanley Cups as head coach with the Chicago Blackhawks and one as an assistant coach with the Colorado Avalanche. Quenneville's experience in the league and his old school trait of coaching should push Lundell to be better and fight for his roster spot. In addition, "Q" would know exactly how to utilize his players' talents as he did with players like Patrick Kane and Jonathan Toews. For his first NHL coach, it doesn't get any better than that.
Lundell will Have Teammates to Complement Him
More than likely, Lundell is going to be getting young and fast linemates as he may get plugged into the bottom nine on most nights. This will give him the opportunity to play with fellow first-round draft pick, Owen Tippett, who is known for his wicked snipes.
He may also get the chance to play with veteran winger Jonathan Huberdeau if the opportunity comes due to injury or a simple line change to shake things up. In addition, Lundell is going to mesh well with that young Panthers core that consists of players in their mid 20's such as Barkov, Aaron Ekblad, Frank Vatrano and Mackenzie Weegar.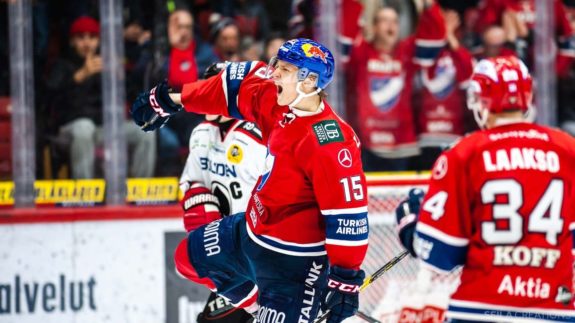 Furthermore, he's going to have multiple teammates that have playoff experience or have won Stanley Cup rings such as Brett Connolly, Anton Stralman and Sergei Bobrovsky. Because of this, Lundell is going to get a huge dose of education from some of these players as he continues his transition into the league.
What Does the Future Hold?
As previously stated, Lundell has experience playing with professionals in Liiga and will have a good team surrounding him in Florida. The sky is the limit for this kid and he should not be thrown in the AHL. Shown by his success, he clearly has what it takes to compete at the NHL level.
---
---