In the National Hockey League, a team's success is often measured by how late they play into the month of April. A playoff berth for a team usually means that the season went well since they are finishing in the top half of their respective conference. For some teams, a playoff berth is only the first step on their pursuit towards the Stanley Cup. For others, just getting the opportunity to compete for hockey's biggest prize is a success in itself. One team that falls into the latter category is the Florida Panthers. Following their 4-0 loss on Saturday to state rival the Tampa Bay Lightning, the Panthers were mathematically eliminated from 2015 playoff contention. As mentioned before, many teams would consider this a "failure" of a season, but for a franchise that has finished 30th and 29th overall in the past two seasons, fighting for a playoff spot until the end of March can be considered a true positive. Many hockey news outlets didn't even have the Cats sniffing the playoffs and most picked them to finish in the familiar bottom-3 of the NHL. With newly hired head coach Gerard Gallant and a slew of free agent signings, the Panthers managed to stay competitive throughout the entire season, never getting too high (their longest winning streak was 3 games) or too low (only one losing streak of more than 3 games). Fans of the team will have a tough time convincing themselves that this season is nothing but a write-off, but there is plethora of signs that bigger things are coming.
The Kids Are Alright
The Panthers had a lot of questions coming into this season. General Manager Dale Tallon had stocked the team's cupboards with a ton of young talent through the draft and those prospects were making their way to the NHL and attempting to establish themselves as professionals. Both Jonathan Huberdeau and Aleksander Barkov had some NHL experience under their belt going into the 2014-15 campaign, but other than Huberdeau's impressive rookie campaign, neither of them had truly shown what they can do at this level. Fortunately for the franchise, this year has provided a shining light on the future of the Florida Panthers.
Perhaps the player with the most questions coming into this season was 21-year-old Jonathan Huberdeau. After his rookie season that led him to winning the Calder Trophy as the NHL's best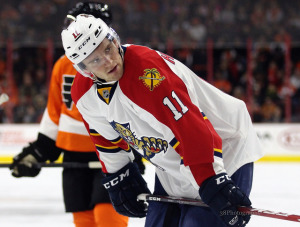 newcomer, Huberdeau struggled in his sophomore season, registering only 28 points in 69 games. This season started in familiar territory as the young winger managed only 2 points in his first 11 games. As the season comes to an end, those numbers are nothing but a distant memory. Excluding those first 11 games, Huberdeau has 50 points in 66 games. He'll finish the season as the Panthers' leading scorer and since the team acquired grizzled veteran Jaromir Jagr, Huberdeau has been lights out with 19 points in his last 18 games played. The 3rd overall selection seems to have finally returned to his rookie season form and is poised to continue this trend for the remainder of his career.
Aleksander Barkov was a selection that was scrutinized by many in the hockey world when the Finnish center went 2nd overall. After going down with a season-ending injury in the 2014 Olympics, much of the narrative stayed the same. But much like Huberdeau, this year has been a bit of a coming out party for Barkov, with the parallels between the two being almost eerie. He too started his season quite slowly, registering a single point in his first 10 outings, but (once again) like his line mate Huberdeau, he's finished the season extremely strong. He's accumulated 13 points in his last 18 games while playing against the NHL's top lines and defending against the best pivots in the league.
Pleasant Surprises
When the Panthers acquired forward Brandon Pirri from the Chicago Blackhawks last season for a 3rd and 5th round pick, expectations were that he could contribute some offense at the big league level. With that said, I don't think anyone could have anticipated the season he's had. Pirri has been red hot at two different occasions this season. He started the season with 3 goals in his first 4 games, but after a questionable hit by then-Coyotes defenseman Keith Yandle, Pirri was sidelined for nearly a month and upon returning seemed to have lost the flair he showed earlier in the year. After being scratched for a couple of games in the middle of January following a 13-game pointless streak, Pirri got the message loud and clear. He scored 17 goals over his next 22 games, a feat only matched this season by Dallas' Tyler Seguin and the NHL's leading goal scorer, Alex Ovechkin. One cannot expect him to keep that sort of pace up for an entire season, but to say Pirri could reach perennial 30-goal status is not very farfetched considering he currently sits at 22 goals in only 47 games this season.
Nick Bjugstad and Jimmy Hayes are also two big-bodied players who have enjoyed a surprising amount of success for the Panthers in 2014-15. Bjugstad's output is perhaps not as surprising as Hayes', but the University of Minnesota graduate's 24 goals puts him first on the team this year. Many say Bjugstad struggled to finish the season, but he still finished with 7 points in his final 11 games before ending his season short when he elected to have back surgery. Bjugstad's 4-point game against Anaheim is one of the highlights of the Panthers for this season.
https://www.youtube.com/watch?v=d_mvFWO6Oso
Jimmy Hayes has struggled to finish strong but still sits at 18 goals for the year, an impressive output for someone who was having trouble holding down a consistent roster spot last season. The former Maple Leafs draft pick has provided a ton of size for the Panthers down low as well as a net presence both on the power play and in 5-on-5 situations. Hayes seems to be turning into a fringe 2nd liner that can contribute 15-20 goals a season.
You didn't think I'd go this entire article without mentioning Aaron Ekblad, right? Although the 19-year old was selected 1st overall with high expectations, nobody could have seen this kind of season coming from the former Barrie Colt. Ekblad is in serious contention for this year's Calder Trophy and has astonished the entire league with his impressive play and veteran-like consistency.
Valuable Vets
With the additions of Willie Mitchell and Dave Bolland in the off-season, it was clear that the veteran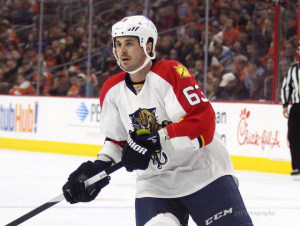 presence in the Panthers locker-room would be extremely different this year. Bolland's contract was criticized throughout the NHL after he signed a hefty $5.5 Million/year deal over 5 years this past summer, but the Stanley Cup winner has shown his value, providing many of the intangibles that he is known for. Although you may not agree with his contract, it's tough to argue against his results.
On the contrary to Bolland's contract, the Willie Mitchell signing was viewed as one of the best of the off-season. Mitchell was named the team's captain during training camp and has provided a steady flow of consistency and leadership throughout the entire season. He's helped Gallant keep the team in check and prevented them from getting too high or too low on themselves. Mitchell has provided a calming presence that the Panthers have needed for quite some time on their blue line.
Look to the Future
By most accounts around the NHL, failing to make the playoffs can be considered a waste of a season, but for the Panthers, a team that has struggled to find an identity over the last few years, fighting for a playoff position in late March is nothing but a positive sign. Their prospects are starting to pan out, their veterans are providing the leadership and stability they need, and all indications point to this team taking yet another step forward next season on their way to being perennial Stanley Cup contenders.
Lover of the coolest game on ice, long time Florida Panthers fan and contributor for them at thehockeywriters.com