The 2014-15 season marks the third year GM Marc Bergevin has been in charge of the Montreal Canadiens. Under his leadership, the Habs have gone from a bad team in the basement to one of the top teams in the league. Many of Bergevin's moves have paid off while others have been questionable. Time to look at the good, the bad and the ugly of his third year as GM.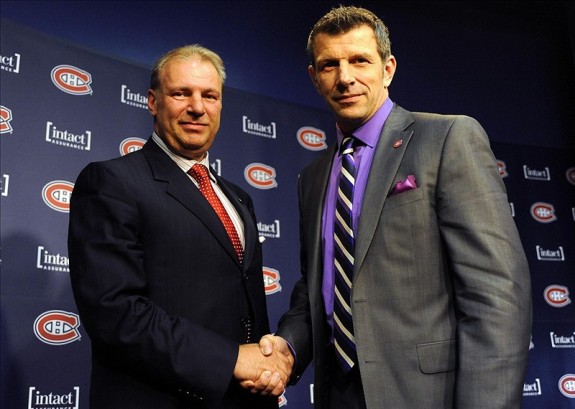 The Good
Bergevin managed to dump the two contracts of Rene Bourque and Travis Moen and get players with expiring contracts at the end of the season. The players received in the deals, defencemen Bryan Allen and Sergei Gonchar, will very likely not be returning next year and losing them clears around $8 million in cap space. Clearing cap space for next season is important especially with Brendan Gallagher's new deal kicking in and Alex Galchenyuk still in need of a new contract.
Bergevin also managed to get a badly needed top four defenceman in Jeff Petry from Edmonton in exchange for picks at the trade deadline. Considering what other teams paid for similar players, this was a steal. Petry has been solid since joining the Habs as he skates well, gets involved physically when necessary and has showed some offense as of late.
https://www.youtube.com/watch?v=pr8gSoTN1zE
The Bad
This past summer saw PK Subban receive the biggest deal in Montreal Canadiens history with an eight-year $72 million dollar deal. But Bergevin tried to lowball Subban in arbitration before finally giving him what he wanted in the end. The first contract dealings between Subban and Bergevin back in 2012-13 didn't go well either as Subban infamously sat out the first six games of the lockout shortened 2013 season trying to get a deal done. Bergevin has been willing to overpay other players on the roster (Lars Eller, Alexei Emelin) but it is a bit of a head scratcher to why he was so hesitant with the team's best defenceman.
The PA Parenteau-Daniel Briere trade can be taken as good or bad depending on how you look at it. Numbers wise, Parenteau has 22 points in 54 games while Briere has 12 points in 55 games with the Colorado Avalanche. The Habs also received a 2015 fifth round pick and the Habs have a nice recent history of finding gems in the fifth round such as Brendan Gallagher and some other promising prospects such as Charles Hudon and Darren Dietz. But Parenteau has one year left on his deal (Briere is a UFA at season's end) and has struggled to find a permanent spot in the lineup. Part of it is Michel Therrien's constant line juggling but Parenteau hasn't produced the numbers expected of him.
The Ugly
While it is way too early to call this trade a failure, the Devante Smith-Pelly for Jiri Sekac trade doesn't look good. Smith-Pelly has two points in 18 games with the Habs while Sekac has seven in 18 with the Anaheim Ducks. Smith-Pelly was acquired to bring a physical element to the Habs but has failed to that. He is barely noticeable on the ice on many nights and is often a step behind everyone else. Smith-Pelly had a strong playoffs for Anaheim last year and is expected to do the same thing in Montreal. Therrien had an aversion to playing Sekac and considering that Sekac chose Montreal over many other teams, Bergevin more or less chose coach over player in this scenario.
In his second stint as head coach in Montreal, Michel Therrien has played a role in getting the Habs into the current position they are in but he didn't deserve a four-year extension which he received after Montreal's run to the conference finals last season. The Montreal Canadiens have clearly outgrown Therrien as a coach and one would hope Bergevin would clearly recognize that. The development of Alex Galchenyuk is in question, the constant line changes are bizarre, the power play is inexplicably bad and the overreliance on Carey Price is too much. After last night's game where Max Pacioretty hit his head and had to leave the game, more than a few fans were worried about the team's playoff chances without the team's more consistent scorer.
Bergevin failed to pick up a top six scorer at the deadline and the team just hasn't been as good since the trade deadline. The Habs could go on to win the Stanley Cup and make Bergevin look like a genius but the team struggles to score outside of Pacioretty. Perhaps a fresh slate in the playoffs will revive some players while someone could emerge as an unexpected hero like Rene Bourque last year.
What's next for Bergevin
With the expectations being much higher this year, Bergevin did well in considering the team's future by not selling the farm for a Cup run but not getting a top six scorer to help the team along with his overconfidence in Therrien is concerning. Getting Alex Galchenyuk locked up to a new deal this summer will be Bergevin's biggest challenge as the Habs can't afford to lose him. Bergevin has done a lot of good since joining the Habs, but he has still has work to do.
I have a Bachelor's Degree in Journalism from Ryerson University. I am a freelance journalist and a Montreal Canadiens writer for The Hockey Writers. I previously wrote for Simcoe.com and Last Word on Sports as well as interned at TSN.