In the past week, Florida has run the full spectrum of what the full range of fan probably expects.  There was the unfortunate, controversial loss to the Toronto Maple Leafs, a game in which Florida probably didn't deserve to win, but certainly didn't deserve to lose the way that they did, with the GWG coming from what can only be described as text book goaltender interference.  The 2011-2012 NHL rule book should include a picture of this goal next to rule 69.1
Then came a night in Ottawa in which the Panthers would have been better off by never showing up.  The 5-3 score line hardly tells the story, as Florida looked disinterested from the start, allowing Ottawa to run a bona fide scrimmage.  Then, a beautiful rebound game that resulted in a 3-1 win over the Montreal Canadiens to salvage the 3-game Canadian road trip.  But last night, the Panthers suffered a 4-3 defeat to Atlanta despite tying a franchise record outshooting the Thrashers 55-23.  One more time, 55-23.  This was a game in which Florida controlled every aspect of the game.  They were faster, more desperate, better in the corners, better on faceoffs, created far more chances, and for lack of a better word, dominated.  But Florida simply could not score enough goals to earn a single point, and this could be the running theme for the Panthers in 2010-2011.
The Panthers' roster has its fair share of quality NHL players.  Unfortunately, quality NHL players and quality goal scorers aren't the same thing.  Even the offensive threats Florida does possess are struggling early this season.  Apart from David Booth, no one has done anything to merit any sort of recognition, unless you're a fan of guys who try really, really hard, because that's the only thing this team can do really well.  Rostislav Olesz, Stephen Reinprecht, Cory Stillman, Shawn Matthias, Chris Higgins, Marty Reasoner, Mike Santorelli… all great character guys who have worked and earned every chance they've gotten.  And yet, not one of them has more than two (2) goals through the first ten games of the season.
To put it bluntly, the Panthers simply don't have the talent to compete.  Stephen Weiss, Florida's #1 center, has just 3 points thus far and has looked downright tentative at times.  Steve Bernier is on his fourth team since 2007, and playing on Florida's fourth line.  Fans and management were hoping Chris Higgins could rediscover the talent that led him to three straight 20+ goal seasons.  He has two (2) points through 10 games.  Michael Frolik started his NHL career with two straight 21 goal seasons.  He was a healthy scratch against Ottawa due to poor performance.  If the Panthers were going to compete this season, those four players in particular were going to have to do more than they have done.  As it stands, 33-year-old Marty Reasoner is 3rd on the team in points with 2 goals, 5 assists.  A defenseman (Bryan McCabe) is tied for 1st with David Booth.  Go figure.
Far be it from me to go all Debbie Downer on this team just three days into November.  As I said before, there is one thing this team can do very well, and that is grind.  Ignoring the Ottawa game from last week or the effort against Dallas a couple weeks ago, the Panthers will outwork most teams in this league.  Florida mixes and rolls four lines like no other team in the NHL.  Unfortunately, this isn't necessarily because they are that deep, but because there is no "top line", there is no "checking line."  Any mix of four lines, any combination of the 12 forwards, are as capable of scoring on a shift as the next.   Head coach Pete DeBoer has desperately been trying to find some sort of chemistry that results in… well, results.  But despite how much Florida might control the game on the stat sheet, as they did last night against Atlanta, or to start the year against Edmonton and Calgary, the only thing that really matters is the one thing that Florida cannot do better than other teams.  Score.  And so here they sit at 4-6-0, 13th in the eastern conference.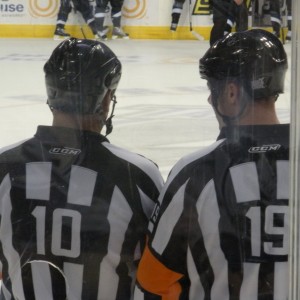 The question that will inevitably come up is this; can Panther fans be happy watching this team play its guts out for 60 minutes, but come up short more often than not?  For this writer, that's more than I could have hoped for.  You would have to go back nearly a decade to find a 10-game stretch in which Florida showed up and played a solid 60-minute game for 8 of those 10 contests.  The past few seasons, every good game or two would seemingly be followed by two or three absolute stinkers.  Every objective fan of the Panthers knew this could be a long season, and even some of those subjective ones saw it coming.  Can Florida get lucky once in awhile?  Sure.  A 6-0 rout of the Tampa Bay Lightning, a full 60-minute, 3-0 win over the Calgary Flames, or a grind-it-out-to- the-end 4-3 victory over the Islanders demonstrates that.  But for Panther fans, it's much more likely that they will see more results like the loss to the Thrashers than the win over the Lightning.  Florida is a team that will work its opponents into the ice, grinding down shift by shift.  Some nights, they'll grind out the 2-1 win.  Most others, they'll outshoot the bad guys 55-23 and come up with nothing.
Karl Selvig was born and raised in south Florida, and was introduced to hockey when the NHL came to Miami in 1993. It was love at first sight. After playing through college, he turned to the media side of the sport and has enjoyed writing about his beloved Panthers since 2007.