Last season did not go well for the Florida Panthers. The team had high expectations after a big offseason, yet still had the same struggles as always. Now, after another busy offseason, they will try to avoid the same disappointment. Here are the players who need to improve most if the Panthers want to move forward.
Keith Yandle
Keith Yandle's basic stats imply he had a good 2019-20 campaign, with 5 goals and 45 points through 69 games. However, this is far from the case. His offense relied heavily on getting time on the power play, which generated 49% of his points.
Yandle's even-strength play wasn't spectacular either. He provided minimal offensive value, with 1.3 xEVO_GAR, however, that isn't what made his season bad, it was his defense.
Yandle registered an abysmal -5.0 xEVD_GAR, among the worst in the league. He was causing problems defensively all season, as he often lost puck battles, wasn't strong with his stick, and was caught out of position. This led to a substantial number of high-quality shots against when he was on the ice.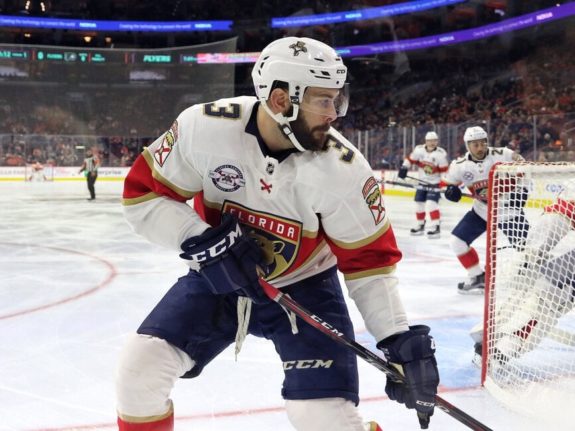 He will bounce back. He's been a good defenseman, despite last season, but he will have to be more defensively aware if he wants to help the Panthers get back on track for the 2020-21 season.
Anton Stralman
Anton Stralman was signed by the Panthers in 2019 as a free agent and with high expectations that he could be a good top-four defenseman. He wasn't terrible, but did not live up to his contract in his first season in Florida.
He did improve from his 2018-19 season with the Tampa Bay Lightning, with a -3.6 xGAR that rose to a 0.2 xGAR, and he also trended upwards in points, from 17 to 19. Stralman provided a surprisingly good offensive presence, with four fewer even-strength points than Yandle, and he was the third most valuable defenseman offensively on the Panthers, behind MacKenzie Weegar and Aaron Ekblad, with a 3.2 xEVO_GAR.
Stralman's real struggles, like Yandle, came on the defensive side, where he posted a -2.4 xEVD_GAR. He possesses an xGA/60 OF 2.648, relative to his 2.336 xGF/60, which means he's allowing quality chances against at a higher rate than he's producing them.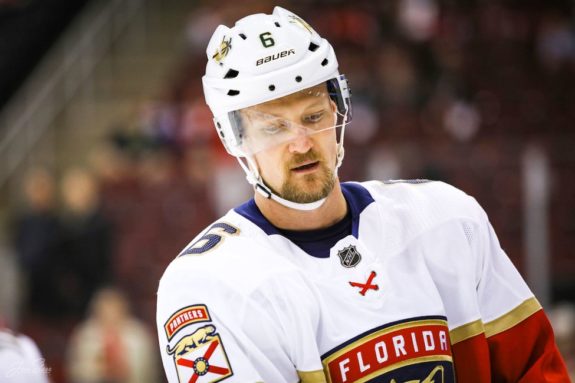 If Stralman can maintain his offensive output, while elevating his defensive game to just slightly above average, it would go a long way for the Panthers in 2020-21.
Sergei Bobrovsky
For the Panthers to improve, it all starts with Sergei Bobrovsky. The Russian netminder was given the second-highest AAV for a goaltender in NHL history when he signed a 7-year, $10 million per season contract last offseason after an amazing career with the Columbus Blue Jackets which included two Vezina Trophies and as a Hart Trophy candidate in the 2016-17 season.
Despite this, Bobrovsky's play last season showed a significant drop, as he finished with a .900 SVS%, and -19.08 GSAx, which ranked sixth-worst in the NHL.
However, if there is anybody on this team who can bounce back this season it is Bobrovsky. In 2016-17, he ranked first in every goaltending metric you could name, with a .934 SVS%, 45.1 GSAX, and .864 HDSVS%; that was the second-best goals saved above expected in a season in analytics history. In the seasons before and after that 2016-17 campaign, he was still consistently one of the best goaltenders, if not, the best goaltender in the NHL.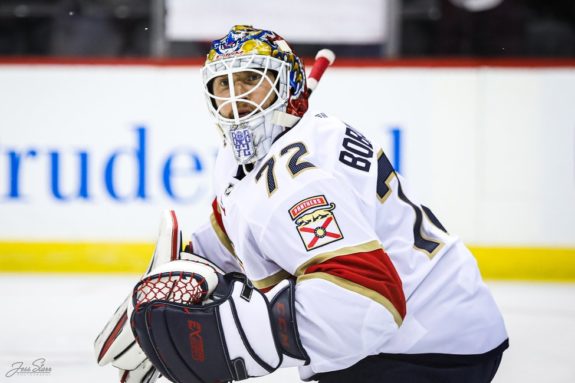 While this does not make him a lock to bounce back, he is a talented enough goaltender, and management has drastically improved the team in front of him, including adding defensive help with the additions of Radko Gudas and Markus Nutivaara and with solid defensive forwards to work with. His struggles in 2019-2020 were likely caused by the transition from a defensive-minded Blue Jackets team to an offensively powered Panthers group.
Looking Ahead to 2020-21
This trio of Panthers needs to step up if the team wants to contend this season. They are valuable assets, and provide depth at their position that the team has struggled to find for most of a decade. If they bounce back, it will go a long way towards helping the team finally win a postseason series for the first time since 1995-96.
---
---