There was a time in history when it seemed like the Art Ross Trophy would never leave the city of Chicago. Between the 1959-60 season and the 1967-68 season, it was a Blackhawk's player that won the honors for the NHL's top point scorer in the league in seven out of nine years. Bobby Hull took the honors in 1959-60, 1961-62, and again in 1965-66. Stan Mikita lead the league in scoring in 1963-64, 1964-65, 1966-67, and finally in 1967-1968. For five consecutive seasons a Blackhawk was the league's top scorer, but after Mikita won it for the last time things changed.
First American to Win the Art Ross Trophy
The Blackhawks waited for 48 long years before one of their players once again won the Art Ross trophy. In 2016 Patrick Kane dominated the NHL and posted 106 points. To put that in perspective, the next highest point total this season was Jamie Benn who finished with 89 points. The last player to put up at least 106 points in a season was Evgeni Malkin in 2011-12, with Sidney Crosby coming close in 2013-14 with 104. Even more impressive is the fact that Kane is the first American in history to ever win the Art Ross trophy.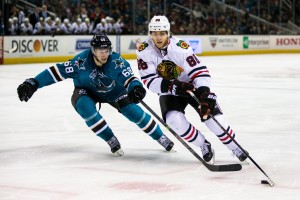 "It is an honor being the first American to win the scoring title as there have been so many great hockey players from the United States in the NHL," Kane said after the conclusion of the regular season. "I take a lot of pride in that, but I also take a lot of pride in doing it with the Chicago Blackhawks. I owe a lot to my teammates, coaches and the organization as I couldn't have done this without them. This has been a special season, but we still have a lot to accomplish as a team and I look forward to another long run in the Stanley Cup Playoffs."
When considering the fact that there are players like Brett Hull, Mike Modano, Phil Housley, Jeremy Roenix, and Keith Tkachuk, among others, who posted so many points in their 1000+ game careers, it's impressive that Kane was the first ever American to win the trophy. It also says a lot about how talented Kane truly is in an era of the NHL where the "decline" of scoring is something that is so prominent in the news.
At just 27-years-old Kane is just entering his prime. In his first three years in the NHL Kane averaged 0.94 points per game, seasons where he was relatively healthy and played in at least 80 games. The only other times that Kane played in 80 games or more in a season were the 2011-12 and this past season, where he posted 66 points and 106 points respectively.
The 26 Game Point Streak
Kane went on a historic run during the 2015-16 season, in which he posted at least one point in 26 consecutive games. The previous Blackhawks record for points in consecutive games was set by Bobby Hull, with 21 games during the 1971-72 season
"It was a fun run," Kane said. "I think you never know what's going to happen with the streak, or there's a lot of games when it seemed like we were down and out, and you end up getting something at the end, whatever it may be. But, you know, it was fun breaking the American record. I was happy with that, and to break the franchise record too, that was pretty special as well. It was definitely fun while it lasted."
It's probably safe to assume Kane won't be breaking any consecutive-game point streaks next season. After registering a point in 26 consecutive games Kane was seemingly focusing too much on the streak. This caused him unnecessary stress, which he hinted at when he stated "I'm excited just to play hockey now" following the conclusion of the streak in a 3-0 loss to the Colorado Avalanche.
If the streak was taking the fun away from the game, it's probably for the best that Kane doesn't go on any such streaks next season.
Health Concerns Could Play a Factor
Kane has missed significant time over the last few seasons due to injury. In 2013-14, Kane played in only 69 games after suffering a left-leg injury. Amazingly Kane came back from the injury and didn't miss a beat. The young American played in 19 games while posting 20 points that post-season, despite not winning a Stanley Cup.
In the 2014-15 season Kane was once again plagued by an injury. The Buffalo-native skated in only 61 games due to a broken left-clavicle that ultimately required surgery. The initial recovery time for the injury was expected to be 12 weeks, which would have ultimately resulted in Kane missing the first two rounds of the playoffs. It was expected that Kane would return in the Western Conference Finals, but after missing 21 games the right winger was cleared and ready to play in game one of the Western Conference Quarter Finals.  Injuries never seem to slow Kane down as he once again returned to form in the playoffs, scoring 23 points in 23 games to help his club win their third Stanley Cup since 2010.
The Right Linemates and Verdict
Throughout his career Patrick Kane has played with a variety of linemates to varying degrees of success. Whether he was playing at the center in an experimental role, or playing alongside Jonathan Toews, Brad Richards, or Artem Anisimov, Kane has always been one of the dominant point-producers in the league. His most successful season by far, however, came with Anisimov at center and rookie forward Artemi Panarin skating across from him on the left wing.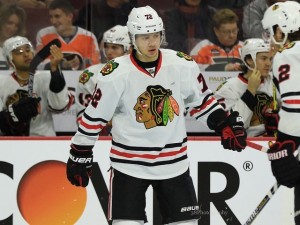 Playing in his first year in the league, Panarin immediately found chemistry with Kane, on a line centered by Anisimov, that simply could not be slowed down for much of the regular season. There is no reason to believe that line will be dissolved moving forward, unless the Blackhawks happen to make a trade involving Anisimov this off-season in an effort to save cap space. Trading away an effective second line center after just one season doesn't seem very likely, but Stan Bowman has made shocking moves in the past.
With the assumption that the Blackhawks will start the 2016-17 season with a second line consisting of Panarin, Anisimov, and Kane, it's hard to justify keeping Kane out of the Art Ross contention discussions. Panarin could hit a sophomore slump, but given the fact that he's played professional hockey overseas and this wasn't technically his first season, it's just as likely that he builds off his successful NHL debut. With Panarin performing at a similar, or better rate than last year, Kane has the opportunity to build off of his successful 2015-16 campaign and produce points at an outrageous pace once again.
Scoring 100 points in today's NHL isn't easy, and if Kane can even reach the 90 point mark next season, it would be an accomplishment in itself.
Brandon Share-Cohen has covered the NHL and various professional sports for seven years. Working with The Hockey Writers, Brandon works extensively on covering the Boston Bruins in addition to his role as the News Team Lead.