Pavelski Leading Off, Setting the Tone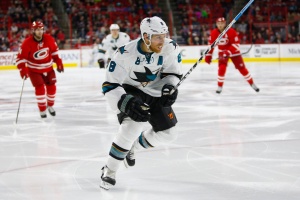 After their 6-2 loss to the Chicago Blackhawks on Saturday, San Jose Sharks forward Joe Pavelski showed that he has no problems crushing a Doug Wilson hanging curve ball. Asked about the response in the room to the war of words between GM Wilson and linemate Joe Thornton, Pavelski delivered the following:
"You know it's disappointing obviously, if something like that gets out or is said about your teammate because we're all apart of it. We all went through it and there wouldn't be one guy in here who would say differently."
The "it" Pavelski is referring to is last year's playoff collapse that Thornton has seemingly taken the brunt of the blame for by Wilson and the Sharks' front office. It may be obvious for Pavelski to defend Thornton being in the midst of two career years as his linemate but the comments are still noteworthy. The veteran essentially called Wilson's decision to tell season ticket holders he took the captain's "C" away from Thornton because of stress and lashing out a bad decision. Not often do you hear NHL players criticize their GM. Sharks players have done it multiple times in the past few days.
Couture Batting Second
Logan Couture wasn't as direct as Pavelski but still had an interesting post game media session with reporters after the Blackhawks loss. Couture was rather short in response to questions about whether the outside stuff was a distraction for the team. However, when asked if he agreed that Thornton played a good game on Saturday, Couture had a much lengthier answer in support.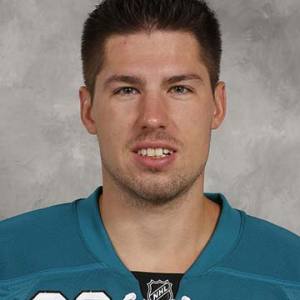 "Joe's been good all year. Not just today. He's been one of, if not the best player on our team all season. He shows up every single night and works as hard as anyone on this team. He wants to win, you saw it again tonight. It's happened for 69 games now."
It is worth mentioning that Couture and Thornton share the same agent, that being Joe's brother, John Thornton. Not hard to imagine where Couture's allegiance lies but maybe you just needed to be in the room for these comments. The tone and vigor for which Couture praised Thornton was especially telling that the players are sticking by Thornton. They are sticking by the guy that management apparently thought was part of the locker room and leadership issues last season. Aside from Wilson's recent comments, associate coach and director of player development Larry Robinson said during the past offseason that some players may not have taken to Thornton's "cutting sense of humor."
Begs the question what exactly is the problem about Thornton in the eyes of management? For years it sounded as if Thornton was too laid back and mellow. However now, he is too passionate and lashes out at people? Well, which is it? Not only Couture and Pavelski, but you can bet Patrick Marleau and Brent Burns are on Team Thornton. Marleau and Thornton sign their extensions together to stay in San Jose and Thornton and Burns are often seen together in the dressing room cracking jokes. It may be a prototypical conspiracy theory, but if Wilson was trying to bring the players closer together by hating him, he has certainly done that.