When one thinks about the Minnesota Wild at this point in the season, Devan Dubnyk seems to be the first thing that comes to mind. And for good reason – Dubnyk has been unstoppable for Minnesota since being picked up back in January. But there's someone else that has been a huge factor in this late-season push.
That guy is Zach Parise.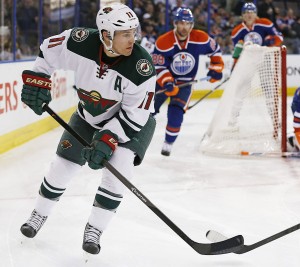 Playing with heart
Devan Dubnyk may be the Wild's season-saver, but Zach Parise has been Minnesota's superman all season long. Every night, even when the Wild was in the midst of a losing streak, or when their season looked hopeless, Parise still played with the same tenacity every single night.
This guy brings one hundred percent to the ice each game and that's reflecting in his stats. In the past ten games, Parise scored 4 goals and tallied five assists. He's the Wild's leading goal-scorer with 27 goals. He also leads the team in goals scored on the power play with 9 goals.
But the Wild's alternate captain does more than put up big numbers.
Right place, right time
If you've ever watched a Minnesota Wild game – and I really hope you have – you've probably noticed that Zach Parise always seems to be in the right place at the right time. No matter the play, the team, or the other players on the ice, Parise seems to have a knack for being exactly where he needs to be. All the time.
He can be battling for a puck in the corner and then next thing you know, he's crashing the net and scoring a goal. Sometimes it almost seems like Parise has some sort of hockey power that allows him to know exactly where the puck will go next. Hey, the don't call him Captain America for nothing.
This is all even more impressive considering Parise's struggles off the ice this year. Keep in mind Zach Parise has played his heart out even while dealing with the passing of his father, JP Parise. He easily could've let his father's illness and passing interfere with his game, but if anything, it seems to have motivated him. This guy is truly something else.
I have so much respect for Parise for how committed he is to his team, state, and teammates. It's pretty easy to realize he's a leader both on and off the ice, even when dealing with something unimaginable like losing a parent.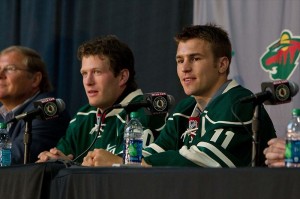 Don't forget Parise
Now don't get me wrong, I'm not saying Zach Parise is underrated or that he doesn't get enough kudos from Minnesota. I'm just saying while we're all sitting here talking about how great Dubnyk is and how he's responsible for saving the Wild's season, let's not forget Parise has been out there grinding every night for the Wild. All season long.
Good game, bad game, win or loss, Zach Parise is a huge piece of this team and a giant reason they are where they are now.