In some ways, the Pittsburgh Penguins aren't necessarily off to a great start in 2016-17. Unsurprisingly — considering it's only November — they're still trying to find the right blend of forwards that will provide them with the matchup nightmares they created last season. A few individuals — most notably Olli Maatta, Ian Cole, Eric Fehr and Trevor Daley — have failed to impress on a consistent basis and from a defensive standpoint, they're hemorrhaging shots against at an alarming rate.
Yet, they keep racking up wins, which is obviously the most important column to watch.
Hockey in October and November is often viewed as meaningless. It's really all about finding a rhythm, sorting through personnel decisions, building a plan for your stretch run and ultimately doing more scouting than anything else. However, the points Pittsburgh continues to acquire in the standings will eventually be extremely important. The Metropolitan Division will be a tight race, as it always is when spring time rolls around. If things remain as is, Pittsburgh will be battling the New York Rangers and Washington Capitals for seeding.
Sound familiar?
Despite Pittsburgh's slow start last season, they were able to put together a few stretches of good hockey and keep themselves in the hunt early on. There's no reason to believe they'll slow down this year, but injuries can happen and the NHL season is very unpredictable. So far, they're doing themselves a ton of favors by piling up points this early in the year.
It Doesn't Have to be Pretty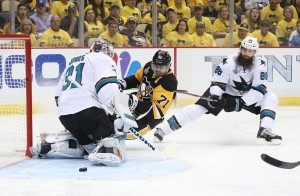 One sign of a championship-caliber team is the ability to find ways to win, no matter the circumstance. Their ability to deal with adversity and their 'next man up' mentality was a major reason for such a successful run in the final months of 2015-16. Right now, they're displaying more of the same and that should concern anyone in their path.
Dating back to early January, the Penguins' identity became clear. Simply put, they were puck hogs — not on an individual basis of course — but they put consistent pressure on their opponents, forced turnovers and capitalized. They used their relentless speed to their advantage and outskated everyone on their way to a Stanley Cup championship. Things are a bit different so far this season, though.
Pittsburgh has relied heavily on goaltenders Marc-Andre Fleury and Matt Murray. According to Corsica.Hockey, they've allowed the sixth most shots against in the league thus far. They're allowing 32.58 shots against per 60-minutes of play and many of those are solid scoring chances. In fact, they're currently boasting the ninth highest scoring chances against per 60 minutes.
Uncharacteristic, to say the least.
The good news is, Fleury and Murray have both been up to the task and Pittsburgh can still score in bunches. For onlookers, this is fantastic, high-event hockey. It will give most coaches a headache, though, and will need to be addressed if they plan to make a deep run again.
Bottom-Six Woes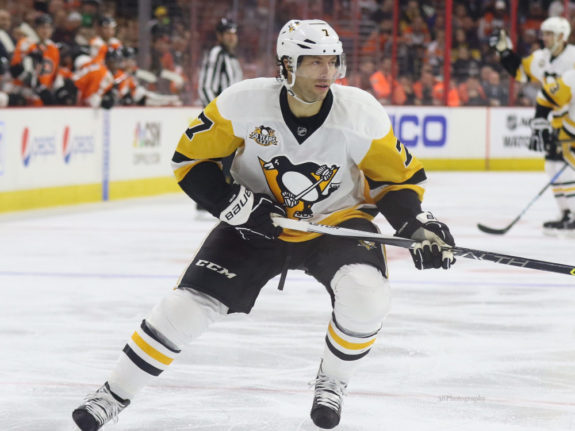 Pittsburgh's depth, especially on offense, became a major strength over the last calendar year. Carl Hagelin and Phil Kessel playing bottom-six roles should tell you a lot about just how good this forward group was and still could be. However, the unlikely heroes such as Matt Cullen, Eric Fehr, Tom Kuhnhackl, and Nick Bonino aren't getting the job done right now.
Although, Cullen's numbers deserve a bit more digging.
Cullen has been on fire from the perspective of point production. He tallied nine points through Pittsburgh's first 12 games but over the last three contests, he's been held scoreless. A three-game scoring drought is hardly anything to be concerned about but his underlying numbers have suffered as well.
There's a bit of a scary trend here, and it may be related to his linemates more than anything else. Something just isn't clicking for the Penguins' fourth line.
Below is a WOWY (with or without you) chart courtesy of HockeyViz.Com. It may look overwhelming if you aren't familiar with how to read this but in this case, it's simple to find the pertinent information. You'll notice that each corner is labeled as good, bad, dull, or fun. Black squares around a number represent Cullen's ice time alongside that individual while blue represents his time without them. His results with Fehr and Kuhnhackl are awfully close to 'bad,' while his production without them is on the opposite end of the spectrum and trends toward 'good.'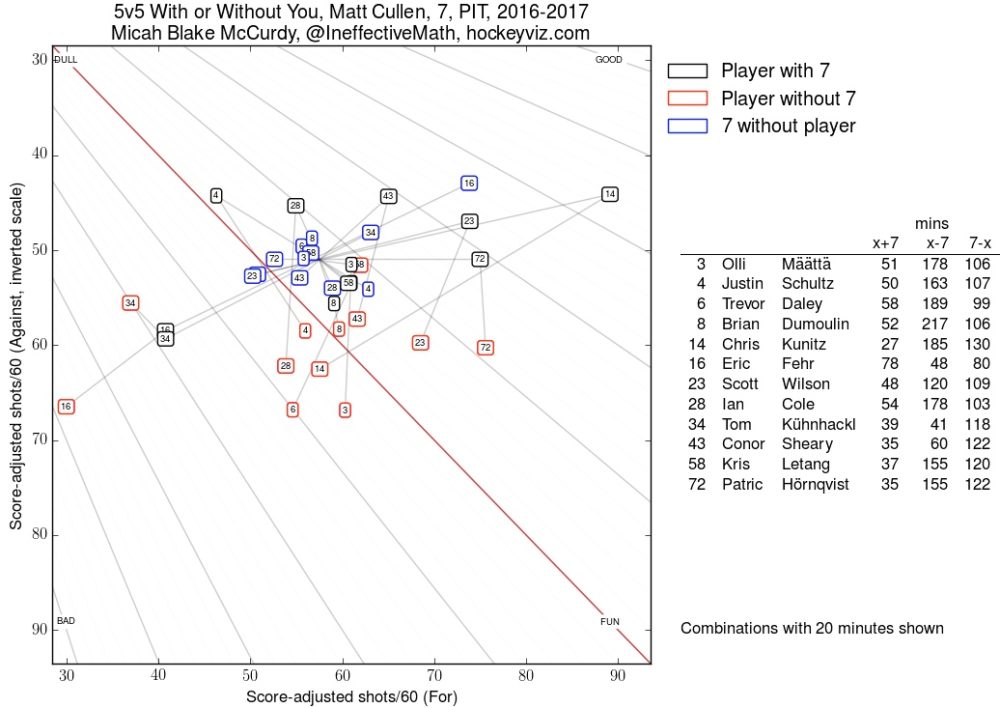 Also notable is that both Fehr and Kuhnhackl's numbers without Cullen — represented by the numbers 16 and 34 in a red square — still trend toward 'bad.' Shot attempts don't always tell the whole story but this is a good visual of just how disappointing Pittsburgh's fourth line has been this season. Outside of Cullen chipping in on the scoresheet, they haven't been represented well.
The HBK line, or Pittsburgh's third line if you look at things in that way, has also struggled to find their scoring touch. They were split up for a bit, with Hagelin playing alongside Sidney Crosby and Phil Kessel finding time with Evgeni Malkin and while things seemed to work in the top-six, Mike Sullivan is attempting to reunite that trio. They were a key component of Pittsburgh's success last season, so it isn't surprising. If they can find that magic again, it makes Pittsburgh the hardest team in the league to match up with.
If they don't, Sullivan will need to find an answer to the lack of production from Pittsburgh's bottom-six.
I don't like to put much stock in these results until 15-20 games are in the books. We're at that point now and while Pittsburgh is still winning, one has to wonder if they can keep it up without their depth players stepping up. There's no reason to panic, of course, but the performance from their bottom lines will be something to watch going forward, as it could get them in trouble if their stars hit a scoring drought or, even worse, get injured.