The Toronto Maple Leafs are in the midst of a complete rebuild. As a result, the team has begun, and remains, in the process of acquiring highly skilled young talent which they believe can, one day, contribute consistently at the National Hockey League level.
Already, Toronto is fortunate to have three sensational forward prospects in the form of Auston Matthews, William Nylander and Mitch Marner. These three players, despite their young age, are absolute game changers and appear poised to carry the Leafs offensively into the future. Further, on defense, in addition to the rising stock of Morgan Rielly, Toronto has added Nikita Zaitsev to the mix, while Travis Dermott and Andrew Nielsen are rapidly developing in the American Hockey League.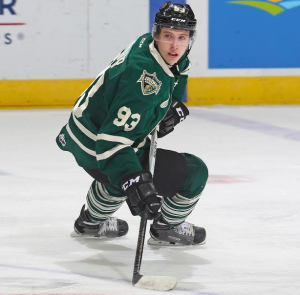 So, it goes without saying that the Leafs are headed in the right direction early in their rebuild. However, Toronto's rebuild, despite its infancy, could, in fact, be stronger than meets the eye, as a number of other prospects, those not typically discussed, are briskly evolving in other developmental leagues.
One of those leagues, in particular, is the Ontario Hockey League (OHL), a component of the Canadian Hockey League which has long been known for its ability to produce elite talent. In fact, over the past ten NHL Drafts, the Leafs have selected a whopping 21 players from different teams within the OHL, the most notable of which being Nazem Kadri, Mitch Marner and Connor Brown, to name a few.
As a result, it should come as no surprise to learn that two Leafs prospects, both selected during the 2015 NHL Entry Draft, have quickly become not only star players in the OHL but perhaps, more importantly, quality pieces of Toronto's rebuild moving forward.
Jeremy Bracco – Kitchener Rangers
Of these two sensational prospects, let's begin by taking a quick look at Jeremy Bracco, who was drafted by the Leafs in the second round, 61st overall in 2015.
A long-time member of the United States National Development Program, Bracco had originally planned to develop his game while attending college, after committing to Harvard, and then switching his commitment to Boston College, the skilled forward left the NCAA altogether and headed north of the border.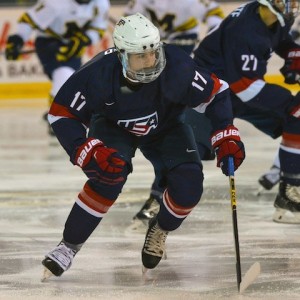 Drafted by the Kitchener Rangers in the fifth round of the 2013 OHL Priority Selection, the Rangers held his rights and were certainly more than happy to add the Freeport, New York, native to their roster for the 2015-16 season. In his first campaign in the OHL, Bracco immediately became an offensive force, netting 21 goals and 64 points in just 49 games played.
In the 2016-17 campaign, Bracco once again got off to an incredible start offensively, regularly scoring multiple points per contest and, in doing so, further establishing himself as a go-to player on a nightly basis.
Arguably best known for his skating abilities, Bracco is quick, agile, and has no issue moving around the ice. In fact, he has the speed necessary to beat opposing defenders wide, use his edges defend the puck down low, and a willingness to drive the net when the opportunity presents itself. Defined as a playmaker, Bracco is gifted with an excellent pair of hands, which, when combined with his strong on-ice vision, make him a terrific pass-first offensive threat. What's more is that his shot, one that is vastly underrated, is also a very key component of his game.
Further, Bracco plays a sound, 200-foot game. Sure, he is an elite offensive threat, but he is also capable of consolidating his own zone in the process. Given his skills with the puck, Bracco, in turn, uses his stick to make smart defensive plays and has the ability to knock down passes. In addition, his strong skating allows him to force the puck at the points, which often pressures opposing defenders into making mistakes or to cough up the puck.
Given his incredible talent, and how his game has progressed in the OHL, Bracco appears to be on track for professional hockey and the AHL come the 2017-18 season. Yes, he would still be eligible to play his over-age for the Rangers, but chances are Leafs management would prefer he gain more valuable experience sooner rather than later. A tremendously skilled forward with exceptional puck skills, Bracco fits perfectly into Toronto's mold, and should, given his current pace, became an extremely valuable player for the Leafs in the future.
Nikita Korostelev – Sarnia Sting
The second Leafs prospect dominating the OHL in 2016-17 is Nikita Korostelev, a seventh-round selection, 185th overall in the 2015 NHL Entry Draft.
Born in Moskva, Russia, Korostelev's hockey career in North America truly began to take flight in 2012-13, when he played for the Toronto Jr. Canadiens. Following a great Minor Midget season in the Greater Toronto Hockey League in which he scored 26 points in a mere 13 games, Korostelev was drafted by the Sarnia Sting ninth overall in 2013 OHL Priority Selection.
The following season of 2013-14, Korostelev made the jump to the OHL and netted 38 points, a strong rookie total which included 17 goals. Then, in the following season of 2014-15, Korostelev broke out, scoring 53 points in his 55 games played which included 24 goals, a solid season which resulted in his Draft selection by Toronto. However, when the following season of 2015-16 came to a close, Korostelev had slumped to 42 points in 53 games played, which, although a decent total, was not reflective of his offensive potential.
Eager to put a sub-par season behind him, Korostelev, like Bracco, set the OHL on fire to begin the season, scoring 14 goals and 23 points in his first 15 games of the campaign.
Of good size at 6'1″, 200 pounds, Korostelev is yet another player who is a terrific fit within the Leafs' rebuild, in that he is a highly skilled and offensively gifted forward.
Like Bracco, Korostelev is a terrific skater who is lightning quick at top speed and possesses the ability to remain an elusive threat at all times in the offensive zone. Further, there are Korostelev's tantalizing skills with the puck. A gifted puck-handler who is extremely creative offensively, Korostelev can make a quick pass, or put the puck on net in the form of a crisp wrist, slap, or snap shot. His shot, which is of explosive speed, comes about from a quick release and has the ability to blow past opposing netminders despite their positioning.
As a 1997 born player, Korostelev is also eligible for an additional season of play in the OHL. While making the jump to the AHL would be a natural progression, the Leafs may, in fact, be better suited to allow Korostelev to play out his final year in the CHL. Although he is a proven goal scorer oozing with offensive skills, Korostelev's defensive game remains a work in progress and could stand to be improved through an additional year with Sarnia, despite his immense success in the 2016-17 season.
Whichever the case may be for both players, the Leafs should be extremely pleased with the individual progression of both skaters. Fortunate to retain incredible offensive instincts and puck skills, it would appear to be only a matter of time before Bracco and Korostelev make a successful jump to the professional hockey ranks.