In one of the latest trade calls in memory, the Anaheim Ducks shipped struggling winger Carl Hagelin to the Pittsburgh Penguins in exchange for struggling winger David Perron and defenseman Adam Clendening.
Heading to Pittsburgh is Hagelin, who is known for playing a fast game up the wing. It seemed like he was exactly what Anaheim's aging forward group needed in the offseason when he was acquired for Emerson Etem. But he's failed to ignite his offensive game like he did last year, tallying just four goals, where he scored 17 in each of the previous two seasons. Yet, that may have a something to do with Anaheim's anemic scoring across the board.
What Pittsburgh does get is a more defensively-minded forward. Hagelin was seeing heavy defensive-zone deployment (-12% ZSO%Rel), while Perron was getting more protected deployments (10.44% ZSO%Rel). Hagelin has also posted better relative possession numbers, though that's based somewhat on what he does on the offensive side of the game.
This will matter to Pittsburgh. Despite the criticism that Mike Johnston was too focused on the team's defense and was stifling their offense, Mike Sullivan has made the team even more successful defensively. Hagelin should aid this style while providing speed on the rush, which could be a nice compliment for their top two centers.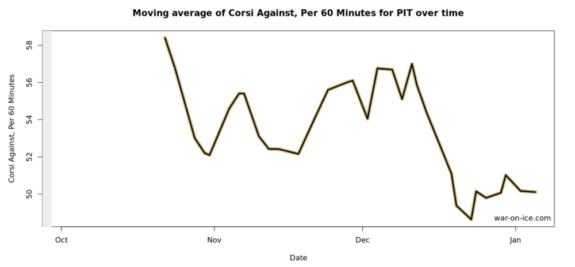 Though there's some evidence that the defensive end of Perron's game could be rekindled. He's been a solid defensive winger at other points in his career, and playing on a line with Ryan Kesler may have helped Hagelin post better defensive numbers this season.
With no salary retained, Pittsburgh also gains a little bit of cap space. Hagelin's $4 million cap hit is slightly north of Perron's $3.8 million, but when combined with Clendening's $761,250, Pittsburgh gets a little cap relief, which they can use.
Anaheim has the cap space, but may be looking for some freedom from term. Both Perron and Clendening have deals that expire at the end of the year, where Hagelin has three years left after this one.
On the ice, Anaheim is bringing in a winger whose offensive upside is higher, even though he's only got four goals on the year as well. It's something Pittsburgh GM Jim Rutherford noted on Saturday, saying that he thinks Perron is a 20-goal guy, while Hagelin is a 15-goal guy. Rutherford noted Hagelin's defensive appeal saying he thinks he's a better plus/minus guy.
Anaheim also moves out a guy who had a partial no trade clause kicking in next year. If they felt he wasn't a fit for the team, now was the time to spare themselves a more difficult situation when his no trade kicks in for the last three years of his contract signed this summer.
Anaheim also acquires Clendening, who hasn't quite panned out as expected, but is just 23 and has long been thought to have untapped upside. Anaheim has been fantastic defensively since mid-December and adding depth there should only help them to maintain their identity heading into the stretch.
The #Pens have acquired Carl Hagelin in exchange for Adam Clendening and David Perron. https://t.co/BUrEk0btqF pic.twitter.com/kshiqhyG7t

— Pittsburgh Penguins (@penguins) January 16, 2016
RELATED: Penguins Acquisition of Carl Hagelin Raises Concerns
Advanced stats via War on Ice.