Ducks Shake Up Their Second Line
Even though the Ducks have had great production from their second line this week, Ducks GM Bob Murray trades LW Carl Hagelin to the Penguins for LW David Perron and D Adam Clendening.
OFFICIAL: #NHLDucks acquire David Perron, Adam Clendening from Pittsburgh for Carl Hagelin: https://t.co/ZVoddanNM2 pic.twitter.com/peSUEfZyOk

— Anaheim Ducks (@AnaheimDucks) January 16, 2016
I was harking earlier this week that the Ducks needed some secondary scoring in their lineup as the team is still last in offensive production this season. https://thehockeywriters.com/what-should-the-ducks-look-for-on-the-trade-front/ The offence has been looking better recently, but it is still a cause for concern.
Soon after the Ducks win against Dallas and the Penguins OT loss to Tampa, the teams exchanged wingers (and a defenceman) that had a hard time making an impact as top-6 forwards for their respective teams.
Who Gets What
Ducks Get:
LW David Perron, 27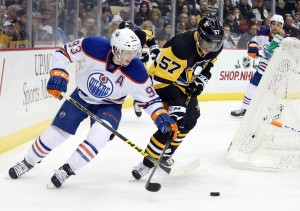 The native of Sherbrooke, QC, finds himself on his fourth squad in his career having played with the Blues, the Oilers, the Penguins and now joining the Ducks. He possesses good hands, decent offensive awareness and the ability to score goals. He has three 20-goal seasons — his last coming in Edmonton in 2013-14 when he had his best season, notching 28 goals and 29 assists in 78 games. Since joining the Penguins, his offensive production dropped, mostly playing alongside Evgeny Malkin and recently with Sidney Crosby. So far this season, he has amassed four goals, 12 assists and a minus 13 +/- rating in 43 games. These stats are not what you're exactly looking for to give a jolt of energy to your lineup, but perhaps a change of scenery and a return to the Western Conference will rejuvenate his career. What is also important to note is that he makes about $3,81M this year and becomes a UFA at season's end. This would free up some cap space with Rickard Rakell, Hampus Lindholm and Sami Vatanen all becoming RFA's after this season and looking for raises.
D Adam Clendening, 23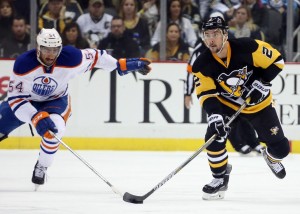 In Clendening, the Ducks acquire a young two-way defenceman who has shown the ability to be an offensive weapon from the blue line in college and in the AHL. He hasn't been able to translate that to the NHL though. This addition may turn out to be good organizational depth on defence. He was a second-pick for the Blackhawks in 2011, but like Perron, this will be his fourth team already. Other than the Hawks and Pens, he played a handful of games for the Canucks. In 30 NHL games, he has a goal, four assists, 20 penalty minutes and a plus 5 +/- rating. His last game was on Dec. 19 this season against the Hurricanes.
Penguins Get:
LW Carl Hagelin, 27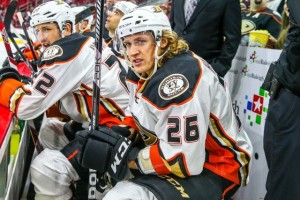 The Penguins get themselves a speed demon to flank either Crosby or Malkin. Although not incredibly productive in terms of points, he was an impactful player for the Rangers during their 2013-14 run for the Cup. The Rangers ended up falling to the Kings in the finals, but Hagelin had seven goals and five assists in 25 games. What the Penguins are getting is speed and loads of it. He's also a capable penalty-killer and can score 10 to 20 goals. That's about it though. Do not expect him to fill the scoresheet or to be a viable option on the power play. He's having a pretty bad season, even for his standards. He has four goals and eight assists in 43 games this season. His contract ends after the 2018-19 season and has a yearly cap hit of $4M. A hefty price for a forward who has never reached the 20-goal mark in his career.
Who Wins the Trade:
Even though both forwards are having bad seasons, the Ducks win this trade hands down. They get the better player in the trade who has shown the ability to score. They also get a little bit of cap relief this season, but what really makes this an undisputed win for the Ducks is that they do not have Hagelin's contract on the books for three more seasons.
Now Bob, what to do with all these goaltenders?
Great knowledge on all this hockey, Marc was on-air at TSN 690 for two years in Montreal.