At the end of each season, the Philadelphia Flyers give out their team awards. The players and media vote on the various trophies and honors, giving the team and the fans a chance to reflect on the season.
The Flyers are exactly halfway through the 2015-16 season, earning a 19-15-7 record through 41 games. They are two points out of a playoff spot with games in hand on every team in front of them. Overall, they are in a relatively good position.
Therefore, now is a good time to give out mid-season awards. If the season ended today, who would win them?
Bobby Clarke Trophy (Team MVP)
Winner: Claude Giroux
Finalists: Michael Del Zotto, Michal Neuvirth
When it comes to MVP, Claude Giroux may be a boring or "safe" pick, but the fact of the matter is, he has been the Flyers best player this season. He has not had the flash and "new toy" feel of Shayne Gostisbehere, he has not logged big minutes against tough competition like Michael Del Zotto, and he has not been on a scoring tear over the last two weeks like Sean Couturier.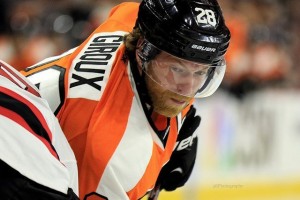 Nevertheless, Giroux has been the teams MVP. His 33 points (12G, 21A) is the best on the team as he has routinely centered the top line. He been one of the best face-off men in the NHL, winning 57.5% of his draws. He has had to deal with shuffled linemates and increased penalty killing duties (more than last year, that is), all the while continuing to be one of the best centers in the NHL.
All in all, Giroux is the Philadelphia Flyers MVP for the first half of 2015-16.
Barry Ashbee Trophy (Outstanding Defenseman)
Winner: Michael Del Zotto
Finalists: Radko Gudas, Shayne Gostisbehere
It was only 18 months ago that Michael Del Zotto's future in the NHL looked uncertain. He was a restricted free agent who had not been offered a qualifying contract by the Nashville Predators. He had already been traded by the New York Rangers, the team that drafted him, and he was looking for a short "prove yourself" contract somewhere in the NHL.
Kimmo Timonen's unfortunate blood clots that formed in August of 2014 gave the Flyers a need to add a player like Del Zotto, so they gave him a shot. Since then, he has surely proven himself. After a solid 2014-15 season, Del Zotto has become the Flyers best defenseman in 2015-16. He is averaging 24 minutes of ice time per game, 2:30 of which is on the penalty kill.
In every relevant advanced statistical category Del Zotto has been  great this season. His 5v5 score adjusted corsi % is 52.36% while his zone start percentage is 49.11. He relative corsi% is +4.74% while his relative zone start% is -0.97%. It is safe to say that he gets reasonably tough usage, but still manages to generate more shots for Philadelphia while he is on the ice. His dCoris impact, a stat that takes usage into effect, is +64.48.
As cool as it has been to see Shayne Gostisbehere take the league by storm, the best Flyers defenseman this season has undoubtedly been Michael Del Zotto.
Pelle Lindbergh Trophy (Most Improved Player)
Winner: Sean Couturier
Finalists: Michael Del Zotto, Scott Laughton
For those willing to look beyond the traditional stats of goals, assists, points, etc, Sean Couturier has always been a good player. However, with his offensive surge so far this season, Couturier is the Flyers most improved player.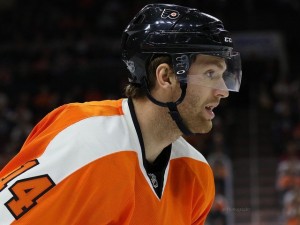 Prior to this season, Couturier had a career high of 15 goals (set last year) and career highs of 26 assists and 39 points ( both set in 2013-14). This season, he has nine goals and 11 assists through 35 games. Due to a concussion he missed six games earlier in the season, so he will only be able to log a max of 76 games this season. Even so, he is on pace for 20 goals, and 24 assists in that time.
Along with increased offensive production, Couturier has continued to line up against the oppositions best players and has generated national Selke Trophy buzz. Even if Couturier's offensive numbers slow down a little bit, he is still looking at one of the best offensive seasons of his career, and for that, he is the team's most improved player.
Yanick Dupre Class Guy Memorial Award
Winner: Jakub Voracek
Finalists: Wayne Simmonds, Mark Streit
At the end of each season this award is voted on by the media. Because the various beat writers of the team deal with the players on a daily basis, they are more inclined to speak to which players exhibited a classy demeanor on and off the ice. Therefore, it was a tough award for me to give out.
However, it would be hard to find someone on the team who has stayed as mature as Voracek has this season. Early on in the year, when he just could not seem to find points, Voracek made a point to not make excuses. He took the blame on himself and worked even harder. His attitude endeared him to both teammates and media alike.
Not only did he go through a slump, but Voracek has also willingly changed positions for the good of the team. For his whole life he has been a right winger, but over the last few weeks has switched to the left wing. He has not complained about the switch and has kept a positive attitude.
Gene Hart Memorial Award (Most Heart)
Winner: Wayne Simmonds
Finalists: Radko Gudas, Scott Laughton
Until Wayne Simmonds eventually leaves the orange and black, he will be the perennial favorite for this award. He has, as usual, been a tough player and a beast in front of the net on the power play.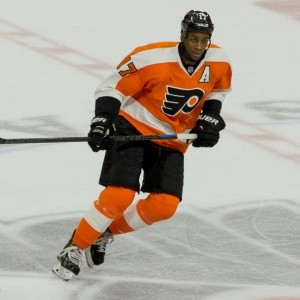 However, what has set Simmonds apart this year has been his willingness to jump in and defend his teammates. To be fair, every player on the Flyers seems to be willing to drop the gloves when one of his teammates has been the recipient of a dirty hit. Simmonds, however, has received multiple instigator penalties and had to sit out for large portions of games.
Simmonds understands that hard, clean checks are an inevitable part of the game. But when he sees a teammate as the recipient of a cheap shot, he has the heart to take care of it. Therefore, he is the clear front runner for the Gene Hart Memorial Award.