When the Pittsburgh Penguins were swept out of the Eastern Conference Final back in June, most of Pittsburgh hit the panic button over their perennial Stanley Cup favorite. Problems suddenly existed everywhere. Should Dan Bylsma be on the hot seat? Is there a major goaltending issue and should Fleury be bought out? Do the Penguins have the capability of playing shutdown defense? And where did the all-star offense disappear to with only two goals in the series?
Luckily for Pens fans, Ray Shero did not hit the panic button. He extended Bylsma's contract, showing the utmost confidence in a man who had won the Cup just four years ago. He backed Fleury as the starting goaltender and had him see a sports psychologist over the summer to help him out. Shero even brought back shutdown defenseman Rob Scuderi in free agency, admitting that he never should have let him go after winning the Cup.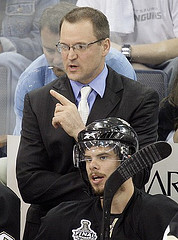 But what about the Penguins' forward depth? Pittsburgh lost Jarome Iginla, Brenden Morrow, Tyler Kennedy, and Matt Cooke in the offseason. Iginla and Morrow had just been deadline rentals, but they still combined for 25 points in 28 games at the end of Pittsburgh's regular season in 2013. Meanwhile, Kennedy and Cooke had been third line stalwarts for several years. How could a team that watched Sidney Crosby and Evgeni Malkin combine for zero points in the Eastern Conference Final afford to give up that much depth?
Just like with the other questions, Shero didn't panic. He made a few low-risk moves, adding Matt D'Agostini, Harry Zolnierczyk, Chris Conner, and Chuck Kobasew. Then, he let the team he trusted take care of the rest.
As it turns out, Shero had more than we realized…and maybe even more than he realized.
Deryk Engelland
Try to keep up as we look at Engelland's transition, as viewed by the fan base, over the past few months.
June-Aug: Trade him.
Sept: Trade him, waive him, or scratch him, just don't play him over the other defensemen.
Oct (1st week): Good, he's a healthy scratch.
Oct (2nd week): Why did we put him in the lineup, he's not a good defenseman.
Oct (3rd week): Why on Earth is Engelland playing forward. Is this a joke?
Oct (4th week): Okay, he scored a goal, but he still doesn't belong in the lineup – he's not a forward.
Nov (1st week): He scored another goal…maybe he really is a depth forward?!
In just two months, Deryk Engelland has gone from a sure-fire healthy scratch as a defenseman to a 4th line forward who is actually earning his playing time. To be fair, this isn't the first time he has played forward. He did it once before in the NHL and also for a few games in the ECHL. However, it's a safe bet that no one expected him to be tied for sixth in goals (2) on the team, along with the likes of Pascal Dupuis and Brandon Sutter.
Known mostly for his toughness, Engelland has shown a knack for throwing turnover-producing hits in the offensive zone. His size and strength are now major assets on the forecheck instead of around his own goalie's crease. His move to forward also comes with the added benefit that he can drop the gloves without altering the defensive pairings too. It has been a surprisingly successful transition for Engelland so far and it has given the team another forward that it wasn't counting on.
Jayson Megna
Megna was on Pittsburgh's radar back in the summer of 2012 when he was invited to their prospect development camp as an undrafted free agent. With a handful of teams interested in him, Megna decided to sign an entry-level deal with the Penguins and joined their AHL affiliate last season. His speed kept him on everyone's radar, but he finished the 2012-13 season with a disappointing five goals and seven assists in 56 games.
With Pittsburgh's lack of perceived forward depth entering the 2013-14 season, Megna had an outside shot of making the NHL team out of training camp but fell just short. The trip to the AHL was brief though as Megna put up three goals and two assists in six games and was called up thanks to a plethora of injured wingers in Pittsburgh.
After a rocky debut against the Islanders, Megna was by far the best player on the ice in a 3-1 victory at Carolina. He recorded his first NHL goal, and as he put it, "It's not the way I dreamed it (would happen), but I'll take them any way I can in this league."
The goal may have been a fluke, but his play has not been. Megna has brought energy and speed to Evgeni Malkin's wing when needed and he added his 2nd goal of the season against Columbus on Friday night. With ten shots and three points in five games, Megna has already demonstrated his potential to be a catalyst for the Penguins and he is quickly turning into a fan favorite. Not bad for an undrafted free agent.
#megnatron pic.twitter.com/WiBslheKD6

— RH (@Ham0nRy) November 2, 2013
Tanner Glass
When the Penguins signed Tanner Glass to a two-year deal worth $1.1 million per year in 2012, everyone expected big hits, good defensive hockey, and a little bit of offense. During the 2013 season, Glass provided none of those things and drew the ire of just about every fan in Pittsburgh. He finished the regular season with just one goal (a gift on the powerplay), one assist, and a -11 rating.
Fast-forward through a full training camp, time to improve his skating, and time to learn his role, and Tanner Glass is a completely different player. He already has two goals and three assists, leads the team in hits with 64 (27 ahead of 2nd place Brooks Orpik), leads the team's forwards in blocked shots with 16, and has a +1 rating. He is even the only Penguin with more than five games played without a recorded giveaway.
Glass has undergone an impressive transformation from a scapegoat to a solid depth forward for the Penguins. He is yet another example of Ray Shero's patience paying off when few thought it was a good idea.
Others
While Engelland, Megna, and Glass have been the big stories, the Penguins have also received solid performances from Craig Adams and Joe Vitale.
Adams has been a reliable 4th line forward and penalty killer since the Penguins picked him up off of waivers in 2009. He is off to his best statistical start with three goals and two assists already this season after notching only three goals in 48 games last year.
Meanwhile, Vitale has made a solid case for himself as a regular 4th liner with four assists in 14 games so far. He currently leads the team with a 56.4% faceoff rate and is finding his way into penalty killing situations with some improved defensive hockey.
The Penguins may have looked like a team riddled with questions back in June, but Ray Shero's patience has demonstrated that his team already had more answers than anyone realized.
Meesh is an attorney and one of the Pittsburgh Penguins Contributing Writers for The Hockey Writers. He also writes for ThePensNation.com. You can contact him on twitter @HockeyMeesh or e-mail HockeyMeesh@gmail.com