The Maple Leafs and centers have a weird relationship. The team has been lacking a bona fide center since the Mats Sundin years, and seem to have recently developed a player who can once again fill that role – Nazem Kadri. However, after resigning Tyler Bozak and acquiring Dave Bolland from Chicago, it seems weird for the team to be facing depth issues at that position again so quickly. However, injuries to both Bolland and Bozak have left the Buds with a big hole down the middle.
Bolland suffered a leg laceration much like Erik Karlsson's from last season. The hit was administered by Zack Kassian, who is starting to develop a bit of a reputation for injuring other players. Bolland underwent successful surgery in Vancouver, and will be out indefinitely. Bolland is listed as "out indefinitely", but one has to believe that it will be a month-to-month situation.
Center Tyler Bozak will be out at least until Nov. 19 now after his injury was initially thought of as day-to-day. The team recently described it as a hamstring injury.
Tyler Bozak sustained a hamstring injury Oct. 25th & was placed on LTI Nov. 2nd: http://t.co/xK1Qg5vAgT #TMLtalk #Leafs

— Toronto Maple Leafs (@MapleLeafs) November 4, 2013
The club is left with three natural centers on its roster:
1. Nazem Kadri, who is now playing on the top line with JVR and Phil Kessel
2. Jay McClement, a defensive specialist who had been playing wing
3. Trevor Smith, a career AHL pivot
Clearly, depth has become a problem for this club and it is looking for options. Here's a list of some possibilities
Convert Phil Kessel to Center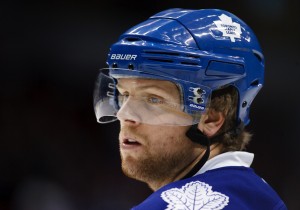 I know, the idea seems ridiculous to some people. Kessel actually played some center in college, so he knows what he's doing in that department. Toronto has an abundance of wingers who can play top-6 roles, so it wouldn't deplete the team too much on the sides.
The other benefit of this could be a reunion of Kessel and Joffrey Lupul. The two have not played together at even strength so far this year, but injuries could change the situation.
I saw the idea from a few sportscasters on Twitter, and I personally don't like the idea at all. Kessel is playing lights-out hockey right now, and his 18 points have 4th in the NHL.
Don't mess up a good thing – even if this would only be a temporary measure. The Taylor Hall move to center did not work too great, and while Kessel may end up working out better, there are better options out there.
Moving JVR to the Middle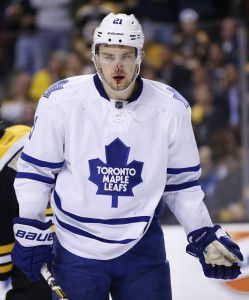 On the surface, a move like this one might sound just like the Kessel one mentioned above. But there are a lot of things to like about JVR at center over Kessel.
To start, the Leafs had plans to use JVR at center in the first place. The winger, like Kessel, also had experience at that position in college. However, it goes beyond that.
van Riemsdyk has a bit of a mean streak, and can play a physical game. He's most commonly referred to as a power forward, and most successful centers have one thing in common – a willingness to go to the net. JVR is not afraid to get to the dirty areas, and it could help him out if he does get moved to center.
Land A Free Agent – Vinny Prospal?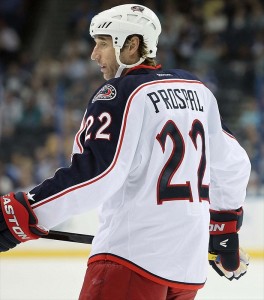 This is, of course, pure speculation. But it's easy to see why Vinny could work out for the Leafs.
The biggest question mark for the Columbus Blue Jackets this off-season is why they didn't resign Prospal, who led the club in points last year. His 30 points in 48 games isn't mind-blowing, but it's certainly enough to at least warrant some consideration. He even stated that he wanted to return to Columbus – badly. The only real constraint was Columbus' internal budget.
So if payroll concerns were what forced Prospal out of Ohio, it begs a simple question – why has no one else tried to sign him yet?
The 38-year old is no longer the player he once was, but he can still fill in a bottom-6 role nicely and provide some scoring touch. He's a veteran in this league, with 1,108 games played and 765 points to his name.
The Leafs have some cap troubles of their own, but will get relief if Bolland is out for an extended period of time. The only question is whether Prospal would be willing to play for a smaller paycheck than the $2.5M he made on his last contract.
Make A Trade – Scott Gomez?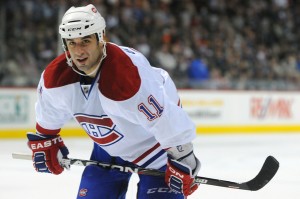 One month into the season, it seems as if the Florida Panthers are headed for a lottery pick. Without only 9 points after 14 games (32% out of all possible points), and a -21 goal differential (3rd last in the league), it does not look too bright in Miami.
Some of their key rebuildng pieces like Erik Gudbranson and Dmitri Kulikov have struggled, and Jacob Markstrom has yet to prove he can be a decent NHL starter. So, as with all teams who are likely to miss the playoffs, it may soon be time to consider jettisoning some vets for draft picks.
As far as centers go for the Cats, it makes sense to get rid of Gomez. He was a free agent, one-year signee, and is not in the long-term plans of this team. If they can flip him for a mid-round pick, his signing could be considered a success.
From a Leafs standpoint, he can provide some reliable veteran play on the bottom-6, and maybe even soak in some powerplay time. His tenure in Montreal left a bad impression of him around the League, but the fact of the matter is that Gomez was once a very elite-calibre player. He will likely never return to that form again at this point in his career, but the 33-year old pivot still can contribute. His passing game was always good, which can complement many of the wingers on the Leafs roster who have a shoot-first mentality. And can you imagine the anger Habs fans would feel if Gomez got in the Blue-and-White and just lit them up? Priceless.
An AHL Callup
Who the Leafs could call up is anyone's guess, really. Toronto doesn't currently have any players in the AHL who have thoroughly impressed thus far in the season. It's hard not to wonder if maybe the Leafs are missing Joe Colborne at this point.
One option is Greg McKegg (fantastic name). In his second year with the Marlies, McKegg has 3 goals and 1 assist in 9 games thus far. It's not mind-blowing, but McKegg could be a serviceable replacement.
Some other players the Leafs could try – centers Andrew Crescenzi and Sam Carrick. However, neither have done particularly well in the AHL this year, with both players only sporting one assist so far this year.
Clearly, this option is not the most appealing one to Toronto, but it could very well end up happening due to cap space concerns. While Bolland could be out for a long, long time, Bozak should return before December. That will give the Leafs back their top-2 centers at least, but the loss of Bolland will be a big blow to Toronto's depth.
Not a great situation for the Leafs, but injuries are very much a part of the game. Plenty of teams are sunk every year because of injuries, and it will be up to Toronto to stay afloat while their centers recover.
Follow me on Twitter for all the latest updates! @alexmai11, or click the author box!
Alex is a Lead Writer for the Toronto Maple Leafs. Since joining the Hockey Writers, he has also briefly covered the Carolina Hurricanes. He also currently works as an assistant for the Western Mustangs at the University of Western Ontario. Follow him on Twitter @alexmai11.