The Penguins, after falling to 0-4 under Mike Sullivan, finally earned the first victory of their new head coach's tenure on Monday night. That game was their final contest prior to starting a four-day holiday break, which is a crucial time for this team to reset and prepare for an extremely pivotal part of the regular season.
As we approach January, the home stretch for the NHL is very near. Teams that are set to become contenders will do their final tweaks and teams that know that they can't make a run this season will begin selling off stock like post-holiday clearance. With roughly two months until the 2016 trade deadline, which category will the Penguins fall into? Right now, they're a roster that could go either way. They may be one or two pieces from being a contender but at the same time, unless they can find consistent production across this loaded offensive lineup, they could also remain out of the playoff picture and wondering how to re-tool for next year.
Throughout this week, the Penguins will likely get a bit healthier and should see Sidney Crosby return from his recent lower body injury that kept him out of Monday's tilt. They may also see Kris Letang return, which will allow them to truly assess this defensive group with Trevor Daley now in the mix. Many assume that Jim Rutherford is far from done when it comes to roster moves and trades, so this could also be a very busy week on the phones with other GM's across the league. The NHL roster freeze is in place, so no one can complete a transaction prior to the 27th but that doesn't mean they can't negotiate.
Penguins' Christmas Wish List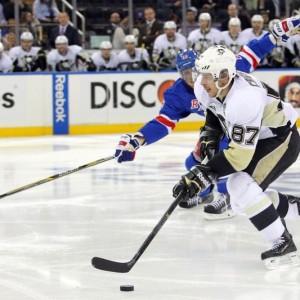 At this point, the best gift the Penguins can receive is Crosby finding his scoring touch and getting on a roll. Evgeni Malkin has been brilliant and with Phil Kessel seemingly finding chemistry with Nick Bonino as of late, a dominant Crosby would mean Pittsburgh's opponents would have three lines stocked with offensive talent to try to defend. So, while Rutherford clearly needs to add an important piece to this team's blue line, their success is highly dependent on how Crosby comes out of this break.
From a defensive standpoint, the Penguins may have pulled off highway robbery in acquiring Daley for 36-year old Rob Scuderi. Pittsburgh had to eat some of Scuderi's salary but in the grand scheme of things, it's a small price to pay for this type of upgrade. Daley has looked really good with Pittsburgh so far and if that continues, the Penguins may be on their way to a formidable defensive corps. That doesn't mean they don't need another piece, though.
There are plenty of big fish in the sea right now, at least according to the rumor mills. Rutherford's letter to Santa includes a puck-moving defenseman and if that player happens to play a bit of a physical game, that surely wouldn't hurt. It won't be easy in today's trade market but the GM is working diligently to make it happen.
Confidence is More Important Than Ever
The Penguins will travel to Minnesota on Saturday after this break and face a Wild team that currently sits fourth in the Central Division with an 18-9-6 record. They're riding a wave of confidence after their convincing defeat of the Columbus Blue Jackets, so it's important that they get off to a strong post-holiday start. While I don't cite intangibles very often in my assessments, confidence is its own monster and will be crucial heading into January.
The Penguins, more often than not, have looked like a defeated team prior to puck drop in most games. They've played lackadaisical and unemotional hockey for most of this season but recently, with Sullivan at the helm, that has changed. Unfortunately for them, they don't have much time left to figure things out under a new head coach. At 8pm on Saturday, the Penguins will need to be amped up and ready to go to work. If they aren't and they find themselves quickly trailing a very good Wild team, the transition into the 2016 calendar year could be a rough one. You don't see many must-win games in December on an NHL schedule. But, this is as close as they come.