The Pittsburgh Penguins, in the midst of an extremely disappointing 2015-16 campaign, are looking for answers. While the Penguins will need to remain patient with Mike Sullivan as he begins his tenure as head coach, they can't simply stand pat and hope that everything works itself out. They need to act and they need to do so quickly. By acting, I mean that they need to address the holes in this lineup in a timely fashion, since unlike recent years, they aren't building a cushion in the standings that will allow them to wait for the perfect deal.
Jim Rutherford recently stated that he was planning to let Sullivan settle in with this group before making any further moves. However, I'm not sure that's the case any longer since the Penguins are now dealing with an injury to Beau Bennett that will sideline their top line right-wing for 4-6 weeks. Conor Sheary is filling in admirably alongside Crosby but the number of AHL forwards dressing in recent nights is hardly ideal. All indications are that Rutherford is fairly active, with his sights set on a top-four defenseman and another skilled winger. Of course, they may see Sheary as a solution to needing a top-line wing but fulfilling his wish list, whatever positions may be on it, won't be an easy task in this season's market though.
One NHL GM was recently quoted in saying "I can't even make a bad trade right now". In a season that has only yielded one trade that involved NHL roster players, which happens to be Pittsburgh's trade for Trevor Daley, deals are hard to come by. That won't stop Rutherford from aggressively pursuing his targets, though.
Pittsburgh Penguins Shopping, Listening to Offers on Perron and Kunitz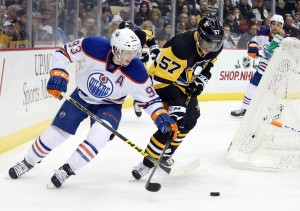 The Penguins are reportedly listening to offers on both David Perron and Chris Kunitz. Neither comes as a surprise and while Perron is likely more valuable on the trade market, Kunitz's recent string of scoring and tenacious play may have upped his value just a bit. Perron is an unrestricted free agent after this season while Kunitz has one year remaining on his current contract that carries a $3.85 million cap hit. Whether or not Rutherford has had any bites on these two is unclear but it's surely something to keep a close eye on, especially Perron.
Prior to acquiring Daley last week, Pittsburgh was rumored to have inquired on Tobias Enstrom in Winnipeg. There's no indication of whether or not an offer was officially made but there was interest on the part of the Penguins, according to TSN Insider Darren Dreger. That's a name that makes a lot of sense for Pittsburgh and someone who isn't being largely discussed around the rumor mills. His $5.75 million cap hit through 2018 could be an issue for the Penguins but moving Kunitz in a deal like that would help lessen the burden. Kunitz seems to fit Winnipeg's style of play, so this could be something that they revisit in the future. Or, the Penguins may go after a bigger name from the Jets.
Big Fish, Overcrowded Pond
Plenty of big names are surfacing around the league with potential to be on the move, which is good news and bad news for the Penguins. Kevin Shattenkirk, Dustin Byfuglien and Tyson Barrie are the biggest fish reportedly available but with so many teams in the market for impact defensemen and the Penguins' lack of assets, they'll have a tough time competing. Here's how I see the current market as it relates to the Pittsburgh Penguins.
Dustin Byfuglien is a perfect fit for what the Penguins need. Pittsburgh lacks any resemblance oh physicality on the blue line and they aren't willing to sacrifice puck skills. Byfuglien possesses both skill sets. Considering the rumored contract negotiations between the Jets and Andrew Ladd, it's almost a foregone conclusion that Byfuglien will be moving on. Though, some are reporting that both are still nowhere near inking a new deal. Whether or Byfuglien leaves via trade or free agency isn't clear yet but if the Jets do indeed begin shopping him, I expect Rutherford to circle back and at least find out the price.
Tyson Barrie, a 24-year old skilled puck mover with a very high ceiling would be a dream come true for Pittsburgh. The issue here, is that Barrie will be a restricted free agent at season's end and is rumored to be looking for north of $6 million per year on his new deal. The Penguins simply can't afford that type of money, unless they move Kris Letang, which isn't something they're considering at the moment. Colorado is struggling and will be looking to shake things up. Based on what has been floated around the rumor mills so far, a Barrie trade could be part of that shakeup but if you're a fan of the Penguins I wouldn't suggest getting your hopes up.
Kevin Shattenkirk, though most of the whispers that had him involved in trade talks has slowed, remains someone who should be high on the list for Rutherford and the Penguins. Pittsburgh has an asset in Patric Hornqvist that could be a great fit in St. Louis and both players carry the same cap hit, with Hornqvist's contract containing one extra year. This is pure speculation on my part but with a solid relationship between Rutherford and Doug Armstrong, it'll be interesting to see if anything formulates between these two clubs.
Jarred Tinordi is a big bodied, skilled defenseman that hasn't been able to crack the lineup in Montreal under Michel Therrien. In a scenario where Daley proves to be the answer in Pittsburgh's top-four, it isn't out of the question for the Penguins to seek out a strong depth defenseman for the future. Neither David Warsofsky or Adam Clendening has taken the bull by the horns and proved to be a real answer for the Penguins, plus Derrick Pouliot can't seem to get out of the dog house and earn a chance to play at the NHL level again. If Pittsburgh has truly soured on Pouliot, is there a possibility of the two organizations swapping their former first round picks?
Travis Hamonic remains with the New York Islanders after requesting a trade prior to the season for personal reasons. Hamonic wants moved to Western Canada but the reason I mention this is because it can have a large impact on the defensive trade market. The Jets are Hamonic's ideal landing spot, so names like Jacob Trouba, Tyler Myers, Byfuglien and Enstrom are all possibilities in a deal like this if the pieces fit. As of right now, there hasn't been much progress between the Isles and Jets but that could change quickly. If it does, it could potentially spoil the hopes of others that are looking to take advantage of Winnipeg's surplus on quality defensemen.
Lastly, another name that can really shake things up in this market is Ryan Johansen of the Columbus Blue Jackets. According to TSN Insider Bob McKenzie, the Blue Jackets could be doing more than just listening on offers for Johansen at this point and they're a team that's in the market for a blue-liner. Johansen is far beyond any player that Pittsburgh can offer in a deal and would fetch a very nice return. One of the big fish could end up in Columbus in a scenario where they decide to move him.
The NHL roster freeze is in effect through December 27th, so I don't expect much news to break before then. However, as teams begin deciding if they're going to be a buyer or seller down the stretch, we'll see more and more GM's break through the challenges of this season's trade market. I'll continue to revisit these rumors and how they may impact the Penguins on a weekly basis here at THW.