So, who's excited for tomorrow's Pittsburgh Penguins game against the New York Islanders?
Don't everybody raise your hands at once.
It's understandably difficult to get excited for what could possibly be the final home game of the season. The team hasn't exactly been playing exciting hockey as of late, and it could all come to a merciful end in just a few days.  Regardless of the Pens still controlling their own destiny to make the post season, their lackluster play does not raise hopes or expectations.
Seemingly, the fan base has resigned themselves to a future reality where if they make the playoffs – and that's a big IF – they will exit after the 1st round, much to the chagrin of everyone.
A Perfect Storm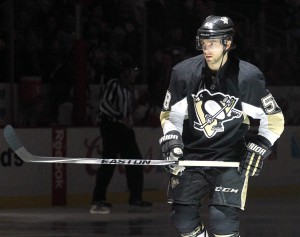 The recent goal scoring slump that has mired most of the players on the team, as well as being forced to play more minutes due to injuries and cap concerns has created a perfect storm of tired, frustrated players trying to hold back the red hot Ottawa Senators. As Brian Keenan of PensInitiative.com showed the other day, the Penguins have been a good puck possession team according to "fancy stats," but penalties are killing them. I believe this penchant for taking penalties is due to the physical, emotional and psychological pressure for players to perform all while playing more minutes without top players.
The Standard is the Standard
It's not a stretch to think that if the team was healthy, they would be better – but that's not to make excuses.  Pittsburgh Steelers coach Mike Tomlin is fond of the phrase, "The standard is the standard."  This axiom holds true for hockey too.  Losing the likes of Kris Letang and Olli Maatta, while being forced to play shorthanded on defense, would destroy any team's blue line.
The Pens, however, have weathered the storm on defense.  They aren't losing games because teams are scoring on them with impunity, they're losing because once their opponent gets a lead on them, no matter how small, it feels like too much to overcome.
What Do The Penguins Do Now?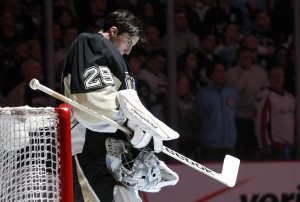 Well, first they need to take care of business against the Islanders and in the finale at Buffalo.  They need to find something, anything, to feel good about.  At this point, the only thing that is going to make this team feel better is wins.
Awards do not matter.
Playoff seeding does not matter.
Wins matter.
Wins are all that matters.
Marc-Andre Fleury deserves them.  He has been stellar this year, yet has had losses forced upon him because of the failure of the offense in front of him. He deserves better than to have the team all slumping at the same time while he goes out and wastes quality start after quality start.
If the Penguins are to have any hope for wins in the postseason, they need to start building that foundation now. Winning begets confidence and confidence breeds winning. Fleury has kept the team in the thick of things and now it's time for them to start winning for him.
Sadly, I'm not optimistic.
Lee is a contributor here at The Hockey Writers as well as at Pens Initiative. A graduate of Pennsylvania State University, he worked an internship at VH1 Radio in NYC and served as Editor-in-Chief of the Penn State – New Kensington campus student newspaper, The Nittany Pride. You can visit Lee's website here: leecjsobotka.com.