Last week, general manager Jim Rutherford threatened changes if his team's play didn't improve. It looked like the threats worked, with the Pittsburgh Penguins finishing their week with a hard-fought 2-1 loss to the Washington Capitals and a 4-0 win against the Arizona Coyotes. But the momentum was short-lived.
The team fell flat on their face this week, losing to the New Jersey Devils, Tampa Bay Lightning, and Ottawa Senators. The embarrassing week had them fall to a 1-6-1 record in November and dropped their overall record to 7-8-3 in 18 games, last in the Eastern Conference and 30th in league standings. It's unchartered territory for the Penguins, as they haven't had the worst record in the conference this late into a season since Sidney Crosby was a rookie.
#Pens own the worst record in the Eastern Conference this late into a season for the first time since the end of the 2005-06 campaign

— Sportsnet Stats (@SNstats) November 18, 2018
On Tuesday night, the Penguins tied the game at two early in the third period, but a defensive breakdown allowed Taylor Hall to go in alone and score the go-ahead goal with 11:53 left in the game. The Devils added an empty-netter to seal the 4-2 victory.
The following morning the Penguins were busy. They signed Rutherford to a three-year extension, traded Carl Hagelin to the Los Angeles Kings for Tanner Pearson and announced that Crosby was being evaluated for an upper-body injury.
If the Penguins were to get back on track against the Lightning on Thursday night, they'd have to do it without their best player. As head coach Mike Sullivan announced earlier in the day that Crosby would miss about a week. Against the Lightning, the Penguins took an early 2-0 lead but were done in by four Lightning power-play goals, including three in 91 seconds from Brayden Point and the game-winner from Yanni Gourde en route to a 4-3 defeat.
Saturday night in Ottawa seemed like a perfect chance to get back into the win column but the Penguins fumbled a 1-0 lead by allowing five unanswered goals as they fell 6-4 to the Senators for their third straight loss. The team is vulnerable and are playing bad hockey right now, and as Rutherford said, his patience is wearing thin with his team's performance:
Media: "Would you describe yourself as a patient GM?"

GM Jim Rutherford: "It depends on when you ask me. I think I'm a patient guy, but my patience is running out."

— Pittsburgh Penguins (@penguins) November 14, 2018
This week's Penguins Pulpit looks at the first of what could be many moves by Rutherford, the Penguin's lack of scoring without Sidney Crosby and Evgeni Malkin, and what moves the Penguins could make to improve the team.
Hagelin, the First Domino to Fall
Hagelin arrived in Pittsburgh in January of 2016 as the Penguins looked to change their fortune. After two Stanley Cups in three seasons, he departs in the same fashion. Twelve hours after his team's loss to the Devils, Rutherford shipped Hagelin to the Los Angeles Kings in exchange for Tanner Pearson. Hagelin is just the first of what will likely be many dominoes to fall with the Penguins attempting to right the ship.
An unrestricted free agent at seasons end, Hagelin's time with the Penguins was a mixed bag. He was one of their top penalty killers, caused trouble with his speed and served as a competent linemate to Phil Kessel and Malkin. Despite all he did right, his lack of a scoring touch was his downfall, and with a $4 million cap hit, the Penguins needed him to score.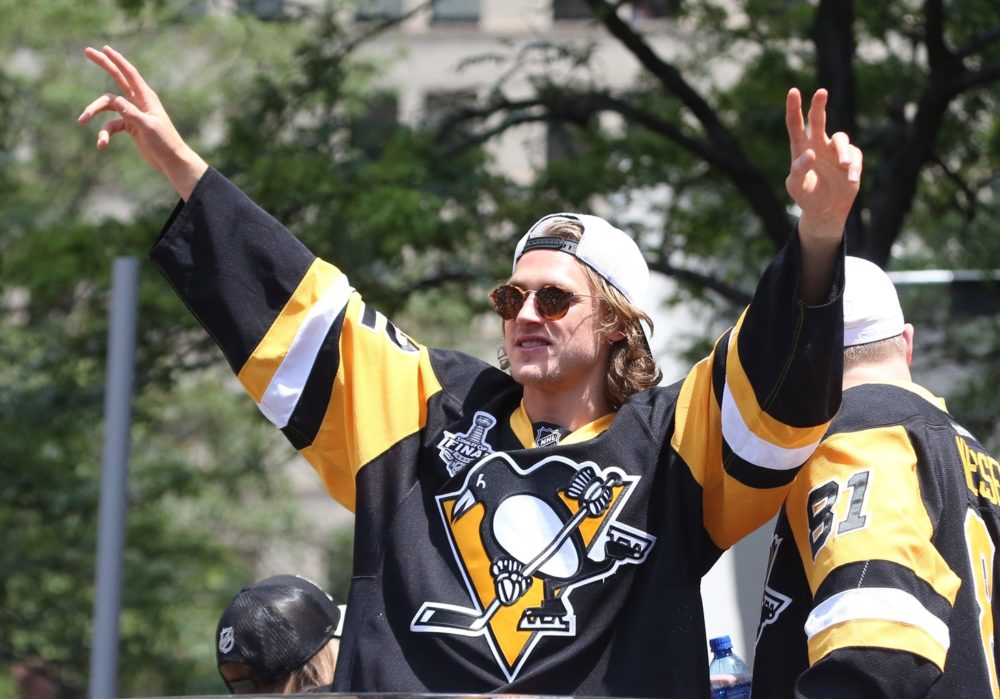 After being acquired, Hagelin recorded 27 points — 10 goals, 17 assists — in 37 regular season games and was a member of the HBK (Hagelin, Bonino, Kessel) line in the 2016 playoffs, putting up 16 points — six goals, 10 assists — en route to the team's first of two consecutive Stanley Cups. His scoring touch disappeared after this, though.
In Hagelin's last 158 games, he scored just 17 goals and 58 points despite spending more of his time at five-on-five with Malkin (1,104:30) than any other skater. He did only shoot 5.2% but, at some point, it stops being bad luck and becomes a problem with the player's ability. He also never rediscovered his postseason heroics, recording just five points over his final 24 playoff games with the team.
The 30-year-old is a skilled player and did many things well but those skills aren't worth his contract when the team is desperate for goals and wins.
In Pearson, the Penguins get a player who's also struggling. The 26-year-old had one point in 17 games with the Kings prior to the trade. To be fair, the Kings had scored just 34 goals with him on the roster this season. Despite his early struggles, Pearson has 54 goals since 2015-16, including a 20-goal season in 2016-17 (Hagelin has never scored 20). He also has two consecutive seasons of 40 or more points, with his career high of 44 coming in 2016-17 (Hagelin's never had a 40 point season). For his career, Pearson has 144 points — 69 goals, 75 assists — in 327 games.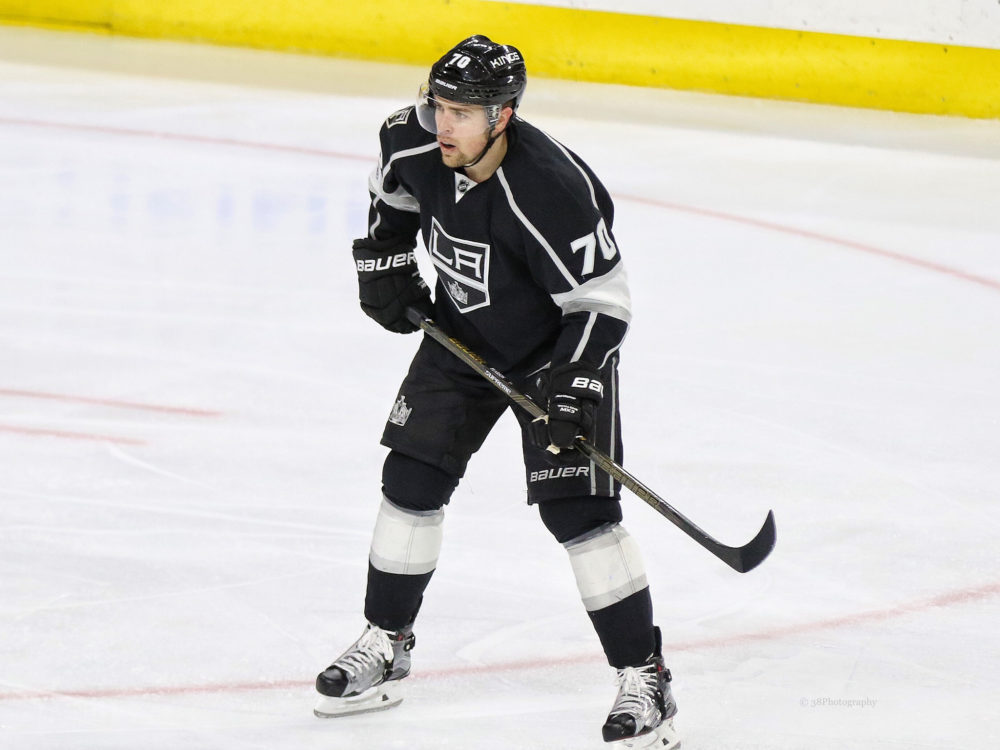 The Penguins also get a bit younger with the trade, as Pearson (26) is four years younger than Hagelin (30.) The trade dropped the Penguins from the fifth oldest team in the league to the ninth oldest. Pearson's also under contract for an additional two seasons at a reasonable $3.75 million cap hit, compared to Hagelin's free agent status this offseason.
Pearson played his first two games as a Penguin in Hagelin's old spot in the top-six. He profiles best as a third-line winger, but with the Penguins spreading out their top players in an effort to find depth scoring, Pearson could see an extended shot alongside Malkin.
Part of Pearson's troubles this season might be related to where he's shooting the puck from. He usually shoots the puck from a close distance and in front of the net. So far this season, he's been shooting from farther distances on the outside, and it's translated to a poor start. During his 24-goal season in 2016-17, he was getting in front of the net and it led him to the best season of his career.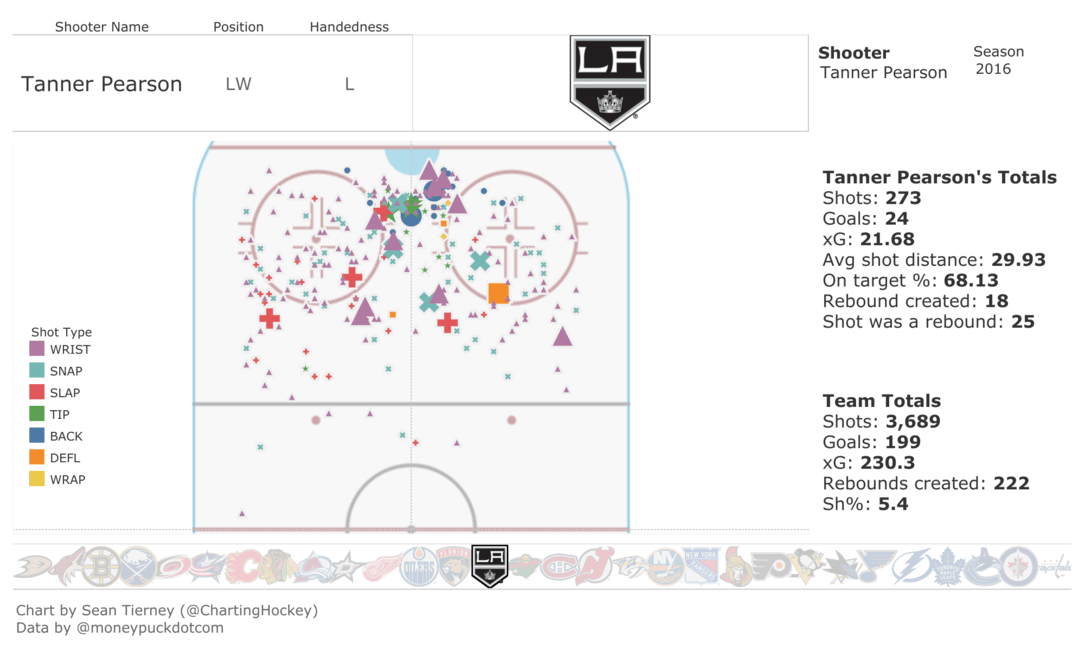 Here's the location of his shots during his first 17 games before the trade to the Penguins.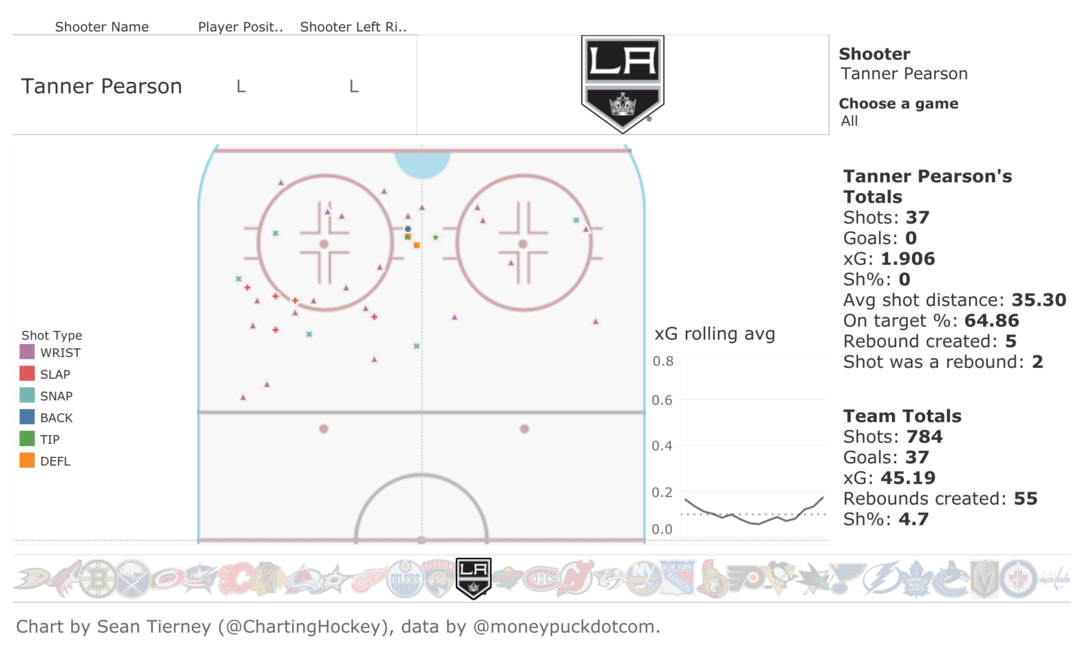 For what it's worth, in his two games with the Penguins, his average shot distance has been 39 feet.
Not only is he shooting less from in front of the net, but his average shot distance has increased by six feet and his percentage of shots on target has decreased by about 3.5%. Essentially, if Pearson is going to turn his season around, he needs to start getting in front of the net and shooting from closer distances. Perhaps transitioning his offensive zone style to fit that of Patric Hornqvist's would be beneficial if he has a top-six spot beside two playmakers.
If Pearson gets an extended chance with Malkin, he'll have plenty of chances to display his 'shoot first and worry about where it's going second' mentality. If he can score even 15 goals — five more than Hagelin scored in any season with Pittsburgh — in the remaining 63 games, he'll have improved the team's depth scoring.
Will The Secondary Scoring Stand Up?
When Zach Aston-Reese and Matt Cullen scored in the third period on Saturday night, it was the first time since Oct. 25 that the Penguins scored a goal at even strength without Crosby or Malkin on the ice, a span of 11 games.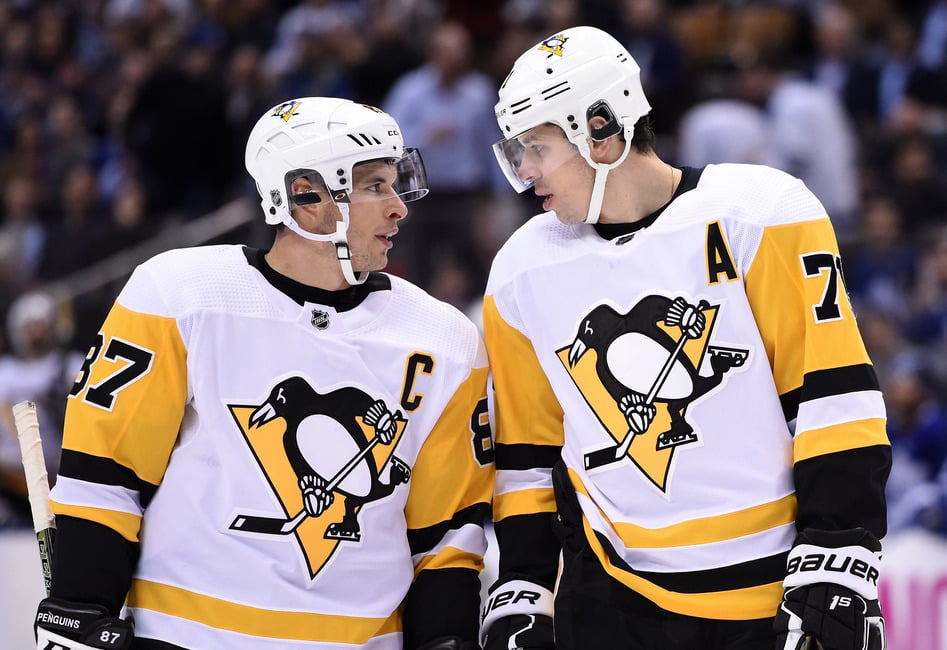 The Penguins' offense has become what it was during the late days of Dan Bylsma's tenure. If the top players aren't scoring, nobody else is and, like Bylsma's days, no matter how good the top players are, no winning is going to occur if only three or four players are doing all the work.
For the season, the Penguins top point getters are Malkin (25), Kessel (23), Crosby (19), Kris Letang (14), and Jake Guentzel (12). The only other forwards with more than five points are Hornqvist (12) and Dominik Simon (10). They're about as top heavy as a team can be right now.
In eight games this month, the Penguins have scored 17 goals. Fourteen were scored by forwards, nine scored by players making more than $5 million: Hornqvist (four), Crosby and Kessel (two) and Malkin (one). To emphasize how dire the Penguins' situation is, the bottom-six — as of the end of Saturday's game — of Cullen, Aston-Reese, Daniel Sprong, Simon, Bryan Rust and Riley Sheahan (seven points) are being outscored by the blue line with Letang, Brian Dumoulin, Jamie Oleksiak, Jack Johnson, Olli Maatta and Chad Ruhwedel (11 points). Being outscored by a defensive core with only one player regarded as an offensive defenseman, is a strong indictment of the Penguins' bottom-six.
The Penguins got Derick Brassard back on Saturday after missing nine games with a lower-body injury, and he should return to his third-line center role once Crosby is healthy which will help the depth scoring. So long as Sullivan doesn't attempt to experiment with Brassard on the first line again, it'll also push Sheahan — who's been less than impressive this season — back to where he fits best as a fourth-line center.
Another way to help the Penguins' goal troubles would be for Guentzel to bust out of his slump. After starting the season with five goals in eight games, he has just one over his last ten. He's still on pace for a 27-goal season, but he won't reach that total if his slump continues for much longer.
Any good rally starts from within and if the team wants to avoid a major shakeup: players like Cullen and Sheahan need to contribute at some point; Rust, Aston-Reese, and Brassard need to play at the level they're expected to; Guentzel needs to bust his slump; and the stars have to continue playing at an elite level.
What Moves Can The Penguins Make to Spark a Turnaround?
Major turnarounds for the Penguins have been sparked by firing the head coach but with Mike Sullivan, that won't be the case. There is no world where it makes sense to fire a coach who's posted a 137-74-25 record in 236 regular season games, assisted in turning a number of careers around, won nine of the ten playoff series he's coached, and won two Cups in three seasons since taking over in December of 2015. While his player usage has been questioned in recent weeks, Sullivan has earned the chance to turn his team around.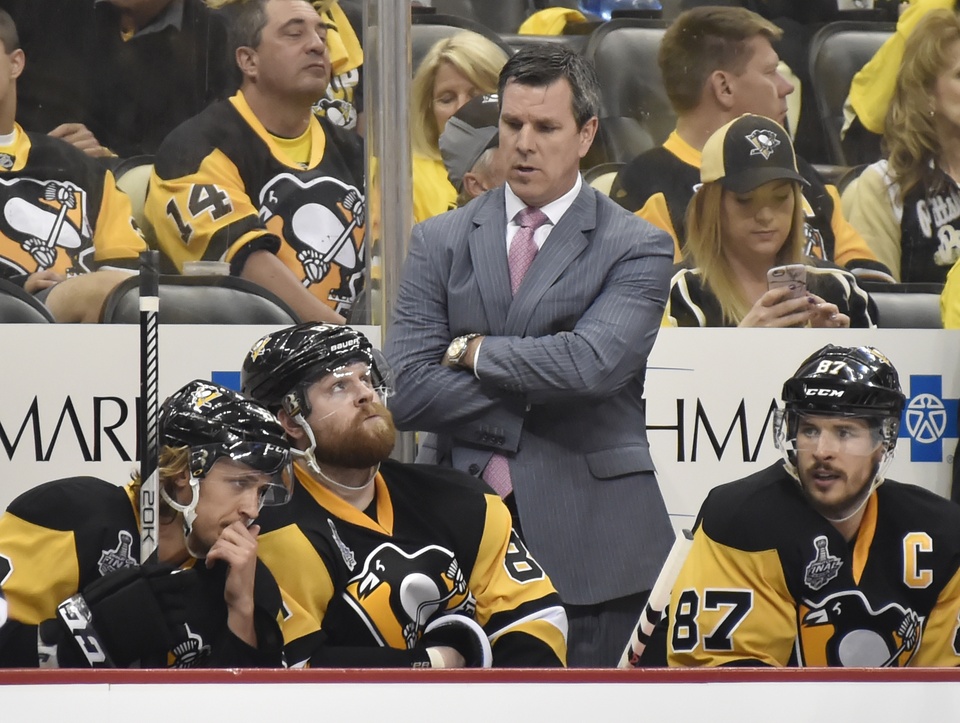 If the Penguins want to repeat recent history, they could follow the 2015-16 blueprint, with the acquisitions of Trevor Daley, Hagelin, and Justin Schultz, along with the promotions of Rust, Matt Murray, and Conor Sheary.
Sportsnet's Elliotte Friedman mentioned in his weekly 31 Thoughts column that Rutherford and Anaheim Ducks GM Bob Murray were discussing a 'change of scenery' trade. Friedman didn't name any players but did say Hagelin's name wasn't involved. A Penguin who may need a change of scenery is Maatta. After being one of the team's most consistent defensemen last season, the 24-year-old has seen his play decline significantly in 2018-19. The Ducks may take a gamble on him and hope a new city and a new team will help Maatta rediscover his 2017-18 form.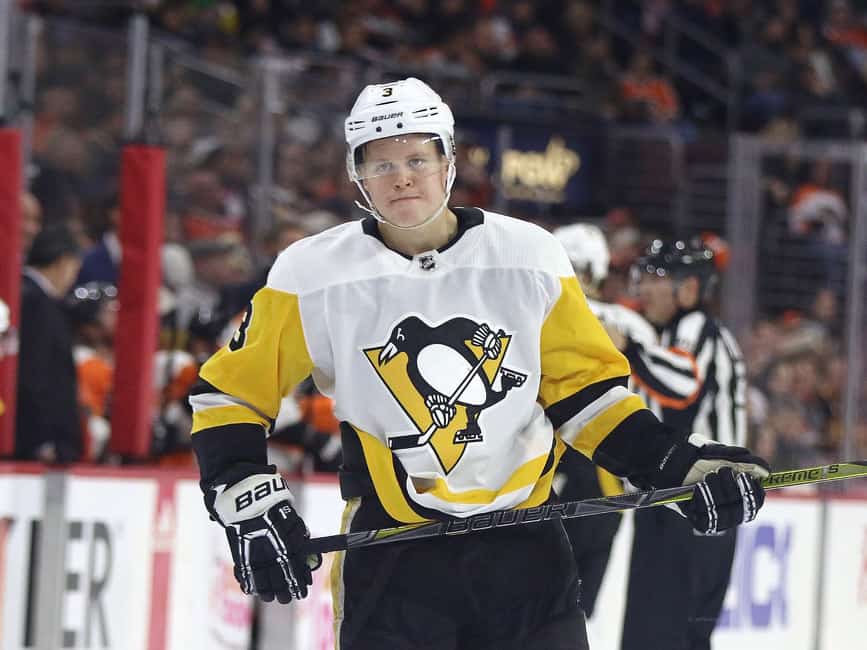 As for the player heading back, Brandon Montour would make sense. While he isn't the Ducks' problem, he could be on the move if the team decides to shake things up. The 24-year-old is a good skater, which is a much-needed asset for the Penguins' blue line. In 22 games this season, Montour has nine points — two goals, seven assists. For his career, he has 47 points — 13 goals, 34 assists — in 129 games.
Montour makes $3.38 million against the cap compared to Maatta's $4.083 million, so the Penguins would have to take an additional contract back from the Ducks to make it work. But if there's one thing NHL front offices are good at doing, it's finding a way to move money around in trades.
If there's going to be a big trade, Rutherford needs to tread lightly when it comes to dealing assets. Wasting any season of the Crosby and Malkin era would be a failure, but trading a first-round pick and not lottery protecting it would set the Penguins back even further. His recent history with significant moves, like moving Sheary, signing Johnson, and trading for Ryan Reaves points to him making the team worse before he makes them better.
As for call-ups, players that could see time with the Penguins are Anthony Angello, Sam Lafferty, and Teddy Blueger.
Angello isn't as fast as Rust or Sheary but he's a power forward who's responsible at both ends of the rink. The Penguins' fifth-round pick in 2014 signed with the organization in April after his junior season at Cornell University, where he put up 26 points — 13 goals, 13 assists — in 26 games with the Big Red.
Angello followed up his standout rookie tournament and NHL camp by recording 10 points — seven goals, three assists — in 15 games with the AHL's Wilkes-Barre Scranton this season. If his strong play continues, he could see time with the Penguins before the end of the calendar year.
Lafferty, the Penguins' fourth-round pick in 2014, signed with the organization in March after posting 79 points — 29 goals, 50 assists — in 124 games over four seasons at Brown University. He got into nine AHL games last season recording three points. He's off to a hot start in his first full professional season with 14 points — four goals, ten assists — in 17 games. The 23-year-old's game revolves around speed, something the Penguins have lost up front and he could be a valuable addition on the fourth line.
Rutherford spent some time this offseason praising Blueger, the team's second-round pick in 2012, as a player who could compete for the Penguins' fourth-line center spot in training camp. Although after Cullen and Grant were signed, any chance he had of making the team out of camp was derailed.
Blueger doesn't have first line talent, but is skilled at both ends of the ice and has 87 points in 141 AHL games since the 2016-17 season. This season, he has 11 points — five goals, six assists — in 17 games. In THW's Penguins season preview, Blueger was mentioned as a likely call-up candidate and he's done nothing to hurt his case.
The Penguins struggled until game 42 of last season but digging themselves into a hole every season will eventually catch up. The 2018-19 season could be it if they don't turn it around soon. The depth is nowhere to be found, the defense outside of Letang and Dumoulin is bad, and the goaltending has been inconsistent.
There's no single trade, lineup decision or call-up that'll permanently fix what's ailing the Penguins. Some moves could improve the supporting cast around the stars and for a team with top-end talent like the Penguins, that may be enough to mask their weaknesses and get their season back on track.
What's Up Next
11/19/18 vs Buffalo 
11/21/18 vs Dallas
11/23/18 @ Boston
11/24/18 vs Columbus 
Leading Scorer of the week: Phil Kessel, six points (two goals, four assists)
Three Stars of the Week:
Phil Kessel: six points
Evgeni Malkin: five points
Kris Letang: two points