With the Pittsburgh Penguins clinching their fourth Stanley Cup in franchise history, second of the Sidney Crosby – Evgeni Malkin era, an awkward question is about to be asked. It's the same question that we all knew would eventually be asked if the Penguins made a long run or won the cup itself; are the Penguins officially Matt Murray's team? If so is this the last time we'll see Marc-Andre Fleury on the ice as a Penguin?
Fleury, 31, has been a mainstay in the Penguins crease since being drafted first overall in that loaded 2003 class, however like many other teams over time, he's being pushed by a younger netminder. Insert Matt Murray.
Murray, 22, backstopped the Penguins to the cup as a rookie. He tied the all-time wins record by a rookie in the playoffs at 15 with Patrick Roy and Ron Hextall. An illustrious class all things considered. Still Murray arrived in Pittsburgh as a third round selection in 2012 and wasn't supposed to be pushing for the starting job for another three years or so, if you read between the lines regarding the length of Fleury's contract. This is all happening a little faster than anticipated but it's happening nonetheless. Murray is no longer the goalie of the future, he's the goalie of the now.
This is all at no fault of Fleury's. This wouldn't have happened, atleast not this year, if Fleury didn't miss the start of the playoffs recovering from a concussion. Murray was supposed to be a placeholder until Fleury was ready, but it's difficult to argue against a goalie with a hot hand and that's exactly what happened during the playoffs.
Then again how do you argue against Murray when he was also already named to Team North America for the 2016 World Cup of Hockey where he'll likely be the starter ahead of John Gibson, another guy thought to be a defacto starter.
Regardless the Penguins can celebrate their Stanley Cup championship but there is a dark cloud forming on the outskirts of town and GM Jim Rutherford is going to have to make the ultimate decision here to move Fleury. It's inevitable and more of a sure thing now that the Penguins hold the "Won A Championship Without You" card. That is in no way discrediting Fleury and underselling his abilities as a true No. 1 goalie in the NHL on most teams. When Fleury is shopped there will be a ton of suitors
Penguins Salary Cap Difficulties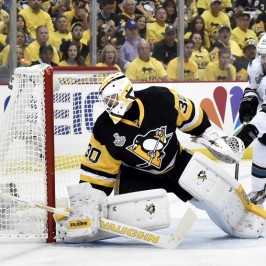 We'll get back to the suitors shortly but we still need to really draw this picture out. Fleury is under contract for another three seasons at $5.75M, Murray will need an extension at the end of next year and if Murray commands atleast $5M, it'll be hard to justify paying over $10M for two No. 1 goalies.
The other issue is that Pittsburgh is currently over the salary cap by $2.5M if it stays at $71.4M, it is rumored to dip below as well which could magnify this number.
Pascal Dupuis (37) and Matt Cullen (39) will likely retire or the Penguins can use Dupuis' cap hit as injury relief and that'll get them $1.2M under the cap. The team has several free agents due for extensions next summer including; Chris Kunitz, Nick Bonino, Trevor Daley, Derrick Pouliot and Brian Dumoulin. Did we mention Murray yet?
There simply is not enough space to get everyone under contract and the Penguins desparately need that $5.75M relief from Fleury's contract coming off the books.
If the Penguins do move Fleury they still have some depth in goalie behind Murray as Tristan Jarry, 21, projects to challenge for NHL minutes in the near future. Regardless the Penguins will likely be set for the next decade once Jarry joins the main club in a few years with Murray as the starter. Remember Murray is just 22 and received quite a bit of Conn Smythe consideration enroute to the finals.
Trade Partners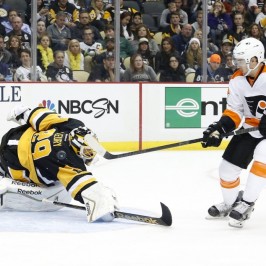 There are plenty of teams looking for a starting goalie this summer and the Penguins now hold a goalie with two Stanley Cups on his resume. Arizona, Calgary, Carolina, New York Islanders, Toronto Maple Leafs and Winnipeg Jets could all be looking for help at the goaltending position. Aside from Fleury; Frederik Andersen (Anaheim), Kari Lehtonen (Dallas), Antti Niemi (Dallas), Cam Ward (Carolina – UFA), Ben Bishop (Tampa Bay) and Ondrej Pavelec (Winnipeg) are rumored to be available in one form or another.
The other issue is the possibility of an expansion draft where teams will more than likely have to choose among their own herd of goaltenders, this will flood the goalie market, thus the time for the Penguins to make a deal and get a considerable amount of value back for Fleury would be now because next summer there won't be much of a market for sellers, it'll be a buyers market.
If there is ever a team that has entered their Stanley Cup window and was hampered by their goaltending situation it's the Dallas Stars. The Stars would have to get creative in moving out one or both of Lehtonen ($5.9M) or Niemi's  ($4.5M) cap hits to make a pitch to acquire Fleury and that'll get tricky. Yet we've seen stranger things happen.
Related: Unselfish Fleury Ponders What's Ahead For Himself, Penguins
Related: Fleury: Now's Not The Time To Think About Future In Pittsburgh
Calgary seems to make sense as well, an up and coming team hampered by poor defensive coverage and unsteady goaltending. Fleury would walk into a spot with three years remaining until Jon Gillies and Joni Ortio are ready to become full-time No.1 goalies.
Carolina is at a crossroads with Cam Ward and Eddie Lack struggled in trying to grab the reigns as the No. 1, so the Hurricanes might be looking if they can't agree to terms with Ward or they feel they need to move on. Then there are the Toronto Maple Leafs who don't seem sold on Jonathan Bernier after all this time. Bernier is a UFA next summer so the Leafs could be looking for some stability, magnified by the fact that outside Bernier they likely don't have a prospect with No. 1 capabilities in their system.
Regardless each team can offer the Penguins something they need, picks and prospects. The Penguins cupboard has once again ran bare and they'll need cheaper options in the coming years to ease off the cap and keep a competitive roster in place.
The core of the Penguins is still relatively young. Evgeni Malkin is 29, Sidney Crosby and Phil Kessel are 28. In fact the only core players over the age of 30 on the Penguins roster are Chris Kunitz (36),  Trevor Daley (32) and Fleury (31).
Nothing more can be said about the way the team feels about Fleury and the character he brings to the team. He's very well liked by his teammates, fans and the media in Pittsburgh all things considered. However this team still has a few cup runs left in them but they'll need to do so without Fleury for cap reasons alone.
Edmonton Oilers regular contributor providing insight on all things Oilers including club history, prospect profiles, trade breakdowns, and everything else in between. Check back regularly for new and exciting content. Follow on Twitter @SanderTHW.