The Pittsburgh Penguins haven't been able to keep pace with the Washington Capitals since the start of the new year. It's become clear that if Pittsburgh hopes to repeat as Stanley Cup champions, the Penguins are going to have to beat the Capitals without home-ice advantage.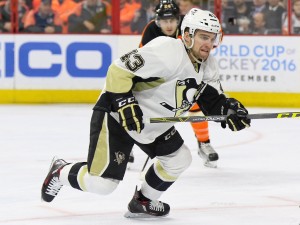 Part of the reason Pittsburgh hasn't kept pace is injuries. It's been a relatively healthy season for the Penguins, but in just the last couple weeks, the team has lost Evgeni Malkin, Conor Sheary and Carl Hagelin. Malkin is reportedly close to returning, but Sheary is out 4-6 weeks and Hagelin is sidelined with a concussion. Every fan knows concussion recoveries are extremely unpredictable.
Then Saturday, Bryan Rust was out due to an upper-body injury. The Penguins were unable to beat the lowly Coyotes on Saturday, but most teams are going to struggle without four forwards.
FYI – @penguins will play minus injured forwards Evgeni Malkin, Bryan Rust, Carl Hagelin and Conor Sheary vs. @ArizonaCoyotes tonight.

— Dave Vest (@davestinaz) February 12, 2017
And just because the Penguins badly miss those guys doesn't mean some of the players skating in their place haven't performed. Carter Rowney, 27, is playing well in his first NHL stint and deserves some consideration for a permanent roster spot.
Defensively Responsible
Josh Archibald went into the lineup in place of Rust on Saturday and scored twice. Without those goals, Pittsburgh wouldn't have stolen a point in Arizona. However, most nights, the number one scoring offense of the Penguins doesn't need more scoring. They need more defense.
In six NHL games, Rowney has proven to be a very defensively responsible center. He owns a 65.7 Corsi for percentage and 18.8 Corsi for relative percentage.
That's best among any Penguins forward with at least six games played. Six games is obviously a very small sample size, and Rowney is only averaging 10:54 per game, but it's still hard to ignore analytics that staggering. He's also contributed nine hits and five blocks while winning 55.3 percent of his faceoffs.
Faceoff Circle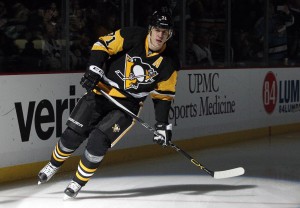 Again, it's a small sample size, but Rowney has impressively won 26 of 47 faceoffs (55.3 percent). More than half of his zone starts have been in the offensive zone, where it's easier to win faceoffs, but not an overwhelming amount of them. He still has a defensive zone start percentage of 45.2.
If Rowney continues to excel in the circle, it will be interesting to see what coach Mike Sullivan does once Evgeni Malkin is healthy. The obvious choice would be to insert Malkin for Rowney, but Malkin has only won 43.0 percent of his faceoffs this season. That's not at all unusual as Malkin owns a 43.6 percent success rate in the faceoff circle throughout his career.
The bigger problem for the Penguins, though, is Sidney Crosby and Nick Bonino have also won under 50 percent of their faceoffs this season. It's a big underlining reason why Pittsburgh is ranked 20th in goals against (2.8) and 24th in penalty kill percentage.
Since Rowney joined the lineup, the Penguins have allowed only 2.3 goals per game. Again, it's only six games and he plays so little, there are obviously other factors at play here too (for instance, the return of Kris Letang). But Rowney has made an impact.
Needs More Offensive Output?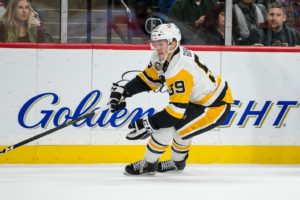 The analytics are all fine and good, but Rowney is probably going to have to score too in order to stay in the NHL. In six games, he doesn't have a goal and just five shots on net. His linemates – mostly Patric Hornqvist – have scored a few times, but Rowney only has an assist and an even rating.
Without much offensive production, it's going to be hard to find a spot for Rowney when everyone is healthy. Even if Sullivan bumps Archibald instead when Malkin comes back, the return of Hagelin or Rust could make it hard for Rowney to stay in the lineup over Jake Guentzel or Tom Kuhnhackl.
But it's still undeniable the impact Rowney has made. Although there's been a lot of talk in Pittsburgh about how to improve the team's "leaky blue line," the defensive commitment from the forwards are more of the problem. In addition to the weakness in the faceoff circle, the Penguins force too many plays that lead to turnovers and breakouts in the other direction.
Rowney doesn't bring offense, but he's brought intelligence. He isn't going to make any major mistakes and will be responsible in his own zone. Once he earns more of Sullivan's trust, Rowney could become a big part of the penalty kill, especially if he continues to dominate the faceoff circle.
Pittsburgh certainly hopes its star players return soon. However, while they are out the team could do worse than Rowney.