Other than a brief Sidney Crosby absence due to a concussion, the Pittsburgh Penguins were very healthy through the first couple months of 2016-17. A few other players missed some time, but relatively speaking, the team suffered no major setbacks.
It's been a completely different story since the middle of December. Defensemen Kris Letang, Trevor Daley and Brian Dumoulin all missed at least a couple weeks. Fourth-line center Matt Cullen has been out with a broken foot since Jan. 17 and superstar Evgeni Malkin has missed the last two games. There's no telling when he could return.
Pittsburgh was hit with another injury Wednesday. Penguins head coach Mike Sullivan announced left wing Conor Sheary will be out 4-6 weeks due to an upper-body injury. With how well Sheary has been playing this season, his absence will be a significant loss, but here's how the Penguins could potentially replace him.
Crosby on Sheary being out with an injury: "You don't like to see that. He was playing really well."

— Pittsburgh Penguins (@penguins) February 2, 2017
Reuniting Crosby with Old Friends
Sullivan shuffled his lines in the first game back from the All-Star break on Tuesday, putting Patric Hornqvist back on the top unit. The 30-year-old rewarded his coach with two goals in the 4-2 victory over the Nashville Predators.
As great as the Crosby-Sheary-Bryan Rust line has been in the last month, Hornqivst is the perfect compliment to the best player in the world. There isn't a better goaltender antagonizer in the NHL right now than Hornqivst; he gets under the netminder's skin on a nightly basis. His ability to go to the front of the net and score in the dirty areas also make him a fine wing for Crosby.
Net front and scoring goals. That's what Patric Hornqvist does. pic.twitter.com/jlO0UYeyND

— Pittsburgh Penguins (@penguins) January 22, 2017
Finding a replacement for Sheary on the left wing is going to be tougher, but the answer could lie in another former great linemate of Crosby's — Chris Kunitz. The 37-year-old isn't the same player he used to be, but he was once a perennial 20-goal scorer with a chance for 30 when he skated with Crosby. The two have played together since 2009, so the familiarity is certainly there.
At this stage in his career, Kunitz is better off in a bottom-six role, but there are definitely worse replacements for the short term. Kunitz has six goals and 21 points in 43 games this season.
Retry Carl Hagelin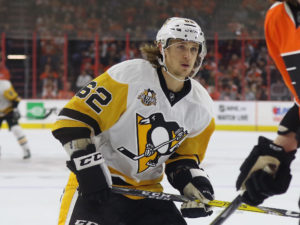 The 28-year-old Swede played five games with Crosby back in early November. After the experiment ended, Sullivan moved Sheary to Crosby's left wing, so that was definitely the right choice. However, Carl Hagelin didn't exactly perform poorly in his short stint on the top line.
In those five games, Hagelin recorded one goal and five points. Against the San Jose Sharks on Nov. 5, he posted three assists. That's a season high, and in the other 44 games this season, he only has five goals and 14 points.
The "HBK" line isn't working right now, so Sullivan should have no qualms about breaking it up. Hagelin looked a bit more fresh in the first game back from the break on Tuesday, recording a team-high four shots on net. Now would be a good time to place him back with Crosby.
Thinking Outside the Box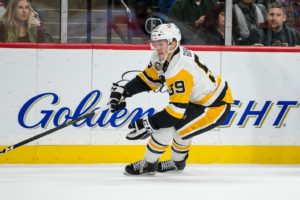 Prior to Tuesday, Rust had played 17 straight games with Crosby. With Sheary out, he's a leading candidate to take his place, but Rust would have to play his off wing position since Hornqvist also shoots right-handed. The only other option would be to switch Rust with Hornqvist and then still use either Kunitz or Hagelin on the left side.
However, two other possibilities are Scott Wilson and Jake Guentzel. Wilson received some playing time with Crosby last season before his injury. He has five goals and 15 points in 46 games this season. Judging by his AHL numbers, Wilson can be a lethal scorer. He tallied 22 goals and 36 points in 34 games at Wilkes-Barre/Scranton last season.
In his 12 career NHL games, Guentzel has mostly played with Malkin, but with the Russian center currently out, now might be a decent time to give him a chance to play with Crosby. Guentzel is a center by trade, but he's played wing at the NHL level. He's a left-handed shooter, so he's fit at left wing.
Guentzel has four goals and seven points in 12 games, but in his last four contests, he hasn't recorded a point and only has three shots on net. Pittsburgh needs more from him since he will likely remain in the lineup until Sheary returns. Placing him with Crosby could be a great way for the youngster to find his scoring touch again.
Another Wild Card?
As previously mentioned, Cullen is still recovering from his foot injury, but he is reportedly close to returning and there are rumblings that he could skate alongside Crosby's wing. That would allow Kunitz to stay in the bottom-six, Guentzel to remain on the second line with Malkin or Phil Kessel, and no one would have to play on their off-wing.
Looks like Matt Cullen is getting the first shot to replace Conor Sheary alongside Sidney Crosby and Patric Hornqvist.

— Jason Mackey (@JMackeyPG) February 2, 2017
Cullen scored 16 goals and 32 points in 82 games last season and has eight goals and 17 points in 43 contests in 2016-17. At 40-years-old, he might not be able to skate all night with Crosby, but his experience, defensive prowess and surprising speed for his age, make him a viable candidate to play on the top line when healthy.