Even prior to winning the Stanley Cup, Pittsburgh Penguins general manager Jim Rutherford was already well aware of the importance of the young forwards Pittsburgh recalled last season.
On March 14, 2016, Pittsburgh agreed to two-year extensions with Bryan Rust, Scott Wilson and Tom Kuhnhackl. It was a huge victory for the team, keeping those players at a reasonable price for two more years, and it was an early reward for the youngsters about to go on a long playoff run.
However, one youngster noticeably left out of two-year deals was Conor Sheary — the former undrafted rookie is set to be a restricted free agent at season's end. Pittsburgh will have to rectify not giving Sheary a contract extension a year ago this summer because the Penguins absolutely need him on the team long term.
Breakout Season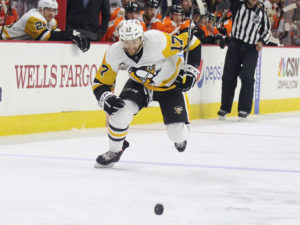 Perhaps Sheary didn't get his contract extension last spring simply because he was still under contract one more year (Rust, Wilson and Kuhnhackl weren't). It's also possible that even Rutherford doubted Sheary's long-term worth.
That's nothing new for the 24-year-old, who stands at 5-foot-8 and went undrafted out of the University of Massachusetts in 2014. At that size and 174 pounds, it's very easy to overlook Sheary. Even after his playoff success where he scored four goals, including the game-winner of Game 2 in the Stanley Cup Finals, and 10 points in 23 games, analysts doubted whether he could sustain that success over the course of an entire 82-game season.
He's proving that he absolutely can. Despite missing seven contests due to injury, Sheary has recorded 17 goals and 34 points and a plus-17 rating in 39 games. He has more goals than four of the five most expensive players at the winger position – Patrick Kane, Corey Perry, Jakub Voracek and Rick Nash.
Conor Sheary – 17 goals in 39 games….$667,500 cap hit

Patrick Kane – 15 goals in 49 games, …$10.5M cap hit

please RT to raise awareness

— Mike Darnay (@MikeDarnay) January 23, 2017
Incredible Hot Streak
As good as his entire season has been, Sheary is the hottest player in the league right now. He has six goals – three two-goal contests – in his last four games alone. Over his last nine games, he has nine goals and 13 points, leading to Sheary being named the NHL's first star of the week.
Prior to this run, only Sidney Crosby, Evgeni Malkin and Phil Kessel had more goals than Sheary on the Penguins. Now, Sheary has three more than Kessel and is fourth on the team in points.
No one in the entire league comes close to Crosby's goals and points per 60 minutes averages, but Sheary is comparable to Malkin in those categories. Sheary owns a 1.73 goals per 60 minutes and 3.46 point per 60 minutes average. Malkin has a 3.81 points per 60 minutes, but he's below Sheary in the goals per 60 minutes average at 1.55.
[irp]
Playing With Crosby
Sheary was a mainstay on Crosby's wing during the last postseason and scored one of the most memorable goals of the 2016 playoffs. But again, due to his size, no one considered him a long-term option on Crosby's wing. He began this season on the fourth line.
Carl Hagelin received his chance to play alongside Crosby in November, but despite the captain scoring at a rampant pace, Hagelin didn't produce much. Then, Sheary received his chance to play on Crosby's left wing again, and he's never looked back.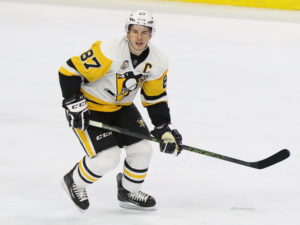 In 32 games playing with Crosby, the 24-year-old has 14 goals and 27 points with a plus-10 rating. Rust was added to that top unit on Dec. 17, and since then, Sheary has 16 points in 15 games. Crosby, Sheary and Rust combined for 11 goals in the last 164 minutes, becoming the most vital part of the team's offensive production.
Of course, Sheary's success is directly correlated to playing with Crosby — a fact that should be taken into consideration at the negotiating table. Crosby is one of the best passers in the league and the top scoring threat in the NHL this season. That leaves Sheary open for lots of opportunities.
But to state the 24-year-old's success is entirely predicated upon Crosby would be unfair. Kessel played with Crosby last season and had very little success. Pittsburgh has spent years searching for a great wing to pair alongside Crosby. Now that they've found one, it's time to lock him up to a long-term deal.
Sheary's Worth
Although the tweet from Darnay is fun to think about, it doesn't mean Sheary should be paid like Kane. Just because he has more goals than Kane and some of the other highly paid wings still doesn't mean Sheary is as good as them. Kane won the league MVP last season, and Nash and Perry are both former Rocket Richard winners.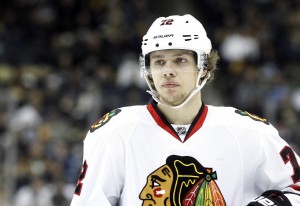 What it means, though, is Sheary has become an indispensable part of the Penguins' future. Maybe the best comparison for Sheary is to a different Blackhawks wing and another undrafted player, Artemi Panarin. Playing alongside Kane, the league MVP last season, Panarin scored 30 goals and 77 points in 80 games.
Panarin agreed to a two-year, $12 million extension ($6 million average annual salary) last summer, which will begin next season. Sheary's next deal will greatly depend on how he finishes the season, but if he scores 30, Pittsburgh is going to have to fork over a significant sum to keep him.
Six million is probably too steep, but $4 million isn't out of the question. Pittsburgh signed wing Chris Kunitz to a three-year, $11.55 million deal ($3.85 million average annual salary) a year after he recorded his first 30-goal season. The big difference, though, is he was 34 at the time. Sheary will turn 25, the same age as Panarin, in June.
Goaltender Matt Murray agreed to a three-year $11.25 million deal this past fall, giving him an average annual salary of $3.75 million. It would be a huge victory if Pittsburgh could give Sheary about the same raise. The wing is making $667,500 this season.
[irp]
Rutherford's Tough Choices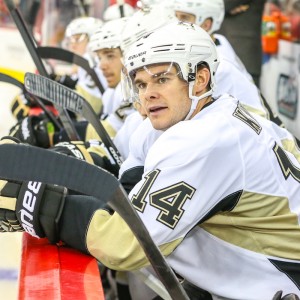 Unlike last season, Rutherford is going to have some tough decisions to make in free agency. At least Sheary is only a restricted free agent, but centers Nick Bonino and Matt Cullen, along with Kunitz, are all going to be unrestricted free agents. Defensemen Trevor Daley and Justin Schultz will be as well.
After the 2016 postseason, Bonino would have been a must-keep player, but he didn't carry his playoff momentum into 2016-17, and the "HBK" line hasn't been nearly the same. Cullen is probably going to retire, and Kunitz could possible too. Kunitz and Cullen are making a combined $4.85 million this season. A portion of those available salaires could easily go to Sheary next season.
Cheap options such as AHL forwards Daniel Sprong and Oskar Sundqvist could then replace Kunitz and Cullen. Perhaps Kunitz decides to play another season and really wants to stay in Pittsburgh. In that case, the Penguins might be able to afford him for between $1-2 million.
Don't forget, the expansion draft is coming too. That means Pittsburgh is going to lose another player, but it also means more cap space. Goaltender Marc-Andre Fleury is probably not going to be on the roster next season either, which would be a significant cap relief (potentially as much as $5.75 million). Murray is getting a raise, but the left over money should go towards Sheary and/or keeping one of the two unrestricted defensemen, preferably Schultz. Brian Dumoulin will be a restricted free agent too and needs a new deal.
Next season's roster is going to be drastically different than the one from 2016-17. But one thing is becoming clear — Sheary must be a part of Pittsburgh's future alongside Crosby's wing.