The Pittsburgh Penguins defeated the Boston Bruins this past Sunday afternoon. More accurately, you could say that their top line did. This line, composed of Conor Sheary, Sidney Crosby and Bryan Rust, combined to produce three of the Penguins' five goals for the night. Sheary (two goals, one assist) and Crosby (one goal, two assists) finished the game with three points each; Rust (one goal, one assist) ended the night with two. The recent creation of this first line has proved to be highly beneficial for the Penguins so far.
Production from the Top
Before Sunday's game, the Penguins' top line had combined for a total of 11 goals in their past 164 minutes of playing time together. That's four goals scored every 60 minutes and much higher than the team's overall scoring rate. The Penguins' goals for average per 60 minutes of five-on-five play is 2.44.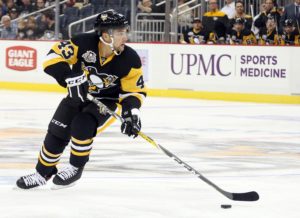 This rapid scoring is reflected in the players' high production totals. Crosby is leading the league in goals with 28. Rust and Sheary, both halfway through their first full season in the NHL, have over 10 goals apiece. Sheary is now three away from 20 points total, and he has nine points in his last four games alone. There's no question this line has been beneficial for all three players' point totals. It's also crucially important for the Penguins as a team, because they depend on high scoring to make up for a relatively shaky defensive unit.
High Scoring, Both for and Against
The Penguins like to play high scoring games and are first in the league in their number of goals scored per game. A Penguins fan can expect to see an average of 3.6 goals in an opponent's net. This is crucial to the Penguins' style of play. Here's why: they allow an average of 2.9 goals against. That's the seventh worst goals-against average in the league. Without their high scoring numbers, the Penguins wouldn't be able to allow as many goals as they do per game and still come out victorious.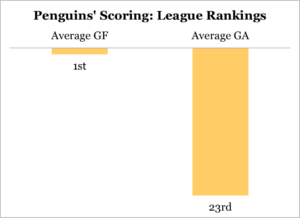 Why the high number of goals against? Part of it has to do with injuries. The Penguins' defense is currently, as usual, dealing with various losses. Brian Dumoulin is just now returning to practice with a no-contact jersey and a healing jaw. Kris Letang is out week-to-week with a knee injury and both players are out of the lineup. Part of the Penguins' high number of average goals allowed most likely has to do with the revolving door of defenders coming up and down from the minors as the Penguins test them out on the team.
Finding Chemistry
The Penguins' ever-changing defensive roster has, in the past few weeks, seen players like Derrick Pouliot, Chad Ruhwedel, Steve Oleksy and Cameron Gaunce get their chances to play with the rest of the team. None of these lines have had time to solidify and become a reliable part of the roster. On the contrary, the Sheary-Crosby-Rust line very much has. That's why it's important that the Penguins' top line is becoming a reliable producer. In a team currently unable to lean on their defense, the offensive lines have to step up their game.
Rust: "We've played together for a while now. We are definitely starting to learn each others' tendencies. That's helping us offensively."

— Pittsburgh Penguins (@penguins) January 22, 2017
The Penguins have now posted 30 wins in their first 45 games of the season. With an always uncertain defense, it looks like the Crosby line is shaping up to be a key factor in them maintaining that winning ratio.