The Detroit Red Wings currently sit with a record of 20-19-8, and are fighting to make the playoffs for a 26th consecutive season. While they have struggled in several areas, the team has really struggled on the power play this season, sitting dead last in the league with a power-play percentage of 11.3. It's difficult to pinpoint exactly why the Wings are having such difficulty cashing in with the man advantage, but it's clear that adjustments are necessary.
In this week's edition of The Grind Line, we discuss our optimal power-play lines, and any changes to the lineup needed to make them happen.
Tony Wolak
1st Power-play Unit: Tatar-Zetterberg-Mantha-Vanek-Green
2nd Power-play Unit: Nyquist-Larkin-Nielsen-Abdelkader-Kronwall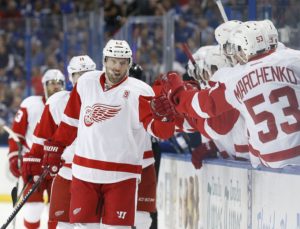 It's no surprise that the Detroit Red Wings have been struggling with the man advantage. But, with a few tweaks, their power play can get back on track.
Starting with the quarterback role, a healthy Niklas Kronwall will bolster the second unit. He has more experience running the power play and possesses the offensive instincts to facilitate the play. Mike Green would continue to lead the first power play, as he has all season.
Paired with Green up top on the first unit would be Tomas Tatar. His role would be to man his off wing and fire shots on net when he has an opening. Gustav Nyquist would play the same role at the top of the circle on the second power-play unit. Both players have elite shots and need to pull the trigger more in general.
The "decoy" position would normally be a right-handed shooter on their off wing, ready to receive passes from the quarterback and put shots on net. However, the Red Wings really don't have players to fill that role. Instead, Henrik Zetterberg and Dylan Larkin would patrol the boards on their strong side. Since they do not have the best angles to shoot, Zetterberg and Larkin would mostly look to make cross-ice plays, moving from the goal line to the blue line. Once opponents start playing off these players, Zetterberg and Larkin could take an extra step inside, open up, and fire the puck on net from a decent angle.
While floating around the offensive zone, Anthony Mantha and Frans Nielsen's goals are to find open space inside the four penalty killers and tip point shots from up high. They're also supposed to follow the play and always be there to create a mini two-on-one mismatch in small ice battles. If left open, both of these players have great shots and quick releases.
Finally, Thomas Vanek and Justin Abdelkader occupy Tomas Holmstrom's old role as the net-front presence. Vanek has had a tremendous season mucking it up down low and Abdelkader's return to the lineup will only add more grit in the dirty areas.
Tom Mitsos
1st Power-play Unit: Tatar-Zetterberg-Mantha-Vanek-Green
2nd Power-play Unit: Larkin-Nielsen-Athanasiou-Nyquist-Sproul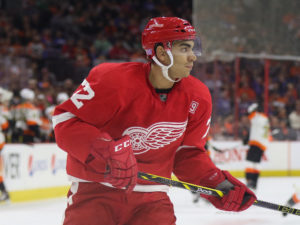 The Red Wings had another three power-play opportunities Sunday against the New York Rangers and came up empty-handed with just one shot. The Red Wings have three power-play goals in their past 12 games and continue to rank last in the league in power-play percentage.
On Sunday, the Red Wings were using Nyquist-Nielsen-Abdelkader-Zetterberg-Kronwall on the first unit and Tatar-Sheahan-Larkin-Mantha-Green on the second unit. Danny DeKesyer even got one power-play shift, according to Shift Chart.
As I've stated before, it is in the Red Wings' best interest to use four forwards on both of their power-play units. Four forwards give them the best chance of generating shot attempts, which will give them the best chance to score. The Red Wings did that Sunday, but I think their player usage could be better.
Ryan Sproul has a booming right shot the Red Wings are missing on the second unit. DeKeyser, Kronwall or Jonathan Ericsson easily can sit in place of Sproul. Each player hasn't been particularly fantastic this season, although Ericsson has been slightly better than usual (sixth on the team in score-adjusted shot attempts percentage at 49.23). Sproul, on the other hand, has sat out of the lineup since Jan. 12.
Another questionable decision is not giving Andreas Athanasiou any power-play time. The 22-year-old had 13:53 of ice time against the Rangers, 12:23 of which was even strength with the rest coming shorthanded. It seems odd to leave Athanasiou off the power play when he is leading the team in five-on-five goals per 60 minutes (1.85), and is second in primary points/60 (2.40) and points/60 (2.77), according to Corsica.
While Athanasiou won't magically lift the power-play unit from worst to first, he will provide much-needed offense the Red Wings sorely have been lacking.
Brandon Peleshok
1st Power-play Unit: Nyquist-Zetterberg-Mantha-Vanek-Green
2nd Power-play Unit: Larkin-Nielsen-Athanasiou-Abdelkader-Kronwall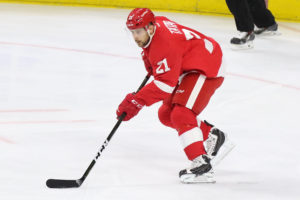 Over the past 10 games (and for a good portion of the season), the Red Wings have used Zetterberg, Nyquist, Nielsen and Vanek as forwards on their top power-play unit, according to Left Wing Lock. The only change I would make here is swapping out Nielsen for Mantha, in an attempt to spread out some of the offense. Green is the Red Wings' best offensive defenseman, so leaving him on the top unit feels like a no-brainer.
The real changes would occur on the team's second power-play unit. Leaving Tatar as the odd man out makes sense when you consider he has just one point on the man advantage this season. I would prefer to see both Larkin and Athanasiou (who has played well as of late) instead, where they can utilize their speed for zone entries, and to try to open up the opposition's penalty kill a bit.
Again, moving Nielsen here is more about trying to spark the second unit, as he leads the team with eight points. Abdelkader has just two points since returning to the lineup on Jan. 10, but his ability to play the role of net-front presence puts him on this unit over other players. With the Wings' struggles to generate offense on the power play, they need as much traffic in front as possible.
Ideally, I would like to see head coach Jeff Blashill give Sproul another shot, but it appears as if the 24-year-old rearguard is on the outside looking in, considering he sat for his sixth consecutive game yesterday. Since it's unlikely that he will draw into the lineup, I would have Kronwall anchor the second power-play unit. While his skating is questionable due to his knee issues, he is probably the team's next best option.