With a record of 8-7-1, the Detroit Red Wings have room for improvement. At best, the team has been streaky as they near the quarter-way point of the 2016-17 season.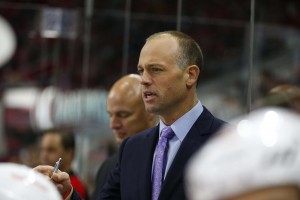 And after Detroit's 5-0 loss in Montreal, coach Jeff Blashill could opt to make a number of changes. Montreal was clearly the superior team from start to finish.
What changes could we see this week with the Red Wings scheduled to take on Tampa Bay and Washington—two of the best teams in the Eastern Conference? "Everything" is certainly the simple answer. But with the talented roster the Red Wings deploy, perhaps a few tweaks here and there could spark something for Detroit.
In this week's edition of The Grind Line, The Hockey Writers' Red Wings coverage team weighed in on one change Detroit needs to make right now to better position the team going forward.
Tony Wolak: Stronger Around the Net
While there are a number of problems with the Red Wings defense, one area of concern is the lack of strength around their own net. There have been a number of goals scored in close this season after Detroit's blueliners failed to "clean up the trash" in front of the net.
Montreal's opening goal from Saturday night came after both Red Wings defensemen ended up behind the net and couldn't muscle the Canadiens forwards off the puck:
To address this area of weakness, it simply starts with an emphasis—or perhaps a challenge—to be more physical around the net. Jonathan Ericsson, Alexey Marchenko, Brendan Smith, and Danny DeKeyser certainly have the size to move people. They simply need to bear down and execute. If not, then Detroit may want to look for external solutions to solve this issue.
This same problem extends into the offensive zone as well. While Tomas Tatar, Gustav Nyquist, and Dylan Larkin will rarely score gritty goals, the other forwards need to step up their game around the opposing net. This is what made Thomas Vanek successful in the first seven games of the season.
Having Anthony Mantha in the lineup helps, but Blashill needs to directly challenge his forwards to be hungrier near the net. Players like Riley Sheahan, Justin Abdelkader, and Darren Helm, plus Mantha and Vanek, have the size to muck it up in front of opposing goalies.
Brandon Peleshok: Better Management of Henrik Zetterberg
Arguably, Henrik Zetterberg is still the best player on the Detroit Red Wings. At the same time, he is also in the twilight of his career, and his ability to withstand the grind of a full NHL season is in question. He said as much heading into the 2016-17 season, stating that he had concerns about "running out of gas" over the course of the year.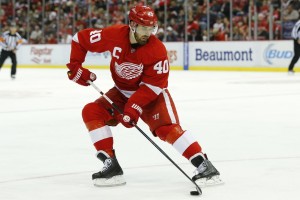 One idea to keep Zetterberg fresh was to alter his position on the team, which would minimize his workload. Red Wings head coach Jeff  Blashill shifted Dylan Larkin into a new role as a center and placed Zetterberg on the wing. When Larkin struggled early in the season, Blashhill opted to move Zetterberg back to center. With more skating and defensive responsibility involved, it is not exactly the best way to prevent the 36-year-old from wearing down over the course of the season.
In addition to moving his captain back to center, Blashill has also steadily increased Zetterberg's time on ice per game since the early portion of the season. Through the first seven games of the season, the Swedish forward was playing under 18 minutes per night, averaging 17:49 TOI/GP. Over the nine games since then, Zetterberg's TOI/GP has jumped to nearly 21 minutes per night, as he has played an average of 20:50. Much like the shift back to center, it would appear that Blashill, at least in the short-term, has gotten away from his plan to keep Zetterberg fresh.
Tom Mitsos: Stop Using Two Defensemen on the First Power Play Unit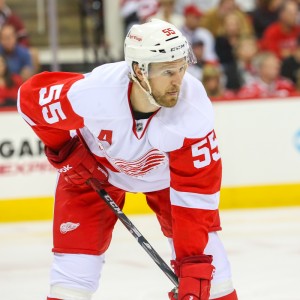 Since Niklas Kronwall made his return Nov. 4, the Red Wings have opted to use two defensemen on their top power-play unit — Kronwall and Mike Green — instead of using a fourth forward. It's an odd decision, as they are taking out an extra offensive-minded player for Kronwall, whose shot and mobility isn't what it used to be.
And, according to Hockey Graphs's Matt Cane, there's statistical evidence using four forwards is more beneficial to a power play than three. What Cane gathered from the evidence is using four forwards not only helps a power-play unit generate more shot attempts, but it converts on more of those shot attempts. Below are Cane's findings:
Lineup
Corsi For Per 60
Shooting Percentage
3F-2D
91.3
11.5%
4F-1D
101.7
13.0%
Lineup
Corsi Against Per 60
Save Percentage
3F-2D
13.09
92.5%
4F-1D
13.47
89.5%
Lineup
Goal Differential Per 60
3F-2D
4.9
4F-1D
6.1
Cane did note there is a better chance of the opponent scoring a shorthanded goal against a unit with four forwards, but the bigger goal differential with four forwards makes it the optimum choice.
The Red Wings have the 20th-ranked power play in the league (15.3 percent) and have scored one power-play goal since Kronwall returned, and it was the second unit that only had one defenseman on it that scored. They've struggled with the two defensemen approach, and it would be in their best interest to go back to the four forward approach.
Jacob Messing: Give the Lines Some Time
Since taking over the bench ahead of the 2015-16 season, Jeff Blashill has been impatient with his lines. It started last season, constantly moving jerseys around the lineup and hoping the grouping of numbers would click.
As much as moving players around the lineup is a tactic to incite play, reward production, and alter matchups, it can also hinder player performances, as well. The problem is that the constant switching doesn't give players enough time or opportunity to really understand their linemates, their style, or positioning.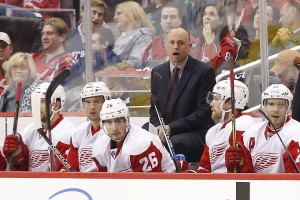 Blashill needs to decide which lines he likes best and let them have an ample opportunity to build chemistry with their linemates.
A quick sample is the third line he deployed at the start of the season. Gustav Nyquist, Darren Helm and Thomas Vanek had immediate chemistry and each of the three got off to a hot start to the 2016-17 season.
Before the injury, Vanek scored four goals and eight points in seven games; Nyquist scored three goals and eight points in seven games and Helm scored three goals and seven points in eight games.
Blashill decided to reward Nyquist's play and neglected to think about the third line's chemistry. While the three continued their hot start, it only lasted for a couple more games.
Part of it was that Vanek went down with an injury, but another part was Blashill mixed things up when he already had a good thing going. At the end of the day, players need time to learn each other and Blashill needs to give them that time now.
What

one

change should the Detroit Red Wings make to turn things around? Comment below with your opinion.