Facing Off is a weekly column debating five of hockey's hottest topics each and every Monday. From current events like trades and hat tricks to bigger-picture stuff like scandals and expansion — you name it, we're debating it. Albeit, not always with a serious tone. We're keeping this column light, so keep that in mind when reading, and feel free to join in on the fun by leaving a comment. Follow us on Twitter (@FacingOff_THW) and get in on the debate there too.

Growing up, strange as it might seem, the rivalry I remember most — or the one with the fondest memories — was between the Edmonton Oilers and Dallas Stars.
During my teen years, they clashed almost every single postseason around the turn of the century — five straight times from 1997 to 2001 and then again in 2003.
Six consecutive playoff appearances, Edmonton ran into Dallas. The Oilers were always the underdog and the Stars were their nemesis, winning five of those rounds but having to earn each and every victory — many in dramatic fashion.
I graduated high school in 2002 and just turned 32 last week, so my passion for the sport grew immensely from watching those hard-fought, nail-biting series. So much so that I decided to pursue a hockey-related career, realizing that if I wasn't good enough to get paid to play, perhaps I could get paid to watch. So far, so good on that front.
Of course, being from the Prairies and a family of Oilers fans, my favourite memories were from Edmonton's only triumph over Dallas during that stretch — a first-round upset in 1997. That series went to overtime in the seventh-and-deciding game, producing two epic moments in sudden death.
As an aspiring goaltender back then, sporting the same Louisville pads as Curtis Joseph, that save still tops my all-time list. I'm not sure we've seen a more clutch stop in the two decades since. If we have, it hasn't stuck with me the way that one did.
That was a special series from start to finish, and many Oilers fans — especially those in the building, or those trying to get back in — will recall the Game 3 rally as the highlight.
After splitting the first two games in Dallas, the Oilers returned to Edmonton for their first home playoff game since 1992. Trailing 3-0 with about four minutes remaining in the third period, fans headed for the exits in hopes of beating the rush, but the Oilers mounted a miraculous comeback to force overtime where Kelly Buchberger emerged as the hero.
Why are we living in the past, you ask? What could that possibly have to do with this week's Facing Off?
Well, it's a special edition featuring not one, but two guest contributors — Shane Sander, who has been covering the Oilers for THW since March 2014, and Ed Sarno, who has been on the Stars' beat here since November of that same year.
Not to worry, we'll be keeping our focus on the present as there is plenty to debate about both teams going forward. The rivalry isn't what it used to be, obviously, but they just played Friday night in Edmonton — with the Stars hanging on for a 3-2 win — and will play again in Dallas this Saturday.
Prior to the season, this might have been a silly question, but who finishes with more points at season's end — Dallas or Edmonton? Did your answer change after watching Friday's game? Any notable takeaways from that matchup?
SARNO: I still see the Stars finishing ahead of Edmonton. However, it is a fair question given the early results (Stars 6-6-4) of 2016-17. The Stars are playing through an incredibly unlucky string of injuries and health issues. So far this season, they lead the league in significant man games lost due to injury. The good news is Jason Spezza and Patrick Sharp might be back this week, and Cody Eakin is skating and should also be back this month.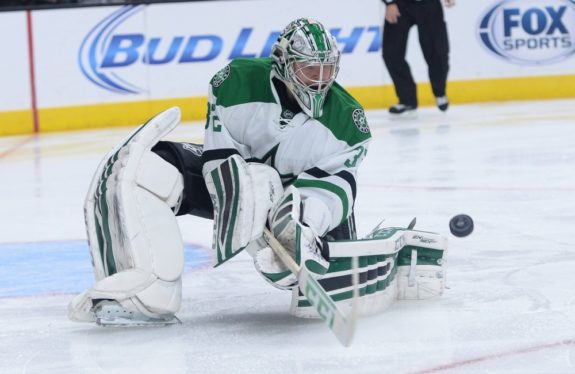 The Stars showed good resiliency Friday night by winning, 3-2, in Edmonton after beating Calgary on Thursday, following a dreadful 8-2 loss to Winnipeg on Tuesday. Kari Lehtonen was fantastic with 40 saves against Edmonton. The Stars would love to see him get on a roll. Overall, the goaltending has been inconsistent again this season. Antoine Roussel's game-winning goal against Edmonton upped his point streak to five games, and he stretched it to six in Sunday's overtime loss at Vancouver.
After hitting what captain Jamie Benn called "rock bottom" following the loss to the Jets, the Stars earned points in three straight to wrap up their west coast trip and moved back into a playoff position. Things are looking up again.
SANDER: Dallas. The Stars are ravaged by injuries right now, but if Friday's game proved anything, it's that an elite-level NHL club will find a way to win when their backs are up against the wall. Edmonton's improved, but the Oilers aren't the Stanley Cup contenders everyone believes the Stars to be.
If the Oilers have proved anything in the early stages of the season, it's that they're real contenders for a playoff spot and that should be the focus right now — just making it to the dance.
The NHL season is a marathon, so it doesn't matter if the Oilers are leading the Pacific Division in October or November. Anaheim, Los Angeles and San Jose are all perennially strong teams and will push Edmonton. San Jose has already closed to within a point of the Oilers, with a game in hand, and Anaheim is suddenly just two points back as well.
Dallas is supposed to lead with Chicago and St. Louis in the Central Division. I still believe the Oilers will likely fall between seventh and 10th in the Western Conference this season, but they won't finish higher than the Stars.
Third Man In
FISHER: Maybe this was still a silly question? I'll go ahead and make it unanimous — the Stars will still finish with more points than the Oilers.
More points, but not necessarily higher in the standings — or, rather, in terms of playoff seeding.
I still see Edmonton finishing second in the Pacific Division, with home-ice advantage in the first round of playoffs — sticking with my preseason predictions there.
I had Dallas pegged for fourth in the Central, behind Chicago, Nashville and Winnipeg, but the Stars impressed me this past week — sweeping through Alberta despite all those injuries. It's evident that Dallas will be a scary team if and when it gets healthy. Combined with Nashville's slow start, I'm currently thinking third place in the Central sounds about right for the Stars, which would still mean starting the postseason on the road.
However, with the Central being the significantly stronger division in the Western Conference, it wouldn't be surprising for the Central's third seed or possibly even the fourth seed to finish with more points than the Pacific's second seed. That's my rationale there, for Dallas winding up with more points than Edmonton.
Now, if Lehtonen could play lights out, like he did against Edmonton, on a regular basis, the Stars could repeat as Central champs. Unfortunately for Dallas, consistency hasn't been Lehtonen's strongpoint in recent years — as evidenced by Sunday's stinker in Vancouver (five goals against on 30 shots, an .833 save percentage).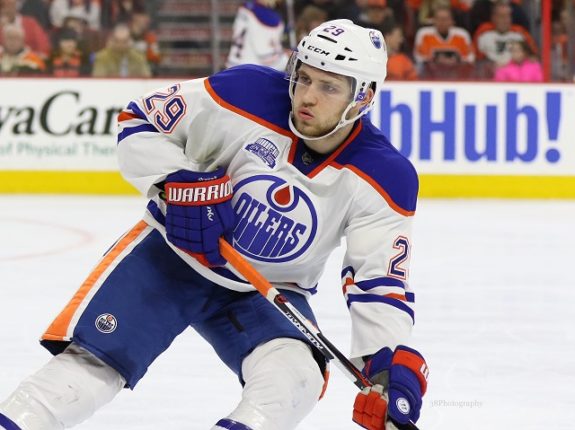 Lehtonen did steal those two points in Edmonton but, to me, the Oilers' third-period push left a lot to be desired. Sure, they got a couple point-blank chances once Cam Talbot was pulled for the extra attacker, but there wasn't enough desperation or killer instinct to start the final frame despite already trailing 3-2. Some credit is due to Dallas for defending well, but with the Stars on a back-to-back and lacking depth both at forward and defence right now, the Oilers needed to find a way to win that game. Good teams — contending teams — don't lose that game. And it was more of the same in Sunday's 3-1 setback to the Rangers.
Edmonton has lost a little something since impressively closing out wins over St. Louis and Washington at home. The Oilers blew a two-goal lead in Pittsburgh to close out their road trip and then couldn't buy a goal against a tiring Dallas team. Edmonton probably wasn't expected to win either of those games when the schedule was released, but after beating the Blues and the Capitals, those expectations changed. Those were four points that shouldn't have got away and now, as a result, the expectations are changing again. Especially after failing to bounce back on Sunday.
As Shane mentioned, the California teams are coming on strong and the Oilers may not be topping the Pacific Division for much longer. The 20-game mark, or quarter-pole in the season, is often quite telling and it'll be interesting to see where Edmonton stands at that time. This is a huge week for the Oilers, with road games in Anaheim, Los Angeles and Dallas before hosting Chicago in game No. 20 next Monday. There is a very real chance Edmonton (9-6-1) could be below .500 after this stretch, which would completely undo the Oilers' 7-1 start. Like I said, humungous big week.
Jacob Trouba finally signed with Winnipeg and apparently rescinded his trade request. Are you buying that, or do you still expect him to be dealt at some point this season? The Stars and Oilers seemed like potential suitors, with Esa Lindell and Darnell Nurse of interest to the Jets. As Jim Nill and Peter Chiarelli, would you continue to pursue Trouba? What kind of package would you be offering, or what would it take to land him?
SARNO: I've been a fan of Trouba since he played for the U.S. National Development Team. I think the trade request was just an attempt to push the negotiations along. I don't think they Jets will trade him.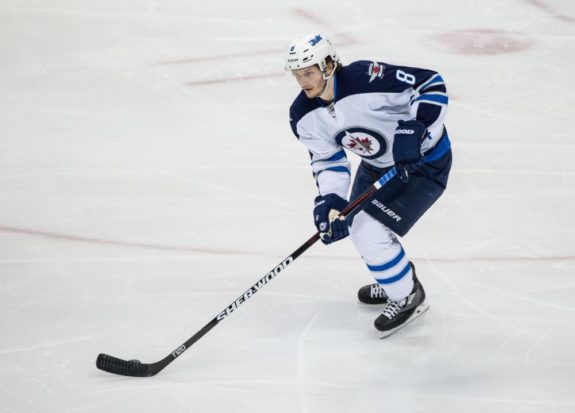 However, I'm sure Nill has also seen a lot him since Trouba is from Rochester, Mich. Trouba, being a right-handed shot, might not be the best partner for Klingberg, and I think the Stars would prefer to see Stephen Johns grow into a more cost-effective second-pair defenseman. Also, it would be difficult to fit Trouba's new salary ($2.5 million this season and $3.5 million next season) under the Stars' cap, with only $1.8 million in space this season.
However, since I do like Trouba, and he would be an upgrade to the Stars' defence, it wouldn't hurt to ask Kevin Cheveldayoff if he would be interested in moving him. I don't know that the Jets would go for it, but maybe a package of Jamie Oleksiak and/or Patrik Nemeth and a prospect or pick could get it done.
If Cheveldayoff rejects that idea, I would quickly segue the discussion to the potential availability of a Jets goaltender? I don't see the Jets giving up Connor Hellebuyck and Ondrej Pavalec isn't worth $2.9 million, but perhaps Nill could land Michael Hutchinson or Eric Comrie.
SANDER: What Edmonton's missing is a true top-level offensive defenseman. However, the jury is still out on what Trouba's real ceiling is. He's never scored more than 29 points — which he did in his rookie season — and what Edmonton needs is a guy that can score 40-plus points a year, be reliable on the power play and jump up into the play. So far, Trouba hasn't proven he can do all of those things Edmonton needs.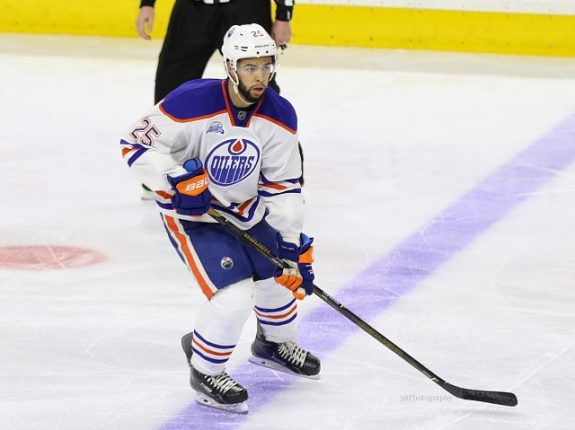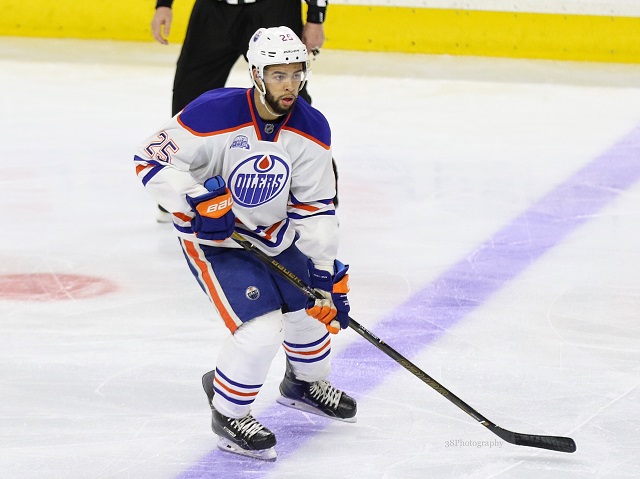 That said, what do the Oilers have in their system? Ethan Bear and Caleb Jones are the two best offensive defense prospects, but they're years away from NHL duty. Nurse and Griffin Reinhart are the Oilers' two biggest names when it comes to young defensemen, but neither have high offensive ceilings at the NHL level.
Offensively speaking, Trouba's potential trumps them all. So, yes, the Oilers should be interested in Trouba's potential, but any package would have to include Nurse going the other way. Are the Oilers ready to part with their 21-year-old, 2013 seventh overall pick?
Third Man In
FISHER: Shane smashed this answer out of the park from an Oilers' perspective, and Ed made sense of the Stars' predicament too. Both teams are a fit for Trouba, but probably not the right fit — at least not right now.
From a financial standpoint, Trouba is a lot more attractive at $2.5 million on a bridge deal than at the $5.5 he would have warranted on a long-term contract. If Dallas has $1.8 million to work with, $2.5 should be doable. If there is a will, there is a way, with only $700,000 to squeeze under the cap. However, I doubt the Jets entertain any offer with Oleksiak or Nemeth as the key piece coming back. Lindell would probably be a must as a starter, perhaps with Oleksiak as a secondary piece to that package, plus another pick or prospect. In other words, the asking price would be steep — and was obviously too steep for any teams expressing interest while Trouba was holding out for a trade that didn't transpire.
Well, has yet to transpire. I still think Trouba would very much like to be traded, contrary to what he's saying, and that he's still very much available, contrary to what Cheveldayoff's saying. The Jets have all the power here, and had it all along. Now that Trouba is back playing, there will be several teams scouting him, and his performance going forward — once he gets back up to speed — will dictate the interest level and whether Winnipeg's asking price goes up or down. That $3 million annual cap hit makes Trouba more tradeable, but also more valuable on the trade market.
Time will tell, but I don't see the Oilers pursuing Trouba at this time. Nurse is turning into a nice player for Edmonton, albeit more of a shutdown type. Winnipeg would probably want Oscar Klefbom first and foremost, but that is a non-starter for Edmonton. To settle for Nurse, Winnipeg would probably want Edmonton's first-round pick in 2017, draft-lottery protected, as well. Again, that's probably a non-starter for Edmonton. Not that the Oilers would be against moving that pick as buyers, but Trouba isn't enough of an upgrade on Nurse and really isn't the type of defenceman that Edmonton is coveting.
If we were talking Tyson Barrie, then I could see the Oilers overpaying to get that elusive power-play quarterback. The final piece to the puzzle. Barrie isn't off to a great start in Colorado, so maybe just maybe Edmonton could circle back on him, but realistically that ship has probably sailed too.
The expansion draft further complicates things, and the Oilers might be better off waiting for free agency again in hopes of Brent Burns being available there. He'd be the biggest fish of them all.
Trouba to Columbus for Ryan Murray. I suggested that possibility in the most recent Facing Off podcast, and I still think it's a genius idea — even more so now that Seth Jones is hurt.
Talking Stars, can we solely blame injuries for their sluggish start or is there more to it? Is Lindy Ruff safe as head coach? Are Nill's hands tied until the team gets healthy, or should he be making depth moves in the meantime? Which call-ups have been impressing you the most?
SARNO: I recently wrote, while no team will use injuries as an excuse, they still have to be realistic. Jamie Benn and Tyler Seguin missing most of training camp would have been enough to warrant a slow start, but compounding that with Spezza, Sharp, Eakin, Mattias Janmark, Ales Hemsky and Jiri Hudler missing time, it has devastated the Stars' forward corps, which was also the team's biggest area of strength.
I think the only way Ruff's job is in jeopardy is if they get everyone back (excluding Janmark, who could miss the entire season), make the playoffs and have a quick first-round exit.
Nill's hands are somewhat tied due to the cap. While he'll never admit it publicly, the search to improve the goaltending situation is paramount.
Gemel Smith and Justin Dowling are two call-ups who have made positive impressions with limited ice time. Both have demonstrated great perseverance after spending time in the ECHL and working their way to the show. Last Sunday, Smith had two goals at Chicago — one being highlight-reel material, as Smith displayed nifty mitts on a breakaway. He's also been reliable and has earned praise from Ruff. Dowling had an assist the other night in Calgary and had four shots on goal against the Oilers. Also, Devin Shore made the team out of training camp, so technically he doesn't qualify as a call-up, but he's tied for seventh among NHL rookies in assists with six.
FISHER: It's true, injuries aren't supposed to be an excuse, but they have been holding the Stars back. There's no denying that, and Dallas is actually holding its own in the face of that adversity. The Stars are currently down six of their projected top-nine forwards. Think about that for a minute.
What other team could possibly survive that many blows? The answer is none. So, yes, injuries are largely to blame, but not solely — the goaltending has hurt Dallas at times too, arguably more than it has helped to date.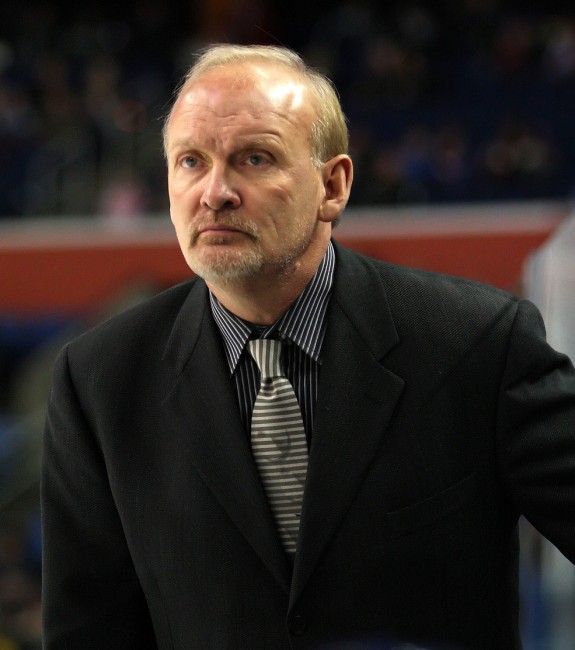 Ruff deserves some slack — a long regular-season leash. He's had his hands full with a depleted depth chart, and he's probably had to change some systems on the fly as well. This Dallas team was built, on paper, to run-and-gun, to roll four lines and trade scoring chances regardless of who was on the ice. Obviously, that's not the current game plan.
The Stars have had to become a more opportunistic team, and certainly more defensive-minded in front of their inconsistent goalies. It's a different approach, but the players are adjusting and it seems to be working.
That said, when six of your top-nine forwards are out of the lineup, Nill could have been more proactive in plugging those holes. Not that the half-dozen call-ups haven't been filling in admirably, but Nill has strangely passed up a couple chances to bolster that depth.
I was shocked that Nill let Teemu Pulkkinen clear waivers and end up on Minnesota's farm team. Nill was part of Detroit's management team that drafted Pulkkinen, so that seemed like a no-brainer for Dallas to claim him.
I'm also a bit surprised that Nill didn't outbid rival St. Louis for Nail Yakupov. The Oilers obviously weren't asking for much and would have been willing to retain salary for a little more in return. Edmonton probably would have accepted Oleksiak as a 1-for-1 return, but a second-rounder and throw-in prospect would have got the deal done too. Yakupov probably would have done better under Ruff and Dallas' system than with Ken Hitchcock and the Blues, but Nill is avoiding enigmatic Russians now that Valeri Nichushkin ditched Dallas for the KHL.
Still, I can't help but think the Stars would be doing better with Yakupov and Pulkkinen than with lesser-knowns like Smith and Dowling. I mean, Lauri Korpikoski, bought out by the Oilers, is playing on Jamie Benn's line right now. That's rough for Ruff — yet he's getting the most out of this hodgepodge group, and even Korpikoski is somehow on a three-game goal-scoring streak.
However, had Nill made those moves, Dallas could have iced this depth chart when fully healthy:
Benn-Seguin-Sharp
Hudler-Spezza-Hemsky/Yakupov
Roussel-Eakin-Eaves
Janmark/Pulkkinen-Faksa-Ritchie
Chances are Yakupov and Pulkkinen would have wound up being the scratches — instead of Adam Cracknell and Korpikoski, or Shore or Curtis McKenzie — so perhaps that's why Nill resisted the urge. But with Hemsky and Janmark remaining out long-term, Yakupov and Pulkkinen sure would have looked good in those spots.
Defence and goaltending, that's what it takes to win championships, right? Fair to say that both are lacking, or areas of concern for the Stars? Is Dallas good enough at either position or are the Stars top-heavy with forwards? Does Nill need to take this roster in a different direction or can staying the course result in success?
SARNO: I've always been a big believer in needing defence and goaltending to win championships. The current Stars' defence will never be confused with their '99 Cup-winning defence, but I think they are adequate when clicking on all cylinders. In my opinion, they could be as good as the Penguins' defence last spring.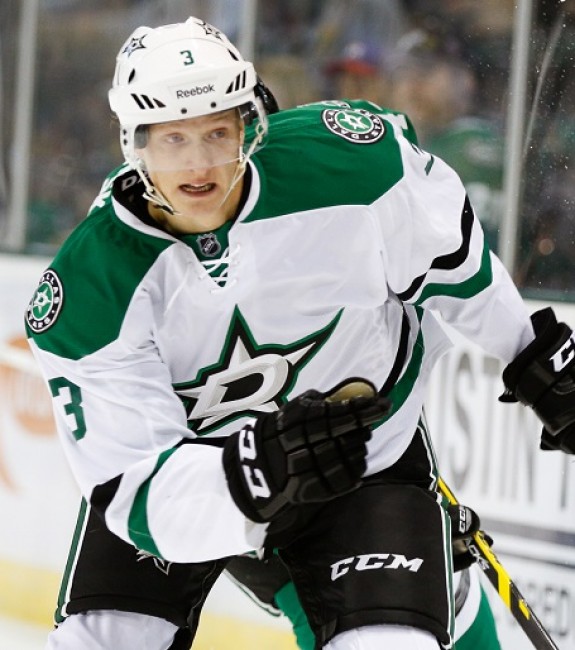 The Stars' defence has been inconsistent in the early going. They specifically need more consistency from John Klingberg, Dan Hamhuis and the aforementioned Johns. Also, the influx of new forwards has led to some of the defensive breakdowns.
The goaltending is another story. On a given night, like Friday night in Edmonton, Lehtonen or Antti Niemi can be the difference. However, neither has been able to sustain consistency and both faltered badly in the playoffs last season.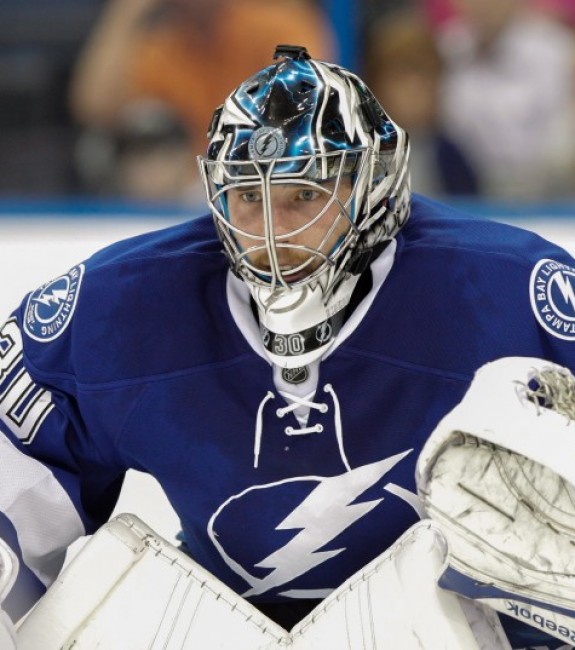 I've been on the Ben Bishop watch since the end of last season. If Nill and Tampa Bay general manager Steve Yzerman can somehow figure a way to make it work under the cap, it makes sense for both teams.
The logjam at forward will solve itself next season, as the Stars only have six forwards under contract for 2017-18. For now, they need the forward depth until the walking wounded return. They need Spezza, Sharp and Eakin to return without losing any other key forwards and they can be a dangerous playoff team. If Nill can improve the goaltending, the Stars could be a Cup contender if everything breaks right.
FISHER: This is where Nill really has his work cut out for him — and Ruff, too, to a lesser degree. It's hard to outscore the opposition in the playoffs. Things tighten up and it seems the majority of games are decided 2-1. Dallas, with this roster makeup and typically aggressive playing style, isn't going to be winning too many 2-1 games.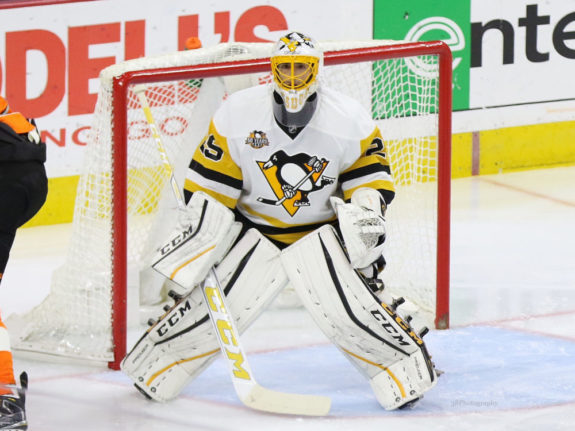 Not without a Bishop-type talent in goal, with Marc-Andre Fleury maybe being another option. Pittsburgh could use another proven top-six winger. Sharp for Fleury might make sense for both teams. Pittsburgh could take back either Lehtonen or Niemi in that trade — more likely Lehtonen — and Dallas could use another veteran on defence like Ian Cole.
Bishop is the better goalie, no doubt, but I don't see how that deal works. Tampa Bay doesn't really need anything that Dallas has to offer for Bishop, at least not in terms of offsetting salary. The Lightning are already one of the deeper teams up front, behind Dallas, so Sharp probably wouldn't be on Yzerman's wishlist. Tampa Bay is obviously in win-now mode too, so swapping Bishop for Lehtonen and futures — let's just say Julius Honka and Riley Tufte or perhaps Nichushkin — doesn't make a lot of sense either.
Sharp and Lehtonen for Fleury and Cole as a 2-for-2 seems fair enough. I could actually see something like that happening. Something has to happen. I can't see Dallas going past the trade deadline with Lehtonen and Niemi as the goaltending tandem, not unless one of them catches fire and sustains it as the clear-cut starter. That's risky either way, and what happens if they falter again in the playoffs? Nill would have to shoulder that blame more than anybody for not addressing the obvious need.
Or what happens when it comes time to protect Lehtonen or Niemi for the expansion draft? Coin flip!
Nill isn't usually one to sit on his hands, so I don't think it'll come to that. I think Nill will get his new goalie ahead of the trade deadline, and my gut feeling is that it'll be Fleury.
Talking Oilers, it's still early, but have playoffs now become an expectation for Edmonton this season? Would anything less be considered a failure at this point? If so, does that make Chiarelli a buyer between now and the trade deadline? What should he be shopping for as Christmas approaches, or is his work done until the New Year?
SANDER: A lot can be said about Edmonton's hot run to start the season. They're second in the Western Conference and the most surprising team thus far. But it's November and where the Oilers will be at game No. 82 is unknown.
The reality is that the Oilers need to make up nearly 20 points from last season's 70-point finish to contend for a playoff spot. They've made some moves in the right direction, but if I'm Chiarelli, I wait until later in the season before becoming a true buyer.
There's a lot clicking in Edmonton, but the secondary scoring needs to start contributing. They need some more points from the back end as well. Drake Caggiula hasn't played a game yet either. All said, the pieces are there, but right now it's head coach Todd McLellan's job to find the right combination. If I'm Chiarelli, I wait, patiently.
FISHER: There aren't many moves to be made right now, with no obvious sellers emerging, but as far as I'm concerned — and, presumably, as far as Daryl Katz is concerned — this is a playoffs-or-bust campaign for the Oilers, barring a rash of injuries to key players like Dallas is enduring. So far, Edmonton has been mostly healthy outside of some role players. The Oilers don't have that excuse — at least not yet — like they did with McDavid and others last season. Knock on wood.
Edmonton does have more pressure now, given its impressive start, than it has faced over the last decade of futility. That pressure to be a winning team — both from inside and outside the organization — is going to be the biggest challenge over the next little while.
Take this week, for example, there will be pressure to win at least two of those four games and ideally get points in three or more. That's what winning teams do. Yes, even against Anaheim, Los Angeles, Dallas and Chicago. Every game needs to be treated as a winnable game now. No exceptions.
The following four-game segment to end November "should" be easier — on the road against Colorado, a home-and-home with Arizona, and hosting Toronto — but Edmonton needs to get back to beating teams it wasn't expected to beat in order to be taken seriously into December and beyond.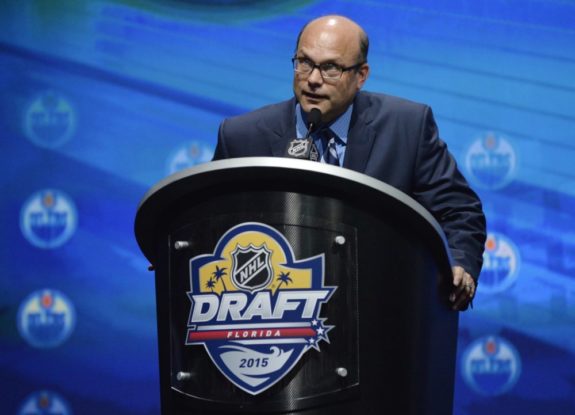 This week could — and should — go a long way in making up Chiarelli's mind on whether it's worth becoming a buyer and, if so, what he should be spending on.
The team is missing Kris Russell right now — he might actually be the "little something" I was referencing earlier — but Chiarelli already has a glut of defencemen once Russell, Brandon Davidson and Mark Fayne get healthy again. The only need on the back end is for that power-play point-man, although Klefbom has been growing into the role since replacing Andrej Sekera on the top unit. Matthew Benning has been a pleasant surprise, at times, on the second unit, but he's probably still over his head at this level and could benefit from some AHL seasoning.
Chiarelli and the Oilers might be standing pat until after the holiday roster freeze. If that's the case, Shane is right in putting the onus on McLellan, rather than Chiarelli, to keep this team in the win column.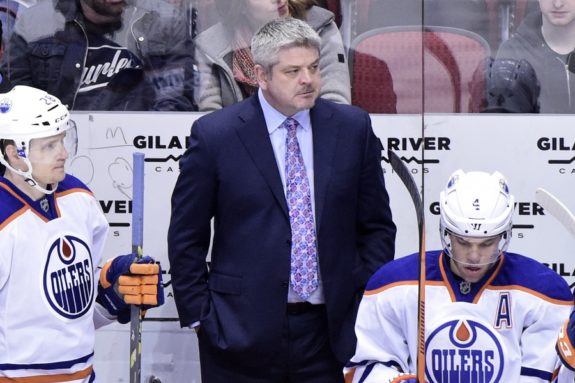 There have been some red flags in regards to McLellan's decision-making to date, and as much as I like what Tyler Pitlick has brought to the table, I don't think he belongs on McDavid's wing. I know McLellan is trying to get the other two lines going as much as anything, but McDavid is Edmonton's main source of offence and he's not going to generate nearly as much playing with Pitlick and Patrick Maroon. Yes, I know they are technically the team's leading goal-scorers, but neither would be mistaken as top-line wingers around the league.
If McLellan wants Jordan Eberle with Ryan Nugent-Hopkins — that makes sense, they have had success together for essentially their entire careers — then I'd like to see Jesse Puljujarvi get a couple games with McDavid this coming week. I just feel Puljujarvi could think the game more on McDavid's level than Pitlick.
Against those "easier" opponents to come, I'd also like to see Leon Draisaitl get an extended look on McDavid's wing. Heck, I'd even like to see Nugent-Hopkins get a spin there. McLellan's teams in San Jose had success with two centres on the same line, and both those options would give McDavid more talent to work with — which would almost certainly translate to more goals.
McDavid gets most of the credit for Edmonton's turnaround — and deservedly so — but who are your three stars not named McDavid thus far? Which members of the supporting cast have made the biggest impact in pushing this team towards contender status? Any unsung heroes worthy of a mention?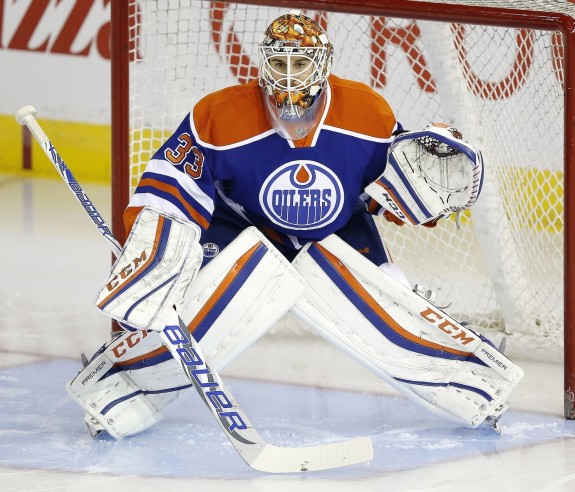 SANDER: First off, you don't string a few wins together without good goaltending. Talbot has two shutouts and a .918 save percentage through 15 games and has given the Oilers a chance to win every night. There's a reason why he's played all but one game for Edmonton.
A second point is you need good defense, and Adam Larsson has been everything the Oilers needed. Some fans may never get over the fact Chiarelli traded Taylor Hall, but Larsson (with Klefbom) has been a stud on the Oilers' defense, drawing the opposition's top offensive units.
Third, you're only as good as your weakest units. When players on your fourth line start contributing, it can mean the difference between winning and losing. Pitlick is an interesting story in Edmonton. He's a 2010 second-round pick (the year the Oilers drafted Hall) who many had written off, including yours truly. How'd he respond to his critics? Pitlick made the Oilers' opening-night roster, stayed healthy and has five goals. Those five goals put him one back of the team lead, and have him tied with the likes of Milan Lucic, Eberle and McDavid. Pitlick's recently been rewarded in moving up the depth chart.
FISHER: Yeah, I can't really disagree with those stars — Talbot, Larsson and Pitlick have been big reasons for Edmonton's early success. Some people still aren't sold on Talbot because he wasn't a big-name acquisition, but he's proving to be a solid starter. He's no Carey Price, but nobody is. At least Talbot has been better — substantially better — than Brian Elliott, the other netminder new to the Battle of Alberta.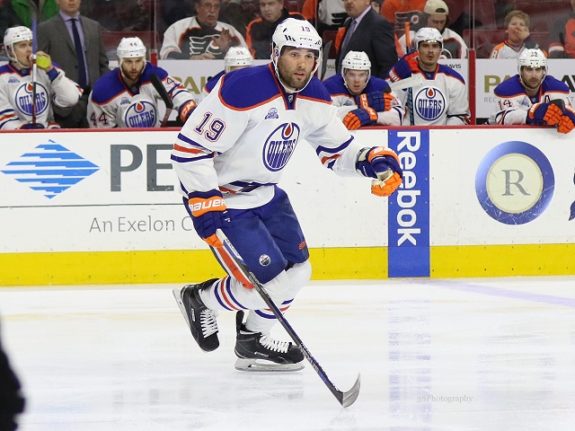 You'd like to hand out another offensive-minded star — to one of Nugent-Hopkins, Draisaitl, Lucic or Eberle — but none of those go-to guys are really going right now. Eberle has the best stat-line of the bunch, but he's not necessarily star worthy. Maroon maybe, I guess.
Russell deserves a shout-out in my opinion. He's going to be out for "weeks" now with a lower-body injury, but he was a positive difference-maker in each of those first seven wins before tailing off a bit and then getting hurt. The Oilers do seem to be struggling more without Russell — Sekera without his partner as well — so that speaks to Russell's importance so far. His effectiveness was defying the fancy stats.
Larsson doesn't offer much in the way of offence — Chiarelli was right, he really isn't a "sexy" player — but his defence has been second to none and he's probably been Edmonton's most physical player night in and night out too. Larsson's contributions should certainly be recognized and appreciated, even if they more so fall under that "unsung" category.
Ditto for Nurse, who besides Pitlick, might be Edmonton's most improved player over the first 15 games. That goal in the Heritage Classic really seemed to spark Nurse and he's been a different — and better — player since. He's been logging more minutes and making the most of them, playing within his means but doing enough to stand out at the same time.
Again, though, when three of our six stars are defence-first defencemen — Larsson, Russell and Nurse — that isn't saying much for the forwards not named McDavid.
For Edmonton's sake, you'd hope that if we were asked the same question after game No. 30 — after the next 15-game segment — that names like Nugent-Hopkins, Draisaitl, Lucic and Eberle would factor into the answer.
Those four are going to be crucial for Edmonton to enjoy continued success this season. If they don't pick it up — particularly the first three — then the Oilers are probably going to plummet down the standings sooner than later.
---
Who won this round of Facing Off? Feel free to weigh-in with your opinions in the comments below. We will be checking in periodically to both defend and expand on our initial answers. If you want to see us face-off over a topic, we're open to suggestions as well.
Larry Fisher is a senior writer and head scout for The Hockey Writers, having been an at-large contributor for THW since August 2014. Fisher covers both the NHL and the WHL, specializing in prospects and NHL draft content, including his annual mock drafts that date back to 2012. Fisher has also been a beat writer for the WHL's Kelowna Rockets since 2008, formerly working as a sports reporter/editor for The Daily Courier in Kelowna, British Columbia, Canada from 2008-2019. Follow him on Twitter: @LarryFisher_KDC.