After 15 games, what can be said about the San Jose Sharks? There is no doubt that the Sharks have shown flashes of the team that made the Stanley Cup Final last year. But they have struggled to score and only recently has Martin Jones started to turn things around in goal.
Starts with Martin Jones & the Non-Stars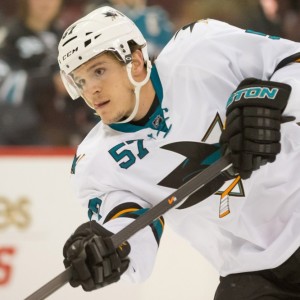 The current road trip, where the Sharks are unbeaten in three games, is evidence of the best the Sharks have to offer. The best news is that Martin Jones is no one season wonder. His save percentage during this road trip is .959, raising his season save percentage to .913 (average was .918 last season). Jones has carried the team at times and has frequently covered for mistakes made by his teammates.
Additionally, it appears some of the players not named Burns, Thornton, Couture, Marleau or Pavelski seem to be waking up. Of the 10 goals the Sharks have scored the last three games, Tommy Wingels and Marc-Edward Vlasic each have two. Joel Ward and Paul Martin have added two assists each during the first three games of the six-game road trip.
Life on the Road is Good
A team's true nature comes out on the road. While everyone loves a home cooked meal, and most love spending time with their families, athletes sometimes need to get away to build their team chemistry. Time on the road allows coaches to make a true assessment of their player's performance without the pleasant and challenging distractions of home.
As one of three teams to earn more than 50 points on the road last season, the Sharks showed they can succeed on the road. The start of this first long trip of the 2016-17 shows the Sharks may remain a road force for this season.
Secondary Scoring Still Missing
Through the last several years the Sharks have struggled to find secondary scoring beyond their well-known stars. This season is no different.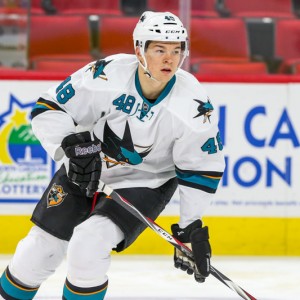 Tomas Hertl was again expected to step up his game this season, but he has been inconsistent at best. He has only nine points (4 goals, 5 assists). Additionally, Hertl has been of little help on the power play with only two points so far this season. Whether the mediocre results are the result of not playing on the top line with Thornton and Pavelski does not matter, at some point he either needs to produce on his own or the Sharks need to find secondary scoring elsewhere.
Joonas Donskoi was a revelation last season with 36 points in 76 games and 15 points on the power play. This season the 24-year old has six points in 15 games and only three power play points. Is this a slow start or a sophomore slump?
Joel Ward has also struggled to start the season.  Or has he?  Has Ward simply slowed due to this age and physical style of play?  Regardless, Ward had 12 power play points last year and has none so far this season.
History tells the Sharks they will not get much long term scoring help from Matt Nieto, Tommy Wingels, Melker Karlsson or Chris Tierney.  How much longer can the Sharks keep Nikolay Goldobin, 10 points in 8 games) in the minors?