The Edmonton Oilers lost their sixth game in eight tries and second in a row to the New York Rangers on Sunday. Perhaps more disturbing than the loss was the continued poor play by some of the Oilers most important players — namely Jordan Eberle and Milan Lucic.
In what is being described as continued lackluster play, Lucic is being deployed on the third line and Eberle has now had two very poor games for an Oilers team looking to get back to their winning ways. In Eberle's case, he was first caught not properly back-checking the final goal in the loss to the Dallas Stars on Friday and Sunday against the Rangers, Eberle was pulled off the top line and benched for most of the third period.
It appears as though the leash afforded to the Oilers' designated superstars has been shortened. What was at one time and dominant top line in the first 10 games of the season has been ineffective, unproductive and now, separated by Oilers coach Todd McLellan.
Message clearly sent to Jordan Eberle. He needs to be better.
Third period ice-time:
Eberle: 3:57
Pitlick: 7:05

— Bob Stauffer (@Bob_Stauffer) November 14, 2016
The combination of Connor McDavid, Jordan Eberle and Milan Lucic appears to be, at least for now, a thing of the past. It has been replaced by Connor McDavid, Patrick Maroon and Tyler Pitlick. How long this remains is unknown, but it appears Lucic, and now Eberle, will have to earn their way back to that top line spot with arguably the best player in the NHL.
This most recent incident — benching Eberle in the final minutes of Sunday's game — represents an attempt at a clear, loud and hopefully effective series of messages. The question is, why Jordan Eberle? He's not been great, but he's clearly not been the only player not pulling his weight. Is this a message being sent to the right player? Or is Eberle merely a scapegoat?
One-Two Punch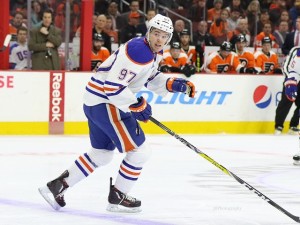 Jordan Eberle wants to be McDavid's right-hand man. I'm sure McDavid and the Oilers want that too. But, for Eberle, that title is earned and not given. It's a case of not what have you done for me, but what have you done for me lately, and lately, Eberle hasn't done a whole lot.
Prolific goal scorers often have a tendency to be streaky. This phenomenon does not exclude Eberle who can be both extremely hot and cold when it comes to doing what he's paid handsomely to do, which is score goals. He's not been poor this season, with 12 points in 16 games (an over 60 point pace), but he's combined runs of poor offensive production with lackadaisical defense and it's gotten under the ire of the coaching staff.
The role of a good one-two punch on offense is to consistently be a threat to score. McDavid has been that while Eberle has not. The fact is, Eberle has been a top line right wing from the moment he graduated to the NHL and his skills are not in question. He's one of the most dangerous scorers in the league. He's just not offered that dangerous persona night in and night out this season.
The 200-ft Game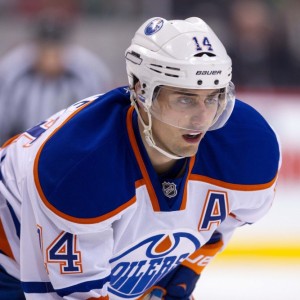 The other issue for Jordan Eberle is his often deficient defensive play. Eberle needs to understand, and now represents the message, that the Oilers are not satisfied with losses. Despite the fact that Edmonton is now 2-3-1 in their last six games, the Oilers are outplaying most of their opponents. That isn't enough for this coaching staff.
It's the quick but poor decisions and miscues on defense and the ungodly turnovers that are costing Edmonton goals against and unlike in prior years, this season, it won't be tolerated. Everyone, even the most natural and talented of goal scorers, needs to play a 200-ft game.
What may have done in Eberle on Sunday, was the fact that in 39 shots the Oilers were able to muster against the Rangers, Eberle had just one shot in 16:52 of ice time. Not getting in your shots as a goal scorer when your team shoots 39 times is questionable. Combine that with not effectively playing back on defense, and you approach unforgivable territory.
At the 1:30 mark of the video below, McLellan speaks specifically on the topic of demoting Jordan Eberle. Before his comments, he starts by noting that there were a number of Oilers "missing in action."
The Message
Can the Edmonton Oilers, and now specifically Eberle get the message? Will they make the necessary adjustments while they still have a winning record and are not out of the playoff picture? How Eberle reacts may be one of the key signs that this Oilers team is on the same page as the coaching staff.
It's not just Eberle that needs to be better. Nor is it exclusively on Milan Lucic. Edmonton is clearly an improved team, but they aren't a good enough team to get complacent. They aren't strong enough to rely on skill alone. They can't let one superstar do the work of 23 men.
Jordan Eberle was sent a clear message on Sunday. Sometimes you have to single out a player who isn't the only one struggling to ring a bell that reverberates through the rest of the team. Eberle may have been that bell. His benching hopefully rings loudly in the Oilers locker room.