One of the big questions lingering over the NHL right now is whether or not the NHL will participate in the 2018 Olympics in PyeongChang, South Korea. Monday, commissioner Gary Bettman addressed where things stand with those negotiations at Monday's Prime Time Sports conference, even if he did so somewhat elusively.
One of the only concrete tidbits coming out of the talk was a decision on NHL participation will come by January "at the latest," reports Sportsnet's Chris Johnston. "This isn't drifting into the spring," Bettman added.
Importantly, Bettman noted that the IOC has not budged on their decision to no longer fund player insurance and travel for the Olympic Games. The NHL will get an update on discussions Wednesday when International Ice Hockey Federation president Rene Fasel comes to New York to discuss how talks have progressed between the IOC and IIHF.
Gary Bettman says he's asked if the NHL can skip 2018 Pyeonchang and return for 2022 Beijing. "There's a lot of stuff in play."

— Chris Johnston (@reporterchris) November 14, 2016
Though Olympic participation is still on the table, the prevailing tone of the relationship between the NHL and IOC doesn't sound positive. Johnston reports that the NHL has had "numerous issues" with treatment from the IOC previously. "It doesn't give you the warm and fuzzies," Bettman said.
The costs for travel and insurance are huge and it could legitimately keep NHL players from participating in the Games. Those costs are estimated to pile up to around $10 million in addition to forcing the NHL to stop their season for a few weeks. If the NHL participates as a whole, under the current conditions, they'd be footing that bill.
NHL.com's Dan Rosen reports that one possibility to ease the financial burden for owners (to allow participation in a tournament where the owners don't get a share of revenue) is to have the IIHF help out with some of the costs. But if that happened, it would be money that isn't going to global hockey development, which is more important. That money can go a long way developing the game instead of just paying for a couple weeks of games for NHL players.
The other piece of this puzzle looming over the participation discussion is that players like Alexander Ovechkin have already said that they're going to participate no matter what. That may push some owners into being more willing to have the NHL participate. If Ovechkin goes and the NHL doesn't participate, the Capitals are losing a star player just as the stretch run is starting to get under way.
Hamonic Returns
Islanders defenseman Travis Hamonic will unexpectedly return for Monday's game against the Lightning, according to multiple reports. This comes on the heels of Dennis Seidenberg getting sidelined with a jaw injury.
Hamonic was expected to miss four-to-six weeks. Instead, he's returning from a thumb injury after missing just three games.
With Ryan Pulock out of the lineup and the Islanders desperate for some wins, the team was looking at having to suit up their eighth and ninth defenders Monday. That makes Hamonic's return even bigger.
Cap: Hamonic is going to play, said he feels comfortable. As for forwards, "whoever is going well is gonna play the most."

— Arthur Staple (@StapeAthletic) November 14, 2016
Seidenberg was officially placed on injured reserve Monday morning and the team called up defenseman Scott Mayfield from the Bridgeport Sound Tigers of the AHL.
The forwards are still being thrown into the meat grinder and then clumped into groups almost at random as coach Jack Capuano continues trying to figure out why a team with this much talent can't win more games.
Alan Quine and Shane Prince will both be healthy scratches Monday, reports Newsday's Arthur Staple.
As of now, Seidenberg does not need surgery on broken jaw. Could mean a shorter time frame for recovery. #Isles

— Arthur Staple (@StapeAthletic) November 14, 2016
Odds & Ends
– With Anton Stralman expected to miss Monday's game with an undisclosed injury, the Lightning have recalled 6-foot-2 defender Luke Witkowski from the Syracuse Crunch. He has put up three assists in 11 games with the Crunch so far this season.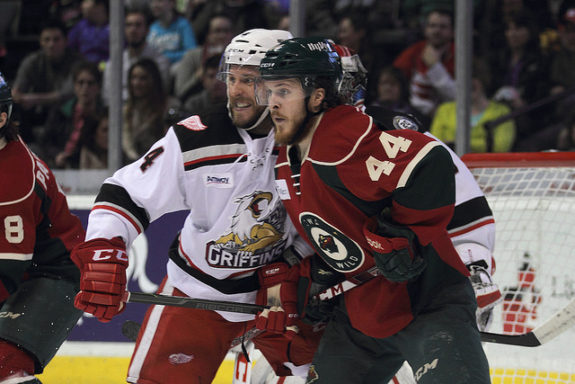 – The Minnesota Wild have returned forward Christoph Bertschy to the Iowa Wild of the AHL. The
Star Tribune's Michael Russo
reports that this is a sign that Zach Parise could be ready to return for the Wild's next tilt on Tuesday.
Additionally, there's the looming specter of Joel Eriksson Ek's 10th game of the season. He was scratched in Sunday's OT win over the Senators, but with Bertschy down, decision time on Eriksson Ek is at hand. It's coming a little later than with most rookies because of his visa issues early in the season preventing him from suiting up.
Dustin Nelson is the News Editor for The Hockey Writers. He's a contributor to Hockey Prospectus, Hockey Wilderness, and writes a column for Rotowire. He's also written for Gone Puck Wild, Wild Xtra, InDigest, Electric Literature, The Rumpus, Tiny Mix Tapes, Prefix Magazine & other publications. Have a tip? Email him at dlukenelson[at]gmail[dot]com.