As they sat idle over their five-day bye week, the Calgary Flames must have been crossing fingers, rubbing lucky rabbits' feet or stocking up on horseshoes.  Barely hanging onto a playoff spot as the week began, the Flames could only watch and hope that the other teams in the wild-card race would manage to flub the games in hand they held over Calgary.
Well, whatever they did, it worked.  Following the five-day break, the Flames sit only one point back of the LA Kings for the final wild card spot, and – for the first time in months – there isn't a "more games played" asterisk being placed on Calgary's point total.
Narrowing the Wild Card Race
Five days ago, the wild-card race was a tightly contested six-team contest. The Flames were holding onto the last playoff spot by two points over the St. Louis Blues, with the Winnipeg Jets, Vancouver Canucks, and Dallas Stars all breathing down their neck.
Fast forward to today, and the Jets, Canucks and Stars are all a few points back of the Flames and no longer holding any games in hand.  In fact, it's the Flames who now hold one game in hand on Dallas, and two on the Jets.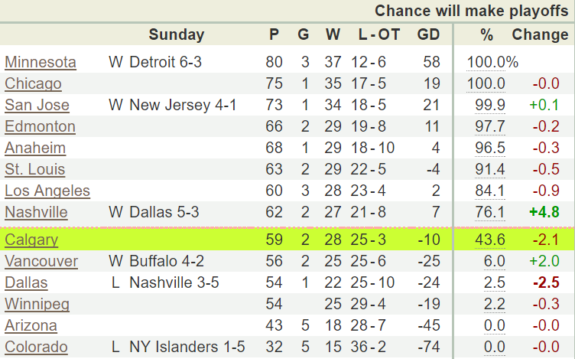 It appears that the wild-card race in the West is finally narrowing itself down a bit.  Having so far combined for a February record of 4-13-0, the Canucks, Jets and Stars are all looking more like deadline sellers than playoff teams.  With two weeks to go before the trade deadline, those teams are all now on the verge of shifting gears away from focusing on the playoff race, and leaning toward trading away their pending free agents.
Needless to say, a less-crowded race for the final two playoff spots benefits the Flames immensely.  While Calgary is on the outside looking in right now, both the Kings and Nashville Predators are well within their grasp.
The Week Ahead
Coming off a well-deserved rest, the team will look to pick up where they left off prior to the break.  Having won four of their past five, Calgary faces three winnable games this week.  Starting tonight at home against the Arizona Coyotes, the Flames will then host the Philadelphia Flyers on Wednesday before travelling to Vancouver to face the Canucks on Saturday night.
Without looking too far ahead, the Flames could have an opportunity to deal another major blow to the Canucks' playoff hopes this weekend, but it has to start with two solid efforts against Arizona and Philly.
Now on fairly level footing in terms of games played, the Flames' objective over the last 26 games is simple: look forward.  One point back of the LA Kings, it's up to the team to take advantage of a fairly easy schedule for the rest of the month, with a home date against those Kings circled on Feb. 28 – the eve of the trade deadline.
An Ugly Incident
While it has nothing to do with hockey in Southern Alberta, it's hard to ignore the vicious spear Gustav Nyquist delivered to Jared Spurgeon's face yesterday.
Nyquist will now face an in-person hearing with the league, which likely means the Red Wings' forward is looking at sitting out a minimum of six games (suspensions of five games or less can be handed out via a phone hearing).
Gustav Nyquist faces at least a 6-game suspension for this spear on Jared Spurgeon. https://t.co/kBpcOtAzU9 pic.twitter.com/ALu5WHIs58

— SB Nation NHL (@SBNationNHL) February 13, 2017
Often, when a player is looking at facing a potential suspension, his prior track record is taken into account, and Gustav Nyquist has certainly been a clean player throughout his career.  Now in his sixth NHL season, he has only 92 penalty minutes in 317 games.  To put that in context, Matthew Tkachuk has 92 penalty minutes already in this his rookie season.
With that said, this wasn't a case of a player making a stupid play half-by-accident, or having misread what his opponent was about to do.  Nyquist lost his cool, and maliciously attacked Spurgeon.  It's no Alexander Perezhogin incident, but Nyquist should be facing a suspension of at least 10 games here, if not more.