As laid out in the Pittsburgh Penguins Top 4 Prospects for 2017 article last week, the two-time defending champions still have some young pieces in the organization that could help the team win more Stanley Cups down the road.
But, there was one obvious thing missing from the list of the top four prospects for the Penguins—a defenseman. For years, Pittsburgh had a plethora of young blueliners ready to emerge from the AHL. That's no longer the case, as the Penguins concentrated on adding wingers and goaltenders in the drafts from 2013-2015.
Still, to suggest Pittsburgh is completely bare in that department would be incorrect. While they aren't top-of-the-line prospects, the Penguins have a few young defenders who could make an NHL impact at some point.
Here are the top three defensive prospects in the Penguins organization:
*Note: For the purposes of this list, we aren't considering Derrick Pouliot a prospect
Lukas Bengtsson
The 23-year-old Swede was very close to making our Top 4 list, but he missed the cut in large part because of an injury-shortened 2016-17 season. Last offseason, Bengtsson was diagnosed with Lyme disease, which forced him to undergo antibiotic treatment.
In a statement released in April, the defender revealed that doctors told him it's possible he came down with the disease as early as three or four years ago. That could explain why Bengtsson has felt tired most of his adult life. Because of the disease, he played just 16 games in 2016-17.
https://www.instagram.com/p/BScaP0bBvle/
It's hard to know exactly what the Penguins have in the 23-year-old moving forward, but should he fully recover, then Bengtsson still figures into this team's future plans. His terrific skating ability and offensive instincts make him a perfect fit in Pittsburgh.
Ethan Prow
Just like Bengtsson, the Penguins signed Prow as an undrafted free agent. In four seasons with St. Cloud State University, Prow scored 19 goals and 99 points in 149 games. He also posted a plus-51 rating. During his senior season in 2015-16, Prow was his conference's player of the year and a top-10 finalist for the Hobey Baker Award.
In his first professional season, Prow earned one goal and 16 points with a plus-24 rating in 59 contests. He also added a goal in five playoff games. He's already 24 and will still need more work at the AHL level, but it's a great sign he's already playing well at Wilkes-Barre/Scranton.
Similar to Bengtsson, Prow is a puck-moving defenseman who skates well and has strong offensive instincts. He could be a middle-pairing defenseman with power-play potential down the road. After Derrick Pouliot, Bengtsson and Prow are the next two young defensemen with the best chance of appearing in the NHL this season for Pittsburgh.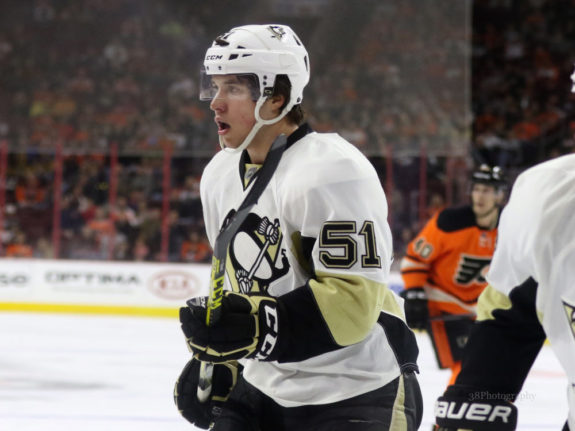 Zachary Lauzon
Boy, the Penguins sure love their skating defensemen. Lauzon was Pittsburgh's first selection at No. 51 overall in the 2017 NHL Draft, and his player bio is pretty similar to the first two prospects on this list.
"He's a tremendous skater," former Penguins director of amateur scouting Randy Sexton said at the NHL draft. "Great vision. Moves the puck well. He's not as offensive-oriented as some people, but he defends very well. Highly competitive."
Lauzon has spent each of the last two seasons with the Rouyn-Noranda Huskies in the Quebec Major Junior Hockey League, where he's scored four goals and 32 points with an incredible plus-70 rating in 124 games. This past season, he won the Kevin Lowe Award, which is given to the best defensive defenseman of the year in the QMJHL. Kris Letang won the same award back in 2007.
We know his favorite emoji and food….

Now @ZacharyLauzon talks hockey w/ @PensJG. Here is today's development camp episode of Pens Pulse. pic.twitter.com/xJ204b8l3H

— Pittsburgh Penguins (@penguins) June 30, 2017
But don't expect Lauzon to play a similar style to Letang or even his fellow prospects on this list. Yes, Lauzon is a great skater and can move the puck, but he isn't as strong offensively. Lauzon himself said he models his game after San Jose Sharks defenseman Marc-Edouard Vlasic. Make no mistake, the Penguins would absolutely love it if Lauzon reached the same level as Vlasic, but the Sharks blueliner has never posted more than 39 points in one season.
Lauzon is a traditional stay-at-home defender, and with 167 penalty minutes in 124 QMJHL games, there's clearly an edge to his game too.
Honorable Mentions: Clayton Phillips, Ryan Segalla, Connor Hall
Dave Holcomb is excited to join The Hockey Writers team, covering the Pittsburgh Penguins. Holcomb began his NHL work as a fantasy columnist at The Sports Network. In 2015, Holcomb joined the fantasy NHL team at FanRag Sports, where he eventually worked into a beat writer position, covering both the New York Islanders and Pittsburgh Penguins. He continues to cover the Metropolitan division, along with the NFL and Syracuse basketball, for FanRag Sports. To find more of his work, follow Holcomb on Twitter at @dmholcomb.